If you are a developer or contractor, do you have a hotel or condominium project and need to find a shower door that fits your budget?
If you are a wholesaler or retailer, do you know where to buy quality shower doors and other sanitaryware?
If you have no import experience, do you want to find a professional exporter to help you import the products you need to where you are?
Well, you will find the answer you are looking for here.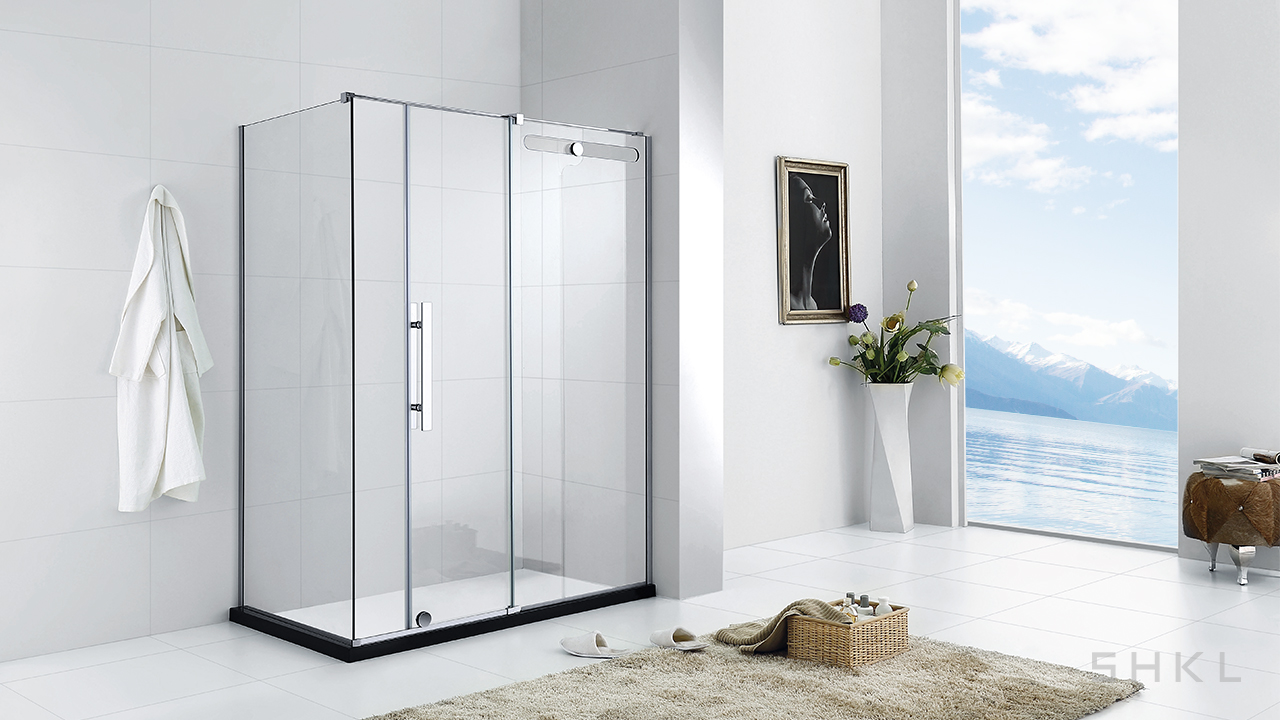 As we all know, Chinese factories can produce anything for human use. China is the world's manufacturing center with a complete supply chain system.
Different regions have different advantage products, including bathroom hygiene products such as shower door, bathtub enclosures, framed bathtub handles, shower enclosures, etc.
However, finding the right supplier in a haystack can be a daunting task for you. So I have done extensive research on the major shower door manufacturers in China, hoping to help you find quality suppliers quickly.
Table of Contents:
Major production provinces of shower doors in China
Shower rooms in China are mainly produced in the following 3 provinces, which are:
Guangdong - Foshan, Jiangmen, Chaozhou
Fujian - Quanzhou
Zhejiang - Taizhou
Guangdong mainly produces high-end shower doors. Here you can buy top-notch products. If you want very cheap prices, there are more choices in Fujian and Zhejiang. However, by looking at the export data, we can know that Guangdong's exports account for the majority.
Top 10 Shower Door Brands Suppliers in China
This is a well-researched list of top shower door manufacturers in China.
I have taken great care in providing you with accurate information to enable you to make an informed decision on the best shower door manufacturers in China. The following are the trusted sources consulted to bring about this article.
Official website of bathroom fittings companies;
Official website of Chinese shower door manufacturers
Excerpts from relevant bathroom fittings-related websites

1. JOMOO
Background
Jomoo came into existence in 1990. It has since been developing rapidly and has become one of the most fast-growing and dynamic international kitchen & bathroom brands in China.
It started with the release of one well-researched product at a time. And it wasn't until 2006 that Jomoo made its debut in sanitary ware when it produced ceramic toilets and in 2010 introduced bathtubs and shower enclosure rooms.
Jomoo products are now being sold in more than 120 countries and regions, including Europe, America, the Middle East, Australia, Africa, and Southeast Asia.
Key products
Shower door
Bathtubs
Toilet bowls
Jomoo has a wide range of sanitary wares whose beauty can only be ascertained in terms of research and innovation. Jomoo gained attention when they introduced their intelligent toilet to the market in 2006.
Among the many other products in their collection is the fascinating Industrial leading intelligent magic mirror, integrated with wireless internet access, weather forecast, video play, and other intimate intelligent technology, fashionable simplified design, creating intelligent bathroom space and making their buyers thoroughly enjoy intelligent and enjoyable life.
Manufacturer's Strongest Advantages
JOMOO is committed to creating products with perfection and exquisiteness. Being of extraordinary quality and adopting innovative design concepts in glass patterns, hardware finishes and metal finishes.
JOMOO products in the shower door market have won numerous international, most prestigious design awards, including "iF'' and "Red Dot" Design Awards.

2. FOSHAN W&M
Background
Foshan W&M was established in 2001. The location of its factory in Nanzhuang Town, Chancheng District, Foshan City, Guangdong Province, P.R.China. They are devoted to taking an idea from theory to a tangible product. To meet and surpass world market expectations with sophisticated and technical solutions for the sanitary ware marketplace.
More often than not when two geniuses come together, a masterpiece is bound to be born. I guess this is why they decided to bring together a strong business team, Mr. Zhu Jianguo, a successful engineer with a background in glass enclosures, accessories, and project. Mr.Fu Yiqin is a skilled and experienced salesman from the sanitary ware industry. The two men together saw an opportunity in the rapidly developing bathroom business to create a fresh professional approach.
Key products
Foshan W&M deals majorly in shower doors of varying sizes and specifications. Some of which are black hand frameless bathroom panels, and leading bath enclosure designed in the line with the latest trends.
Manufacturer's Strongest Advantages
The research and technology department uses all current computer-aided design technology and support. The international sales department has fast communication links.
They also have an impressive vast network of employees who are skilled and strongly committed to handling a large volume of productions.

3. SHKL
Background
SHKL was established in 2004 and is headquartered in Foshan, Guangdong, China. The company has 4 production bases with a total plant area of 150,000 square meters and more than 900 employees. The products cover bathroom cabinets, shower doors, led mirrors and other fields.
One of SHKL's most groundbreaking inventions is the laminated glass shower door. The laminated glass shower room independently developed by SHKL greatly guarantees the shower safety of consumers. This also makes SHKL a benchmark for safety shower rooms in China.
Laminated glass is a composite glass product in which one or more layers of organic polymer EVA are sandwiched between two or more pieces of tempered glass after special high-temperature process, the glass and the intermediate film are permanently bonded together. It is with high impact strength and safer than normal tempered glass.
Even if one of the glasses explodes spontaneously, the debris will be stuck to the film, and the broken glass surface remains clean and smooth. This effectively prevents the occurrence of debris piercing and penetrating fall incidents, and ensures personal safety.
SHKL is an extensive large-scale enterprise integrating R&D, (research and development) design, production, and marketing. Currently, SHKL products are making it through exportation to over 50 countries. Not only that, to make it easy for clients around the world, there are more than 1,000 exclusive shops worldwide to make consignment easy.
Key products
Shower doors
Bathroom vanities
LED Bathroom mirrors
Apart from LED bathroom mirrors and bathroom vanities, there is a wide range of shower door that has a reasonable length saw to the safety of its users. SHKL, in a bid to keep accidents at bay, developed a safety laminated glass shower door. SHKL, in today's world, is inarguably a great choice of shower door products.
A youtube video for authenticity check for SHKL
Manufacturer's Strongest Advantages
Since the establishment of SHKL, it has been continuously upgrading products based on user needs. With 18 years of accumulation, SHKL has gradually become a full-category sanitary ware enterprise.
The one-stop service can not only meet the various product needs of consumers, but also allow consumers to experience the joy of building an ideal furniture life by participating in the pre-design process.
In the future, SHKL will always strictly adhere to the quality defense line, take independent research and development as the driving force for development, promote the sustainable development of the quality of the sanitary ware industry, and meet the growing needs of the people for a better bathroom life.

4. JENBELY SHOWERS
Background
Jenbely showers is located in Deqing Industrial Park, Huzhou City, Zhejiang Province, near the main port of Shanghai and Ningbo, close to Hangzhou Xiaoshan International Airport. At present, the new factory covers an area of 20000㎡, with more than 100 active workers.
Key products
Shower doors
Bathtub screens
Shower trays
Jenbely showers are grounded in making quality showers doors, sliding shower door, shower trays and bathtub screens.
Manufacturer Strongest Advantages
Jenbely has advanced manufacturing equipment, with a first-class laboratory, R&D center, product and technology centers, and 3D Print Center to ensure product innovation and high quality.
The strict management system is perfect, not only getting the ISO 9001:2000 ISO 1400:1996 but also the CQC. Strict management system, the final results of the advanced philosophy is reflected in the company's performance and perseverance.
5. ZHEJIANG EXCEED
Background
Zhejiang Exceed new material technology co. Ltd was established in 2011, and is located in Huzhou city Zhejiang province. Since its establishment, Exceed specializes in the production of shower enclosures and sanitary wares and produces high-end products in strict accordance with international standards and the goals of development.
There is a great focus on building a first-class service group for the alliance merchants and supplying solutions for their high-end users. Exceed can stay reliable and stylish at the same time for whenever you want them.
Key products
Shower enclosure
Shower trays
Glass canopies
Their main products are high-end sanitary and glassware, etc. Right now they have more than 100 types of newly designed and easily installed shower enclosures that suit modern architects style.
Manufacturer's Strongest Advantages
They offer pre-sale, in-sale, and after-sales services, making sure that clients feel comfortable buying and using their products.
For optimum service, close attention is paid to every production step. A clean production environment, a motivated workforce, and careful engineering are essential to meet their strict quality standards for your ultimate satisfaction as the customer.

6. SEAWIN
Background
For a company to pride itself as one of the leading innovators and proud manufacturers of shower doors, enclosures, panels, semi frameless pull handles and other bathroom fixtures in China, then it must have done some great work.
The company has supplied bathroom products to over 500 hotels, multi-family projects, and hundreds of thousands of homes around the world! They are now set to bring their beautiful products to your warehouses.
Key products
Shower enclosure
Faucets
Bathtubs
They provide a one-stop manufacturing solution. In their line of shower doors are different mind-blowing designs. They also supply all sorts of sanitary wares that include, framed vs frameless, hinged doors, pivoted, double sliding shower doors, single doors, etc.
Manufacturer's Strongest Advantages
The seasoned team is dedicated to delivering the highest levels of service and expertise to guarantee a seamless project delivery for clients and impeccable results for the end-users.

7. SALLY TECHNOLOGY, CO, LIMITED
Background
Founded in 1998, specialized in manufacturing bathroom hardware accessories such as detachable shower cabins, complete shower cabins, steam shower doors, bathroom cabinets, massage bathtubs, faucets, sprinklers, etc.
This age-long company is located in China's shower room industrial base -Zhongshan, Guangdong. The Sally Shower Equipment industrial park covers an area of 40000 m2, with an annual sales volume of over 400 thousand pieces(set).
It is also one of the companies in China's shower room industrial base. Through honesty, power, and top-notch quality, Sally Technology CO.LTD was able to gain recognition from other top manufacturers.
Key products.
Shower doors
Faucets
Sprinklers
They have been able to develop products from single shower rooms to complete shower rooms
Manufacturer's Strongest Advantages
With more than one decade's development, a company like sally technology has also set aside ample time for research, development, and promotion of 18 series and over 200 kinds of sanitary wares in all.

8. LENS
Background
LENS was founded in 2006 with its first factory located in Zhongshan City, Guangdong Province, covering an area with a construction area of about 14,000 ㎡. While the second plant is located in Jiangsu Province Xuzhou covers an area of more than 100,000㎡.
LENS is one of the main drafting units of China's shower room standards and consequently has been elected for two consecutive years since 2013.
With 15 years of manufacturing and export experience on glass and shower glass doors, selling to more than 30 countries and areas, large stock and quick delivery, 100% quality checking before shipment, they are also to be considered.
Key products
Shower door
Bathroom cabinet
LENS's major product is shower doors and bathroom cabinets of great durability.
Manufacturer's Strongest Advantages
LENS provides everything to assist your construction or renovation projects, from cheap shower door to high-end bathroom enclosures and of course, after-sales services, including delivery and shipment.

9. NEPTUM
Background
Zhongshan Neptum sanitary ware co., LTD. was established in 2001, It has professionally engaged in high-grade shower installation, whole rooms, shower mirrors, shower mirror cabinets, glass types bathroom accessories, semi frameless towel bars.
They invest considerably in research and development, production, and sales. It is also one of the founding members and President units of the Zhongshan shower room association in China.
Neptum headquarters is located in National torch high-tech development zone, Zhongshan, Guangdong province. Covering an area of over 80000㎡and more than 65000 square meters for R&D production base, we have two factories, with an annual output of 1.5 million sets of production capacity
Neptum products are in high demand in more than 80 countries, including Europe, America, Oceania, Africa and Southeast Asia, etc. Meanwhile, there are over 400 specialty stores established in first-tier cities and second-tier cities.
Key products.
Shower door
Shower mirrors
Bathroom cabinets
Neptum sanitary wares manufacture a range of High-grade glass shower mirrors, swing doors, and bathroom cabinets of different sizes and designs.

10. ROYO LIMITED
Background
Hangzhou Royo Import and Export Co., Ltd. is a cross-border e-commerce enterprise, located in Xiaoshan Development Zone. Its main business is the export of bathroom and furniture products.
The company dares to innovate and is the first foreign trade enterprise to clear the "9710" order of the Xiao Ran Office of Hangzhou Qianjiang Customs.
At the beginning of the epidemic in 2020, the company pioneered live streaming with foreign buyers in the foreign trade industry, which was widely reported by media such as "Zhejiang Satellite TV", "China News", and "Xiaoshan Daily".
The company has a lot of domestic independent research and development, and foreign invention and design patents for sanitary ware products.
In the past few years, they have established several warehouses overseas in North America and Europe, sold through self-built stations, local e-commerce, and other platforms. In so doing, it has established a good brand image of "Made in China '' in Europe and the United States.
Key Products
Shower door
Bathroom vanity
Shower cabin
They have a solid line of glass shower door, bathroom vanity, and shower cabin all designed with good quality installation and finishing.
Manufacturer's Strongest Advantages
Royo limited products are your perfect choice if you value beauty and quality design. The company has won honorary titles such as "Zhejiang Famous Export Brand", "Zhejiang Cross-border E-commerce Export Famous Brand", "Hangzhou Famous Export Brand", and "Top Ten E-commerce Enterprises in Xiaoshan District in 2020.
QUESTIONS TO ANSWERS FROM SHOWER DOOR MANUFACTURERS
What are the measurements for your shower space?
What is your project timeline? This is important in order to get an exact measurement.
What kind of style do you want in your completed bathroom? This is to determine how the other fixtures will fit.
How would you like your shower door to function? It is imperative to know how the bathroom will function.
How will the door be installed? This is to know whether heavy glass and frameless doors need expert installation.
Conclusion
Finally, this information, when followed thoroughly, will guide customers who are looking to buy from suppliers in China. That is why you are safe contacting renowned suppliers like SHKL with their number of employees, you can rest assured that the orders will be carried out efficiently.