I. Introduction
Midway through our lives, I found myself in need of a bathroom vanity. But what exactly is a bathroom vanity, you may ask? Please follow me and explore it together.
A bathroom vanity, it's a piece of bathroom furniture that typically includes a sink, countertop, and storage space. It serves as a functional and decorative element in a bathroom, providing a place to store toiletries, wash your hands, and even apply makeup.
The importance of bathroom vanity cannot be overstated. It serves as a focal point in the bathroom and can enhance the overall aesthetic appeal of the space. Moreover, it offers storage solutions that can help to keep the bathroom organized and clutter-free.
The purpose of this article is to provide guidance on where to buy bathroom vanities. There are so many options available recently, it may be challenging to determine the best place to purchase a bathroom vanity. By exploring the pros and cons of buying from physical and online stores, readers can make an informed decision when it comes to their next bathroom vanity purchase. So let us embark on this journey together and discover where to buy the perfect bathroom vanity.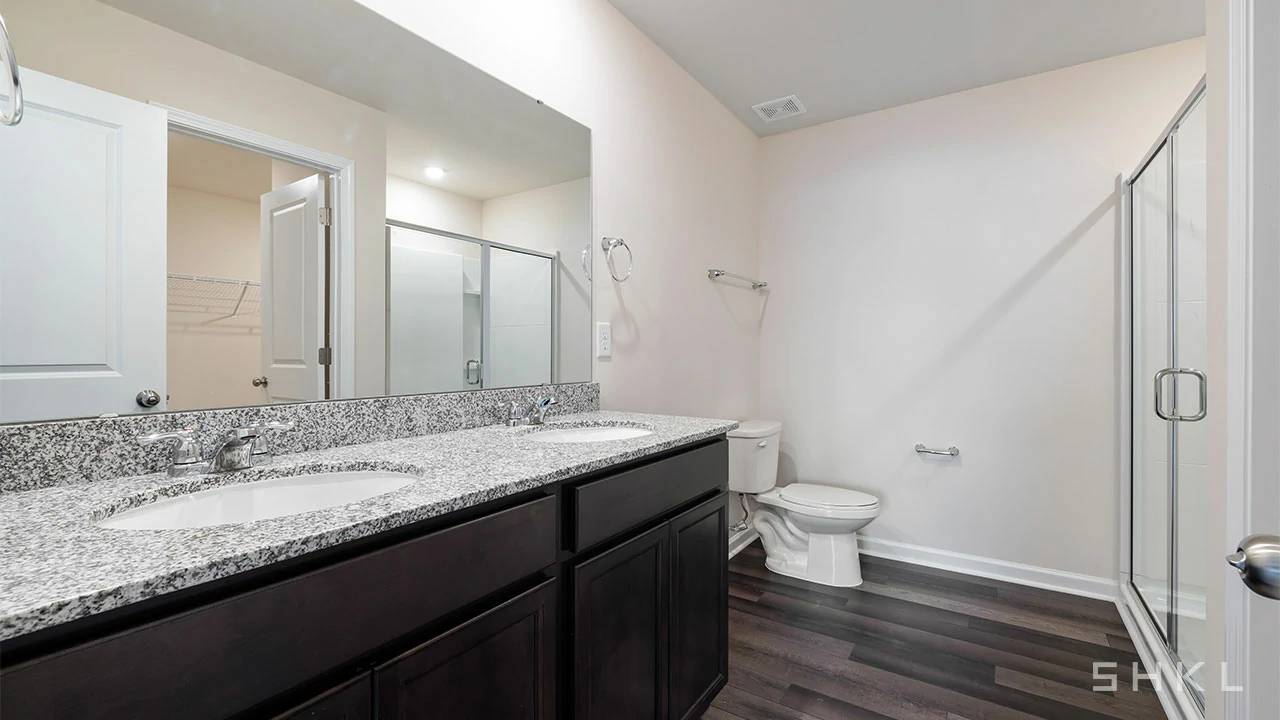 Table of Contents:
II. Factors to consider before buying a bathroom vanity
III. Where to buy bathroom vanities
IV: In Which the Pros and Cons of Buying from Physical Stores are Explored
V: In Which the Pros and Cons of Buying from Online Stores are Explored
II: In Which the Factors to Consider Before Buying a Bathroom Vanity are Explored
As I searched for the perfect bathroom vanity, I realized that several factors need to consider before purchasing. Let's discover together.
A. Size and Space
One must consider the size and space available in their bathroom when purchasing a vanity. A vanity that is too big or too small can throw off the balance of the room. Thus, it is vital to measure the available space and choose a vanity that fits appropriately.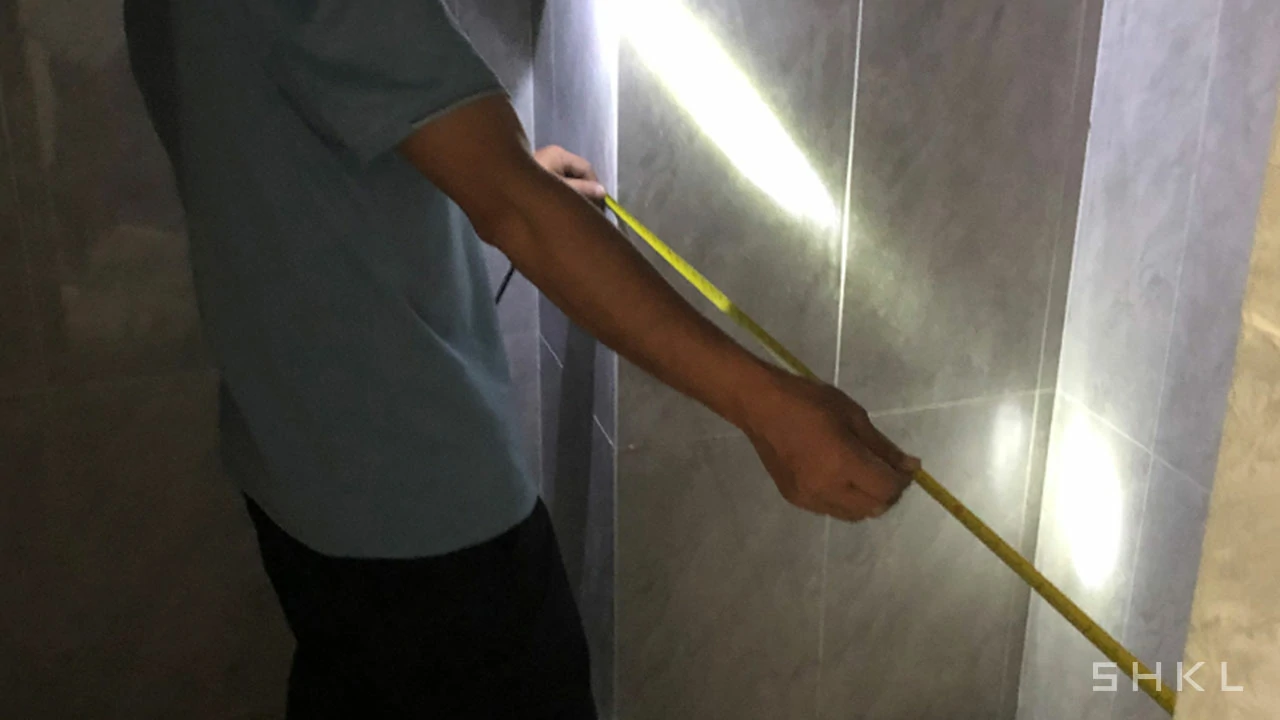 B. Style and Design
The style and design of the vanity can greatly affect the overall look of the bathroom. There are several popular styles in the bathroom vanity industry, such as the American, Modern, and classical styles, and each style will be a little different for different regions.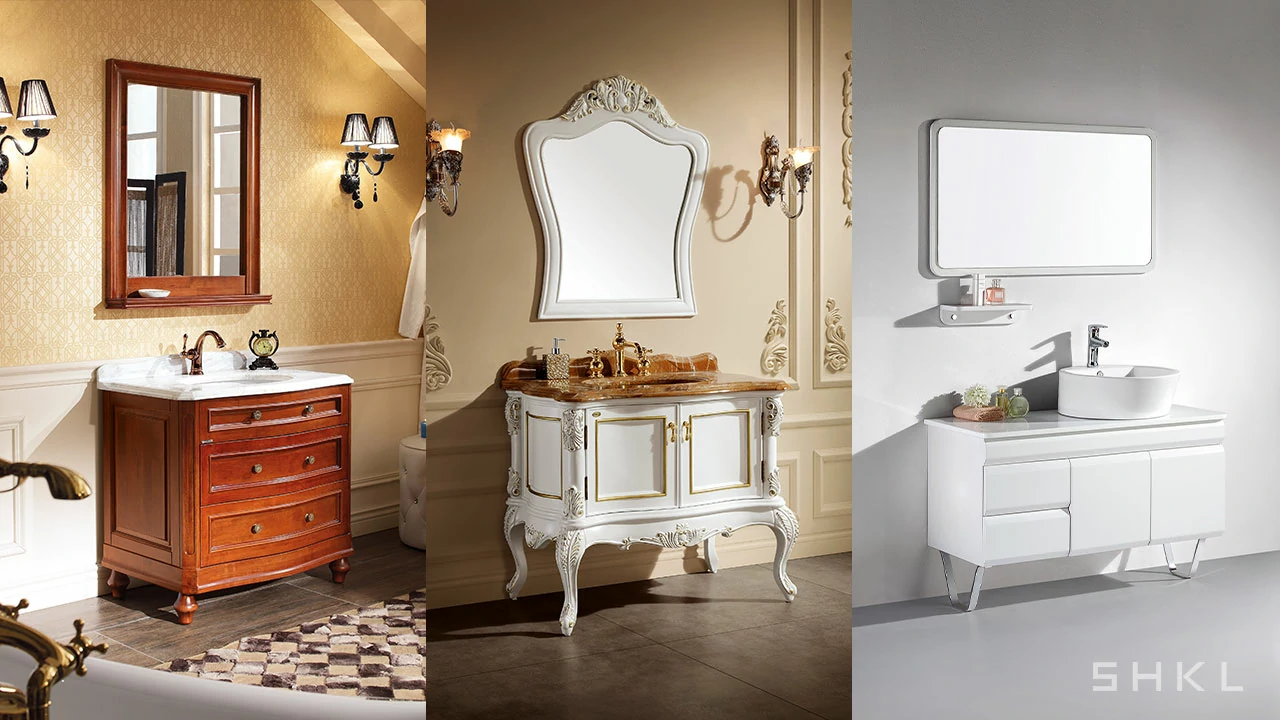 But whatever style you choose, you should consider the design that needs to fit your full bathroom space, also which will be a challenge for ordinary people, therefore, many sanitary ware companies have launched Fully Bathroom Customized Services to help this part of customers to solve their needs. If you plan to do this, welcome to inquire about SHKL's customer service.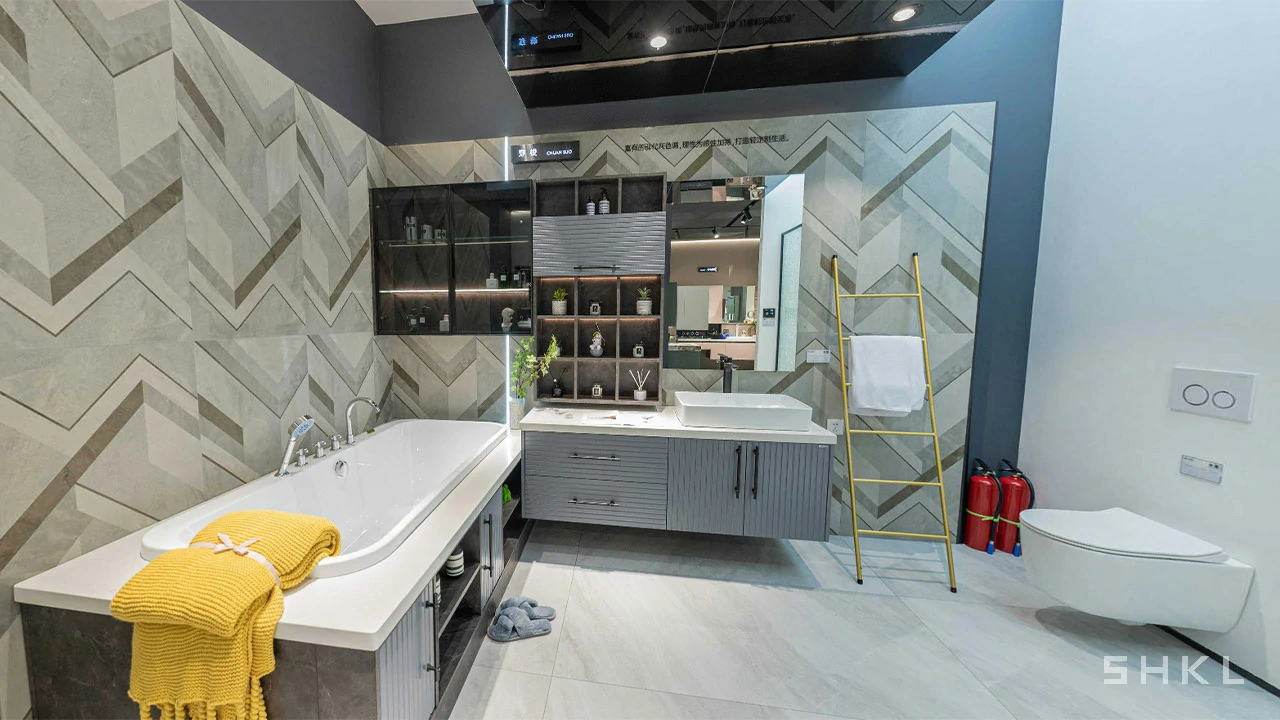 C. Material and Durability
The material and durability of the vanity are also essential factors to consider. A bathroom vanity should be made of high-quality materials that can withstand daily use and prevent the moisture that comes with the bathroom environment. Popular materials for bathroom vanities include wood, metal, and stone.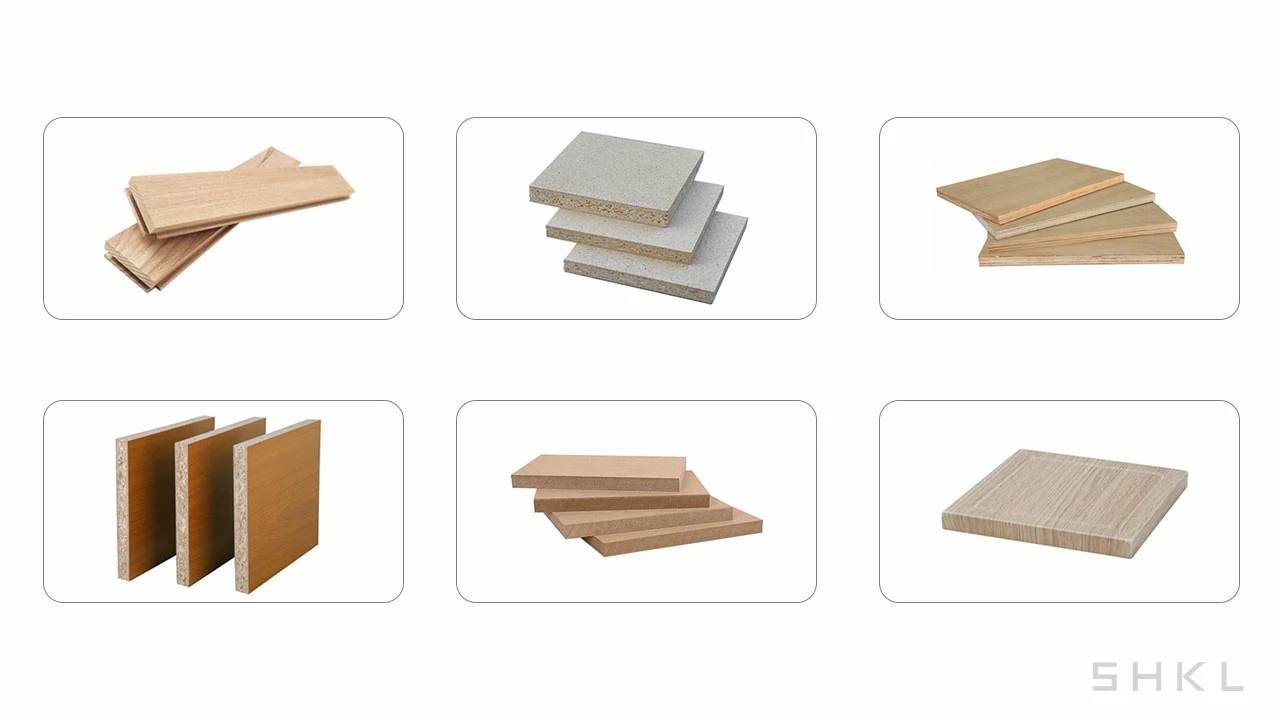 D. Plumbing Requirements
One must also consider the plumbing requirements when purchasing a bathroom vanity. The vanity must be compatible with the existing plumbing in the bathroom to avoid costly and time-consuming modifications.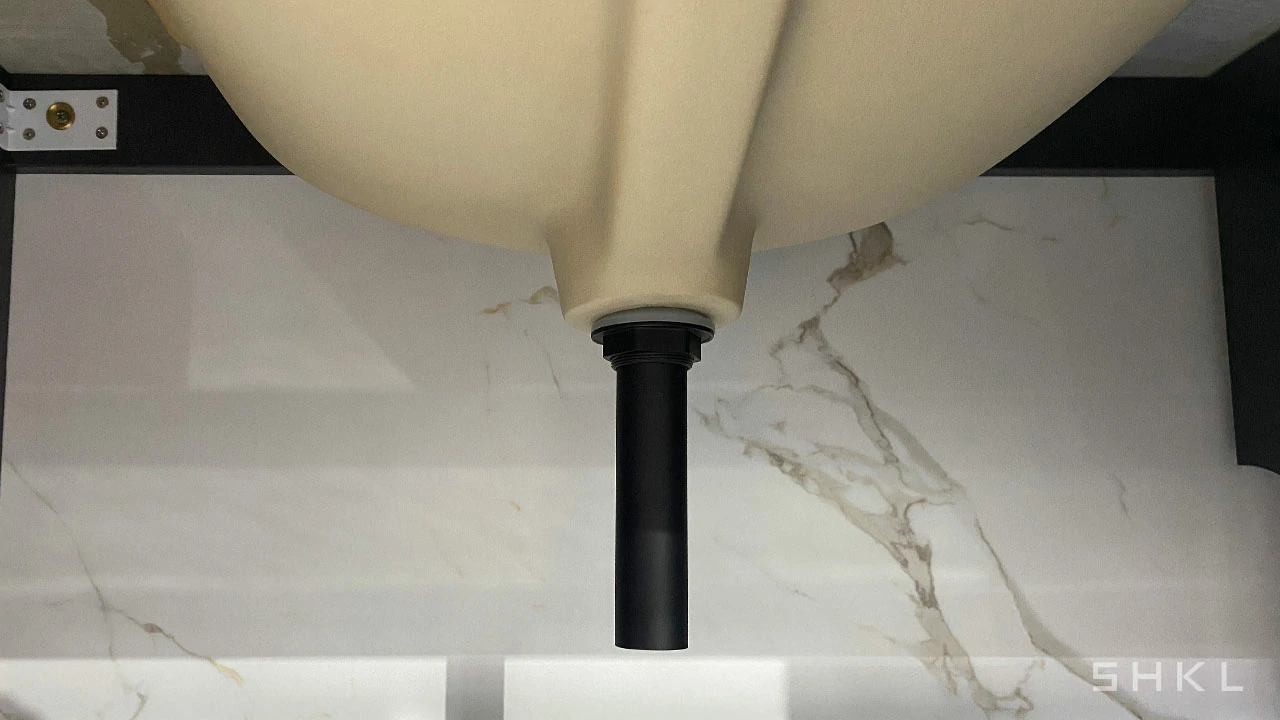 E. Budget
Finally, one must consider their budget when purchasing a bathroom vanity. The price of bathroom vanities can vary greatly, so it is essential to determine a budget beforehand to avoid overspending.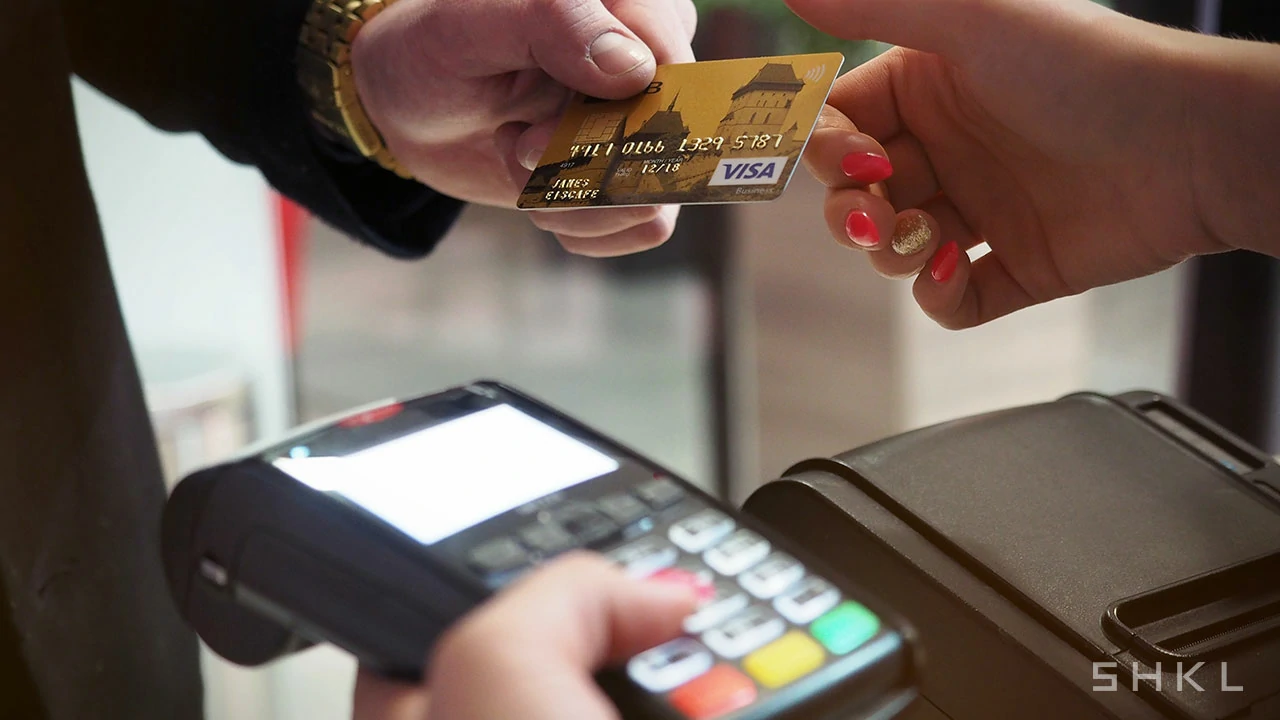 By considering these factors, one can find the perfect bathroom vanity that not only looks great but also meets their needs and budget. So let us move forward, dear reader, and discover where to purchase this essential element of the bathroom.
III. Where to Buy Bathroom Vanities
There are several places where you can buy bathroom vanities, both in physical stores and online. Here are some of the top options:
A. Physical Stores
Home Improvement Stores

Home improvement stores such as Home Depot and Lowe's are popular options for purchasing bathroom vanities. They usually offer regular, and price-friendly styles, basically meeting the needs of general family decoration. But if you are a luxury house, please keep reading.

Bathroom Specialty Stores

Bathroom specialty stores, usually focus specifically on bathroom fixtures and accessories, they offer various vanities styles, such as low, medium, and high-end styles, making them a great option for those certain pursue all aspects of bathroom vanity.

Furniture Stores

Furniture stores such as Ikea and Ashley Furniture offer a range of furniture products not only bathroom vanities. They offer regular styles like Home Improvement Stores, but convenience is the benefit when you purchase in these stores, you could purchase other furniture fixtures not only in the bathroom but also kitchen, bedroom, and living room from these stores incidentally.

Department Stores

Department stores such as Macy's and Bed Bath & Beyond, sometimes offer bathroom vanities at affordable prices, but anyway these place it's not good choices for purchasing furniture, if you care about your new bathroom or remodeling, you should go to the place above mentioned.
B. Online Stores
Online Home Improvement Stores

Online home improvement stores such as Wayfair and Build.com, also Home Depot, and Lowe's which above mentioned they have their own online store. For sure, their offer a wide range of bathroom vanities at competitive prices (even more than in physical stores), with the convenience of shopping from home.

If you are getting nothing from the above-mentioned, I recommend you the Houzz, which feature shows you thousands of cases, you could imitate these cases or directly connect with a trusty company that can provide a satisfied solution to your needs. This is hot demand, similar to fully bathroom customized services like my above-mentioned.

Online Bathroom Specialty Stores

Online bathroom specialty stores, such as famous sanitary ware brands in your local, these companies usually offer a variety of bathroom vanities in different styles and materials, low, medium, and high-end styles, along with other bathroom accessories. If you are not sure who sells sanitary ware in your local, keep following us on SHKL's blog, we regularly share the top brands in each region.

Online Furniture Stores

Online furniture stores such as Overstock.com, Amazon, eBay, and Etsy offer a wide range of bathroom vanities at various price points, along with reviews from other customers. But if you ever buy from one of these websites, you will know Overstock is more professional than the others above mentioned in the furniture field. Overstock is focused on furniture products, but Amazon has many categories, if you plan to purchase from them, please spend more time researching listing reviews to avoid buying unsatisfactory products.
By considering these options, the most important thing is to choose the most suitable bathroom cabinet according to your actual needs through above-mentioned options.
IV: In Which the Pros and Cons of Buying from Physical Stores are Explored
When searching for a bathroom vanity, one may consider purchasing from a physical store. Let us explore the advantages and disadvantages of this channel.
A. Advantages
Ability to Physically See and Touch the Product

Beyond a doubt, one of the significant advantages of purchasing from a physical store is the ability to see and touch the product before making a purchase, this allows for a better understanding of the product's quality of the finish and surface paint, especially like bathroom vanities this kind of product. That's also why people prefer going to physical stores to the internet for whatever product to purchase.

Opportunity to Negotiate Prices

Another advantage of purchasing from a physical store is the opportunity to negotiate prices. Salespeople may have the ability to offer discounts or promotions that can help save money. It depends on your negotiating ability.

Ability to Get Advice and Recommendations from Salespeople

Salespeople in physical stores can offer advice and recommendations based on their expertise. They can provide valuable insights into the products and help customers make informed decisions.
B. Disadvantages
Limited Options

Physical stores may have limited options in terms of style, design, and size. This can limit the choices available to customers, and they may have to settle for a vanity that does not meet their preferences or needs.

Time-Consuming

Shopping in physical stores can be time-consuming, especially after you visit multiple stores but still can not find the right vanity, it would be frustrating and unlucky. And this can be a significant drawback for busy individuals with limited time. But I think you should spend the time if you are going to buy expensive ones.

Limited Availability of Salespeople

Salespeople may not always be available in physical stores, leaving customers to navigate the shopping experience alone. This is bad because you will leave if your time is limited and can not find the right vanity first, then you might miss these vanities' features before the Salespeople explain.
In conclusion, purchasing from physical stores offers several advantages and disadvantages. While the ability to see and touch the product and negotiate prices may be appealing, limited options and the time-consuming nature of shopping in physical stores can be drawbacks.
V: In Which the Pros and Cons of Buying from Online Stores are Explored
For those in search of a bathroom vanity, online stores offer a convenient option. However, like Physical Stores, there are advantages and disadvantages when buying from online stores.
A. Advantages
Wide Range of Options

Online stores offer a vast selection of bathroom vanities, giving customers a wide range of options to choose from. This allows customers to find the perfect vanity that meets their unique preferences and needs.

Convenient

Online shopping is convenient, allowing customers to browse and purchase products from the comfort of any time by their phone or computer. This saves time and effort that would otherwise be spent traveling to physical stores. This is also the preferred way for young people.

Ability to Compare Prices and Reviews

Online stores allow customers to easily compare prices and reviews from various sellers. This enables customers to easily know the floor price of their favorite vanity. When it comes to Compare Prices on the internet, I would like to share with you a life experience, you also could compare the price with the physical store, choose the best price, avoid spending more money, and buy the same one, but please attention to whether the materials are the same or not.
B. Disadvantages
Inability to Physically See and Touch the Product

Beyond a doubt, one of the significant drawbacks of purchasing from online stores is the inability to physically see and touch the product before making a purchase, you have to spend more time for research the listing's reviews, to go further and identify the quality of vanity.

Limited Ability to Negotiate Prices

Online stores may have limited ability to negotiate prices, as many products are sold at a fixed price. This may not be appealing to those who enjoy haggling for a bargain.
In conclusion, purchasing from online stores offers several advantages, including convenience and a wide range of options. However, the inability to physically see and touch the product, the potential for shipping damages, and the limited ability to negotiate prices are important factors to consider.
VI. Conclusion
As the conclusion to this discourse draws nigh, it behooves us to reiterate the key points to consider when selecting a bathroom vanity. The size and space allotted for the fixture, its style and design, the material and durability, plumbing requirements, and budget are all pivotal elements to take into account before making a final decision.
In closing, we entreat thee to ponder on the following calls to action to ensure thy satisfaction with thy purchase.
Firstly, if thou art considering a physical store, be sure to research and identify those that offer the greatest selection and most knowledgeable salespeople.
Secondly, when perusing online stores, take heed to seek out those with a positive reputation and ample customer reviews.
Finally, keep in mind the points I mentioned above sections, no matter the avenue chosen, exercise caution when making the final purchase and ensure that all specifications, costs, and delivery dates are accurately documented.
With these final thoughts, we trust that this article has served as a valuable resource in guiding thee toward finding the perfect bathroom vanity for thy abode.