Over the years, show doors are gaining the momentum in the market because of the exquisite value that they add on households. Contrary to the common impression of being a mere ornament in the bathroom, a shower door serves as a functional piece of furniture that marks the boundary on the space where one can bathe.
In this regard, shower doors poses a great way for wholesalers and dealers to generate revenues since they can attend to the needs of the product's growing potential market. By having adequate knowledge on the right material and design to be used for the items that they will put up for sale, they can make the most out of this golden opportunity.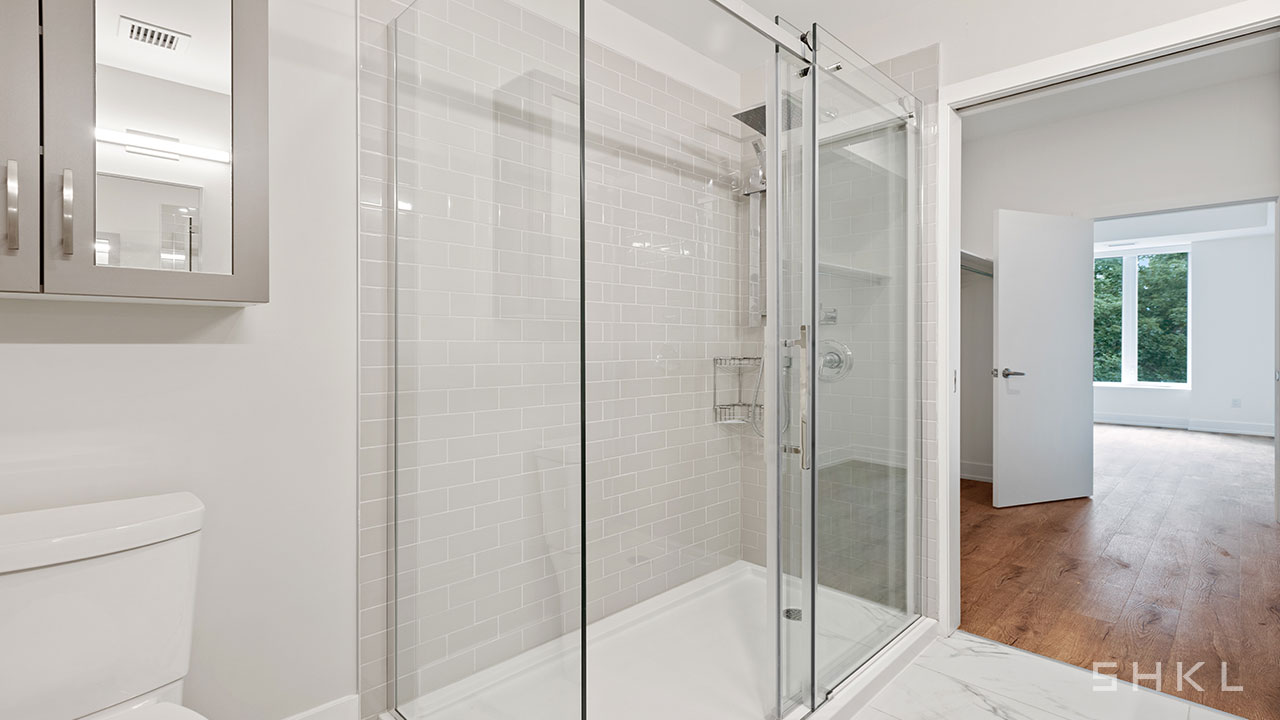 Table of Contents:
10 Prominent Styles for Shower Doors, and Their Features
Design Tips for Shower Doors
Shower doors, which may come off mostly with a glass finish, have a wide selection of designs that one can choose from. Aside from personal preference, other significant considerations that must be put front and center in the decision-making process include the available space of the room, its proximity on the wall, and the glass options that are currently being offered by manufacturers.
Just because a shower door has a bold design doesn't mean that you already come up with the right choice. Still, the functionality of the product itself, once integrated with the sleek style of the door, matters more on consumers. So if making huge sales is the goal, the efficient use of the shower door must be evident in the manner on how it is designed.
10 Prominent Styles for Shower Doors, and Their Features
Having said that, here is the list of the 10 most prominent designs for shower doors based on their construction that the market is expressing a huge interest at.
1: Frameless Shower Doors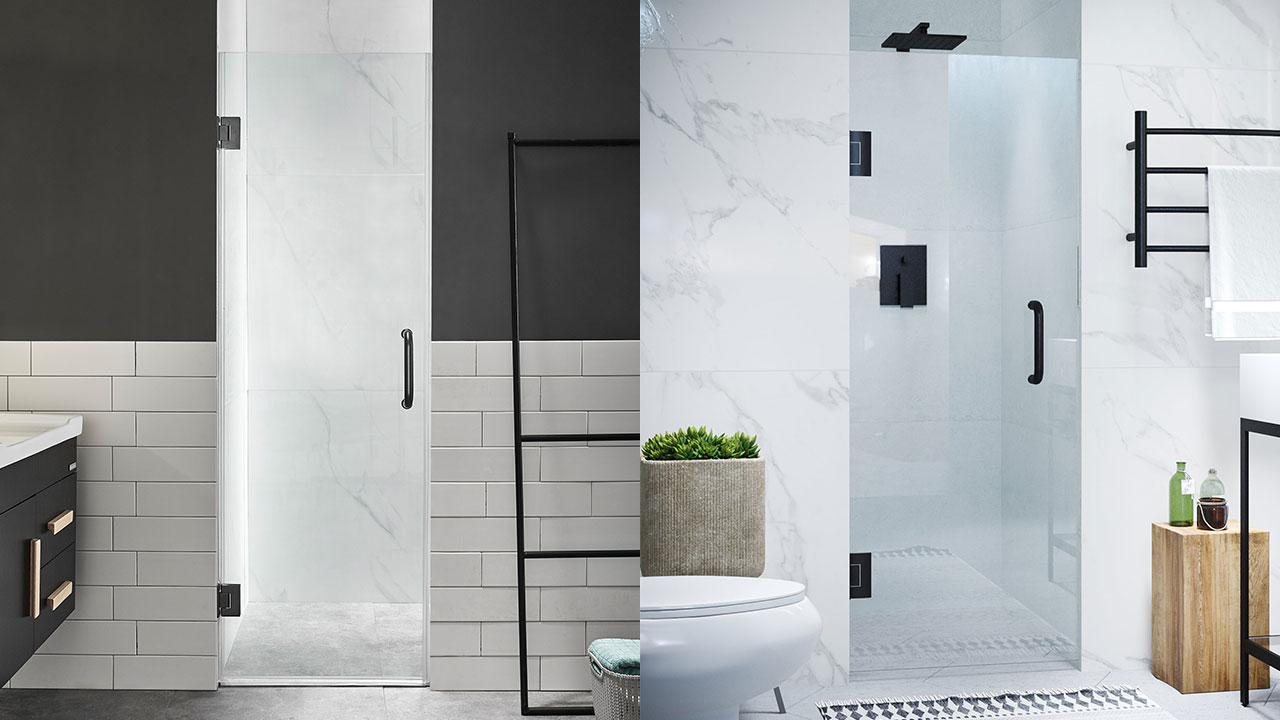 Source: walmart.com
Frameless shower doors are in the form of tempered, crystal clear glass shower doors secured with hinges. These kinds of shower doors are a perfect fit for a bathroom design that aims to achieve a minimalist look or modern feel, since it doesn't have much elements that may spark too much attention in the eyes.
The benefit that this frameless shower enclosure provides is that it features a tsunami guard, an additional layer installed in the fixture that makes shower experience safer. It is one of the frameless options designed to aid in repelling water and preventing accumulation of fog and moisture from the glass surface of the door.
As a hinged shower door, users can be opened by applying the right amount of force to swing it. Also, its clever style allows for its reversible installation process to be easy--unlike most sliding shower doors, this shower enclosure can make anyone's shower experience more convenient.
2: Framed Shower Doors
Source: lowes.com, VIGO
Framed shower doors secure the glass surface of the door. They use hardware of multiple layers which keeps the product away from being tarnished. Unlike frameless shower doors, these kinds of glass shower doors provides further safety on the structure. It takes on the style of stationary panels that are fixated right before the shower and its drain.
Glass panels like this is a great choice to break away from the traditional shower door styles. Given its installation pros and the small amount of space it takes up, this contemporary bathroom piece will be a great product to offer to the marketplace for this with large or small bathrooms.
Going with this kind of glass panels is a great choice especially since it has one of the quickest installation and allows the maximum opening for the floor area of the bathroom. With the use of clear glass subjected to high pressure, this shower door design is functional since leakages and scratches cannot occur easily when panels like this are installed in the bathroom.
3: Sliding Shower Doors
Source: https://www.wayfair.com/home-improvement/pdp/vti-56-60-w-x-72-h-sliding-frameless-shower-door-vi10052.html?categoryid=528106&placement=1&slot=5&sponsoredid=a9a45620993ef3973e90b7d6f42ceea68daaf2e2afe213efba1e3b54f236f857&_txid=I%2BF9OmNANEwC3BKmLSVlAg%3D%3D&isB2b=0&auctionId=968f6e3f-cefc-42f1-ae52-ff8edc59ab20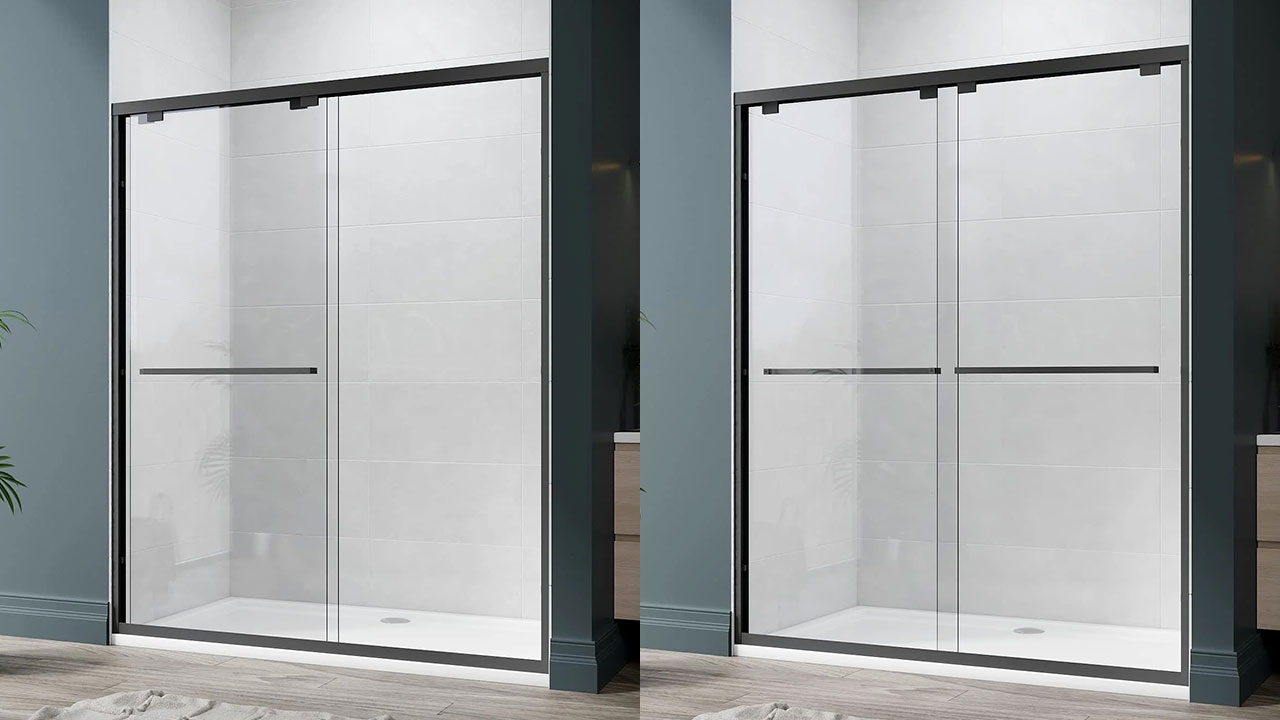 Source: wayfair.com, VTI
These sliding shower doors have a semi frameless style. With bypass doors and two handles, they ease the user motion when opening or closing it. Aside from the fixed panels, this is one of the clear glass bath screens that give off a modern feel with its sleek finish and use of a fair amount of elements.
Sliding doors are a great addition to a bathroom since it encloses the space allotted for the shower area. Since its seal strips offer a waterproof feature, one can enjoy using the room for bathing without having to worry about any water spill or leakage.
Also, sliding doors offer installation pros since the opening for the shower area can be designated on the left or right side, depending on user's preference. This glass door allows a higher level of sophistication compared to a standard door.
4: Neo-Angle Shower Doors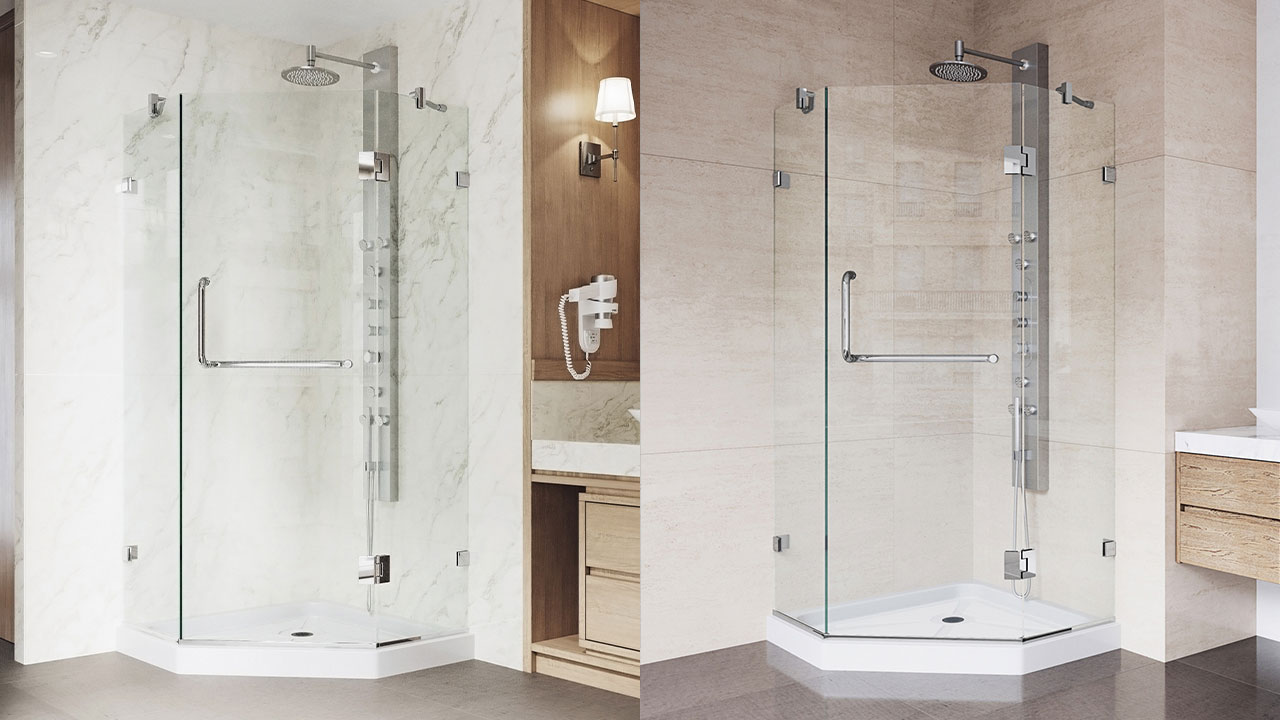 Source: vigoindustries.com, VIGO
A neo angle door has a glass finish with a shower surround style. These kinds of glass shower doors help in accentuating the bathroom while taking only a small amount of floor space. Like framed shower doors, its multi-layer hardware helps in avoiding tarnishing and corrosion.
One of the most beneficial features that this shower door style introduces is the fact that it is less consumptive of the floor space. This makes it a great addition for the dealer's list of market offers of shower enclosure since it can fit even on a bathroom with a limited space while still achieving a modern feel because of the exclusivity it provides.
Also, unlike other frameless shower doors, this shower enclosure can provide more safety as a structure since it marks the shower space by colliding glass panels--so if a strong outward force approaches the shower door, it is less likely to collapse.
5: Bi-Fold Shower Doors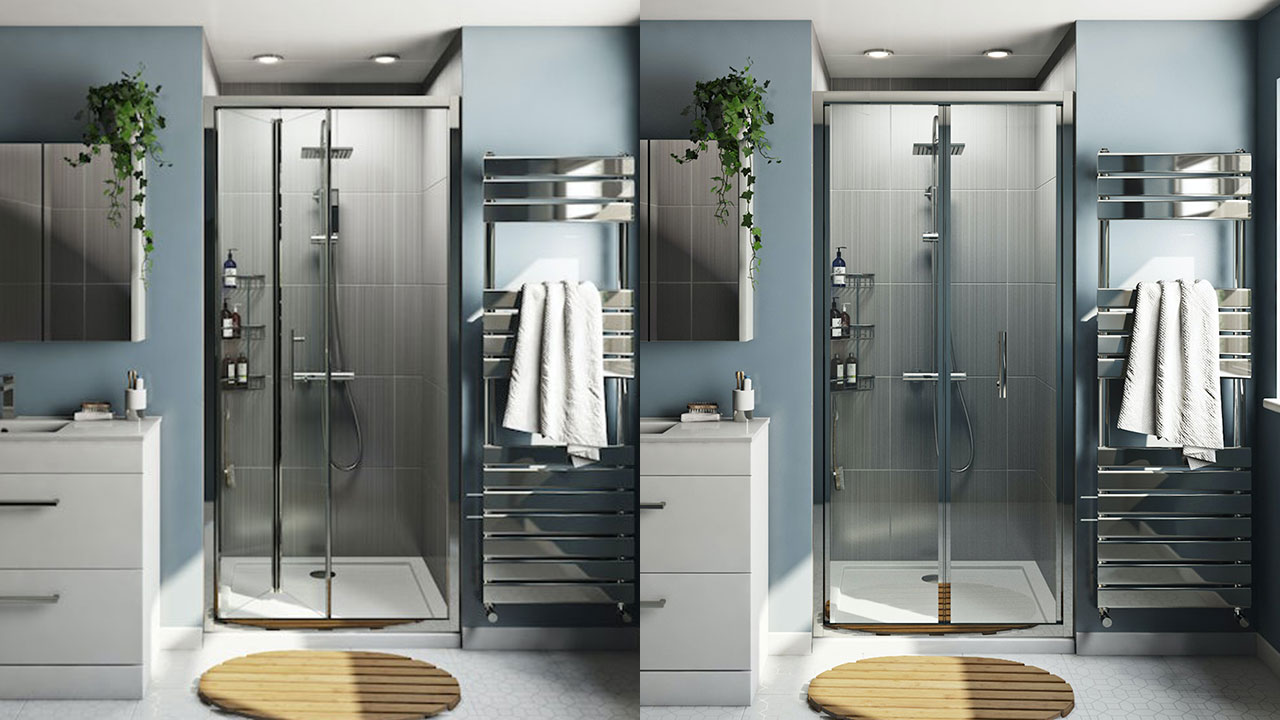 Source: victoriaplum.com, Orchard
One of the sleek glass shower enclosures to date, bi fold shower doors give off a modern feel because of the unusual way of opening or closing it. Unlike the conventional doors that require additional external space when being used, these make use of the internal space of the shower area which adds a touch of sophisticated in their functionality.
Its bi fold doors, like tri fold doors, is perfect for a bathroom with a limited shower space. This is because opening it will not take up further space, since it bends the glass piece inward. So if a bathtub is to be placed on the bathroom, this can compliment such fixture since the overall space of the room can be maximized.
6: Pivot Shower Doors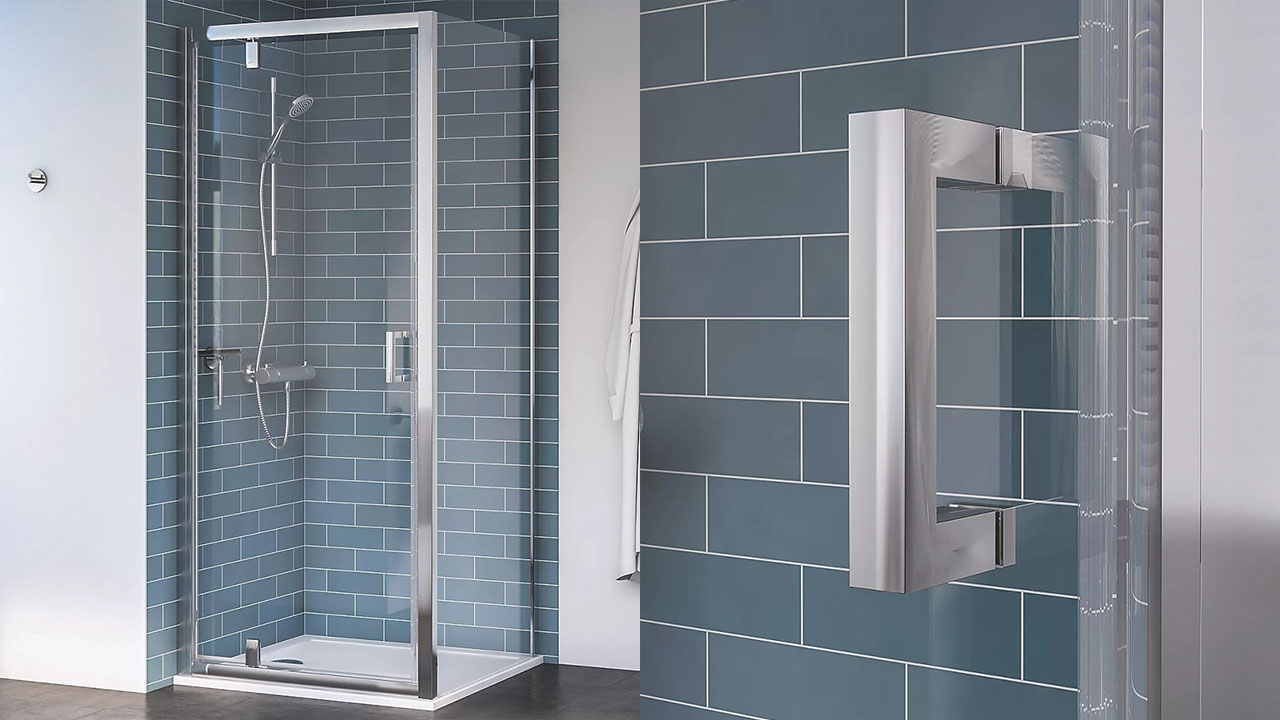 Source: screwfix.com, AQUALUX
A pivot door is one of the semi frameless shower doors that the majority of the market is currently eyeing. With a polished silver finish, this semi frameless shower door has a generous amount of inside space which allows users to have access on the shower room without having to worry about the surface of the glass door.
This pivot door, because of its unique mechanism upon opening and closing, gives users convenience since it doesn't take up much space compared to the typical hinged doors. With that, users may install a shower curtain and include a tub in the bathroom without having to worry out the overall layout of the fixtures around.
Also, the positioning of the pivots supporting this semi frameless glass bathroom door makes it more stable compared to other glass shower doors. This feature is significant to glass shower doors; otherwise, customers may confront great danger when using the bathroom.
7: Alcove Shower Doors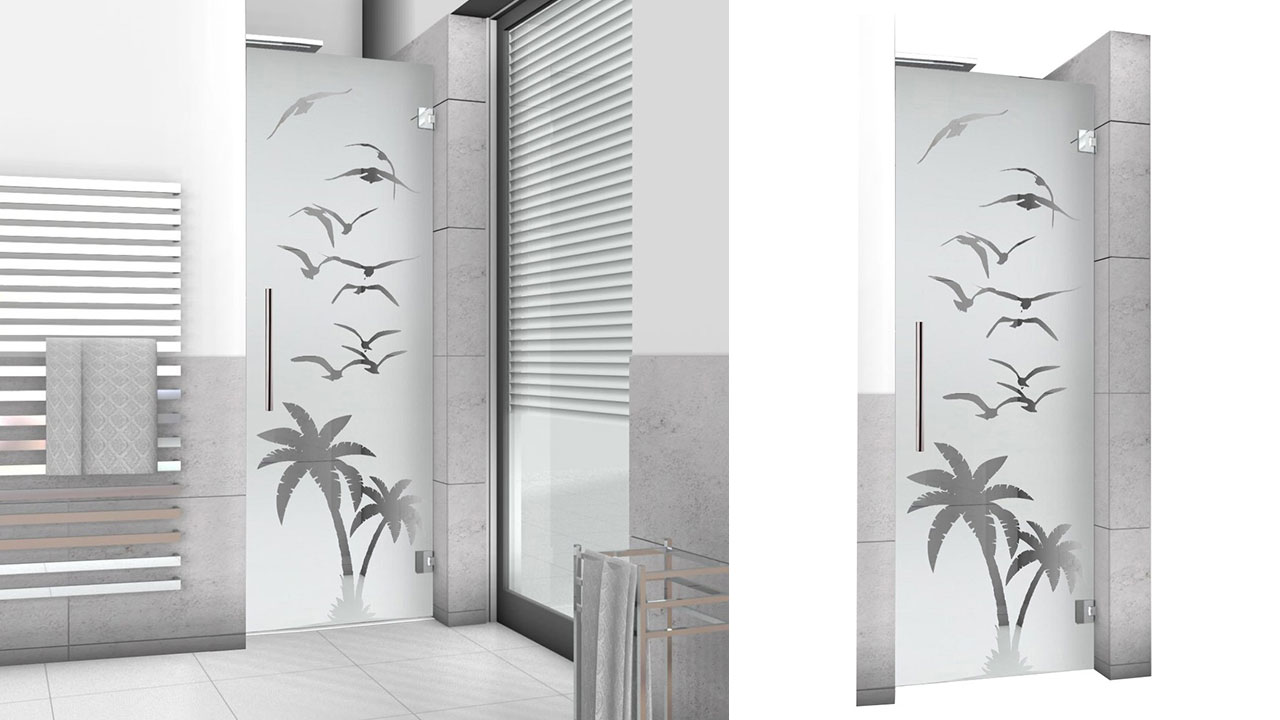 Source: houzz.com, glass-door.us
Alcove shower enclosure is a hinged frameless shower door that fits shower areas with a smaller floor space. Mounted between two walls, this fixture is a great choice because of its aesthetic value in totality. Also, its style can be elevated since tinted or frosted glass doors can be used as a substitute to the traditional clear glass surface.
This glass shower door option is a strategic product choice since it allows users to maximize the rest of the bathroom's free space. They can make room for tub, shower curtains, and other indoor ornaments after securing a pair of walls where users may install this shower door.
Also, another great advantage offered by this glass shower door is that it is easy to maintain. Since it covers a smaller space, this tub door only requires a small amount of effort to be cleaned like a fixed panel adjacent to shower stalls. Unlike a sliding shower door option, this can help people save time which can be favorable for them in the long run.
8: Round Shower Doors
Source: kohler
A part of corner shower doors, a round shower door has a structure similar to that of a neo angle door. However, its shape takes on a circular form which makes it appear more fitting to any edge of the bathroom. This sliding shower door comes with a metallic seal as well which keeps the fixture away from tarnishing.
The style of this glass shower door makes it a perfect fit for either a small or huge bathroom. It makes a limited shower area look bigger because its enclosed form accentuates the room's floor space.
And since this glass shower door does not take up much space like a fixed glass panel, this sliding door can serve as a bathtub door since it can allow more area for similar fixtures like tub. Easy to install, this product can be a great addition when aiming to increase revenues to be generated in offering shower doors to the market.
9: Quadrant Shower Doors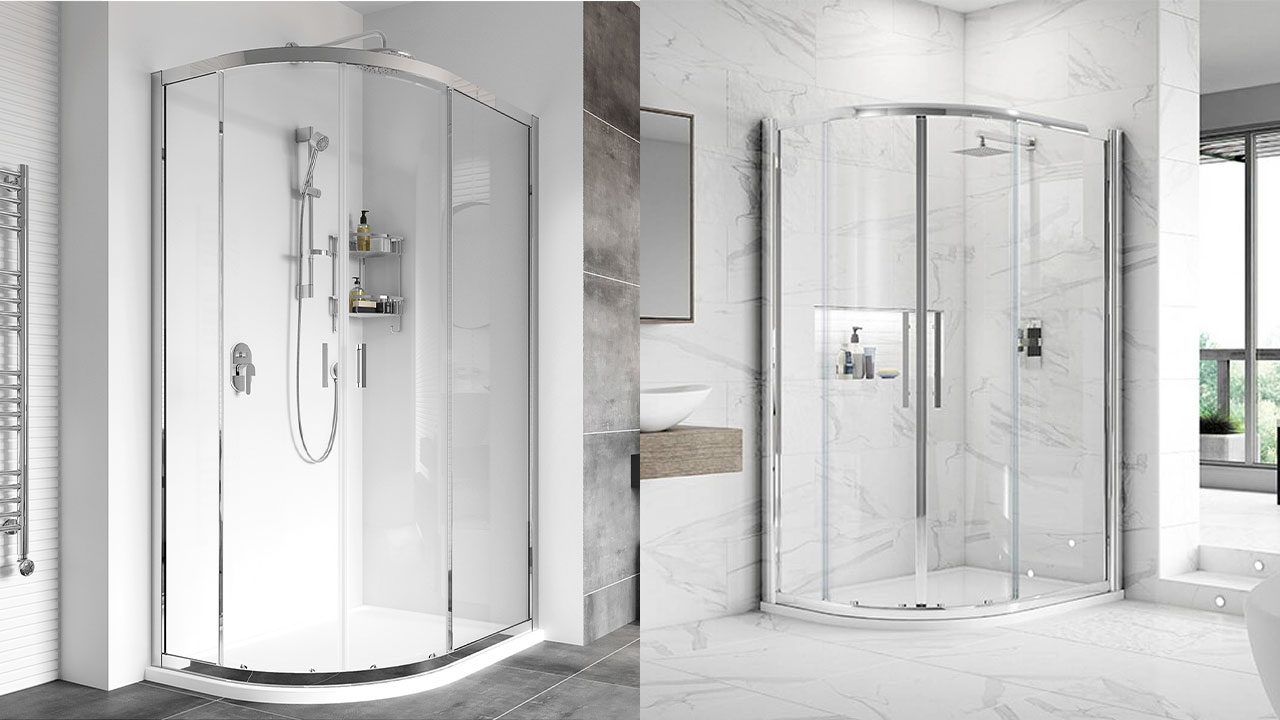 Source: bathshack.com, Roman
A quadrant shower door is another great item to add in the collection of sliding shower door units. A perfect fit to any corner, this takes the form of a quarter of an oblong figure--hence its name. With its solid frame around the glass surface, this glass shower door also offers stability with its smooth roller bearings and hidden door seals.
This quadrant shower door makes the most out of the space it occupies. Since it can be installed on any corner of the bathroom, the benefit of choosing this is the efficient amount of internal space that it gives to its users. This tub door allows the inclusion of other shower fixtures like a tub since it provides an adequate portion of floor area for it.
10: Hinged Shower Doors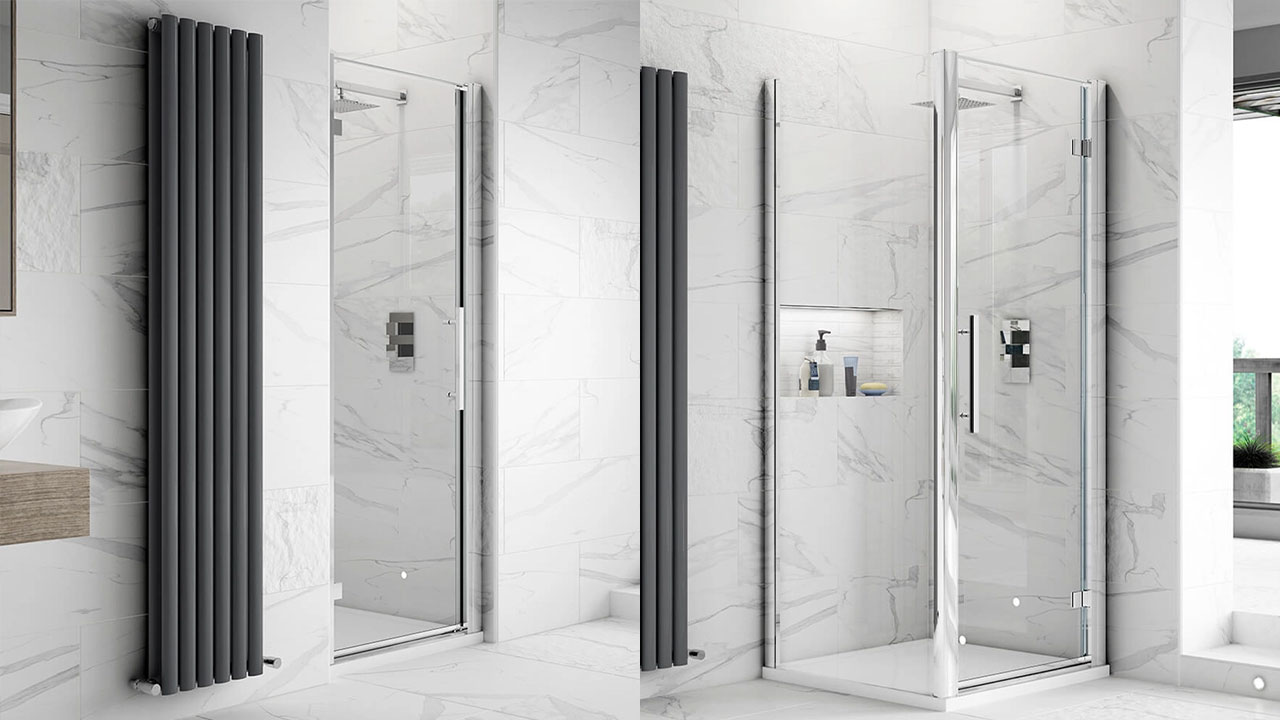 Source: drench.co.uk, Harbour Alchemy
A hinged shower door makes use of pivot hinges to install the glass surface of the door in the allotted shower area. Most of the frameless doors come at this design, which features a side frame for the hinge. Perfect for a minimalist design, it offers hidden fixings to give off a clean finish even from afar.
This glass shower door, like any other frameless doors, works well with a tub since it does not consume much floor area of the bathroom. Like a fixed glass panel, this is also user-friendly since it is universally handed--both left-handed and right-handed can make use of this glass shower enclosure with ease.
Final Thoughts
Shower doors serve as a cherry on top that make up a perfect bathroom. May it be for a steam room or a typical shower area, it is vital to consider its functionality so that the convenience and safety are securely handled from manufacturers to its end-users.
In the similar way, the design of these glass shower door can go beyond the ordinary. As wholesalers of these items, the attention of the market is heavily affected by the way they perceive the market offers. After all, no buyer will be interested to buy something with an outdated appearance.
Having said this, a famous shower door unit alone will not seal the deal--the efficiency of usage and the style must form a harmony for the product to be deemed necessary by its end users. So take note of these famous shower door designs and create an elegant statement to your market with the help of these shower enclosure models!