From the Asia Pacific to the Middle East, online sales of bath vanities, bathroom mirrors, and other products of similar nature are expanding. The current trends competitive landscape in the said regions are intense given the rapid improvement in production processes amongst most countries.
And with the advent of digitalization, volume and value estimates of bathroom furniture sales platforms are expected to even increase anytime soon.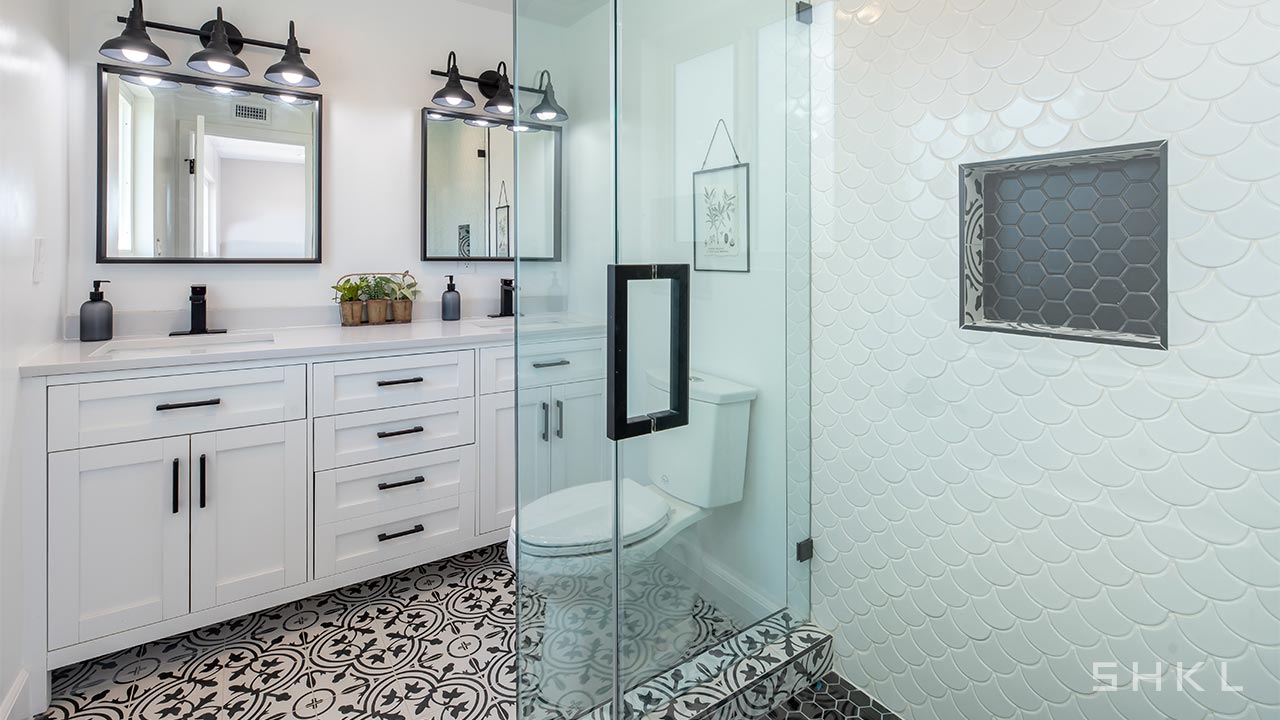 Table of Contents:
Key Features of an E-Commerce Sales Channel
An ideal e-commerce sales channel must have key factors like ease of navigation for customers, efficient online order processing, and a huge customer base so that wholesalers can market their products with ease.
All of them can make transactions with customers convenient and safe over the internet, without worrying that conflicts will arise in the future.
If one of these main key factors is missing, then dealers will struggle to maximize the opportunities that can be found online.
Why Choose E-Commerce Sales Channels?
Wholesalers must consider switching to e-commerce sales channels since they offer convenience and safety, promote cost savings, and add value to their operations.
Unlike the traditional marketplace, selling on these platforms can save the time, money, and other resources of dealers. Also, the number of internet users increased since the world imposed foot restrictions in recent years.
Hence, future trends dictate that majority of the market will be found online opportunity dealers shouldn't waste. It will also help you to know about development trends nowadays.
10 Best Bathroom Furniture Sales Channels
Whether you are from the Americas, the Middle East, or the Asia Pacific, here are 10 bathroom furniture e-commerce sales channels that you may not want to miss out according to most of the available bathroom furniture market reports online.
1. Houzz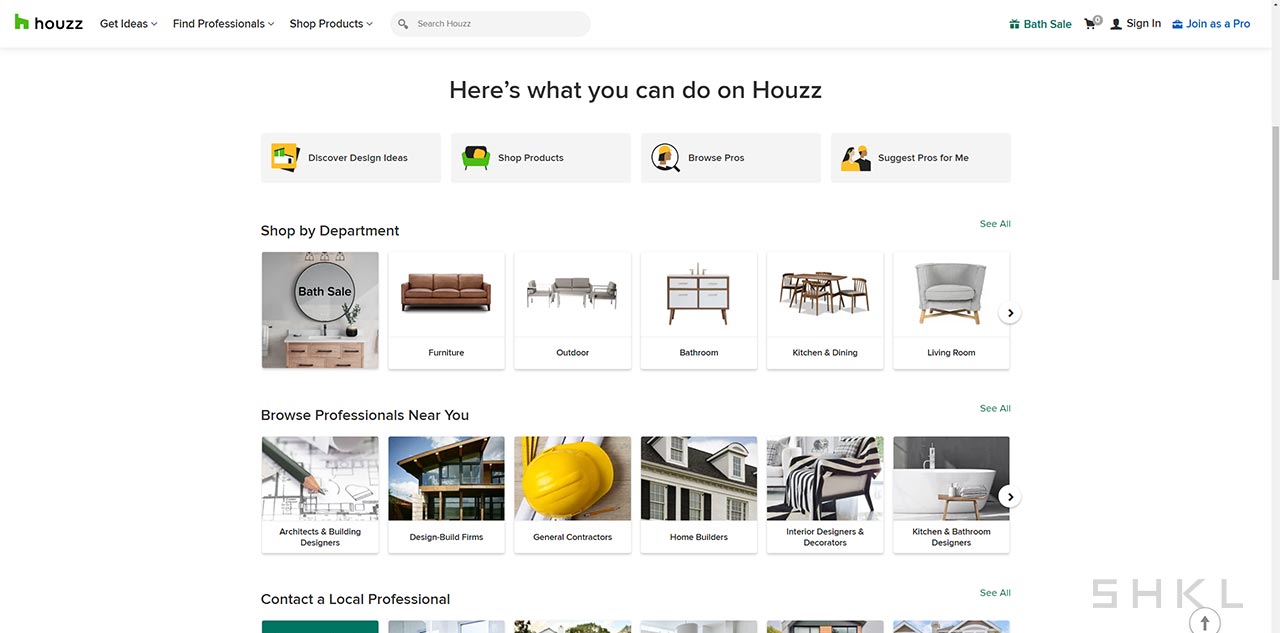 The name "Houzz" similar to the word "house", easily associated with a house and home improvement. So in terms of name, Houzz has won in the field of home improvement.
And Houzz combines content, community, and e-commerce as an online community and e-commerce platform, providing renovation designers to upload and share articles and pictures about architecture, interior design, decoration, to help general users find the right design inspiration, match homeowners and interior designers, and also provide home decor merchandise services.
Interior DIY design is very popular, many users have their own ideas, and there are many ideas in Houzz for reference, so I believe that bathroom furniture is very suitable for sale on Houzz.
Houzz is among the most prominent e-commerce sales channels for the global bathroom furniture market. Apart from bathroom furniture items like bath vanities, they also offer fixtures for one's living room, bedroom, and kitchen.
Over a decade-long of forecast period, Houzz's market share increased because of its founders' dedication to bring items closer to the bathroom furniture market. Since 2009 to date, the site stores over 18 million pictures of remodel projects, which fairly gives the global bathroom furniture market an idea of the quality of the platform's products.
In 2015, Houzz opened its e-commerce platform. Over 15,000 wholesalers tied partnership with the company, which led to the extension of its distribution channel for global bathroom furniture supply and similar products.
It offered 15% commission rate to its vendors, a significant element that forms part of its competitive landscape as a leading e-commerce sales channel. This is a great step for the company since a lot of wholesalers took advantage of the deal and offered their products through its platform.
Given its large audience, it follows that it has a huge global bathroom furniture revenue that led to its approximate valuation of $4 billion.
Perks of selling at Houzz:
Huge Traffic from Active Customers

Given the market dynamics and figures produced by Houzz, it follows that a huge portion of the global bathroom furniture market browses along the products displayed in the said virtual platform. With that, wholesalers can increase their global bathroom furniture if they customers from Houzz as part of the market they serve.

Synchronization and Management of Inventory

Houzz coordinates with Shift4Shop, a tech company that aims to develop e-commerce platforms. If wholesalers sell bathroom furniture like bathroom mirrors, they can generate tracking information about customer orders and update product catalog listings.

Customized Idea Book Layout

Wholesalers can also maximize of the feature of customized idea books provided by Houzz. With this, the global bathroom furniture market browsing at Houzz can be enticed to take a good look on the bathroom furniture items offered by the dealers involved.
2. The Home Depot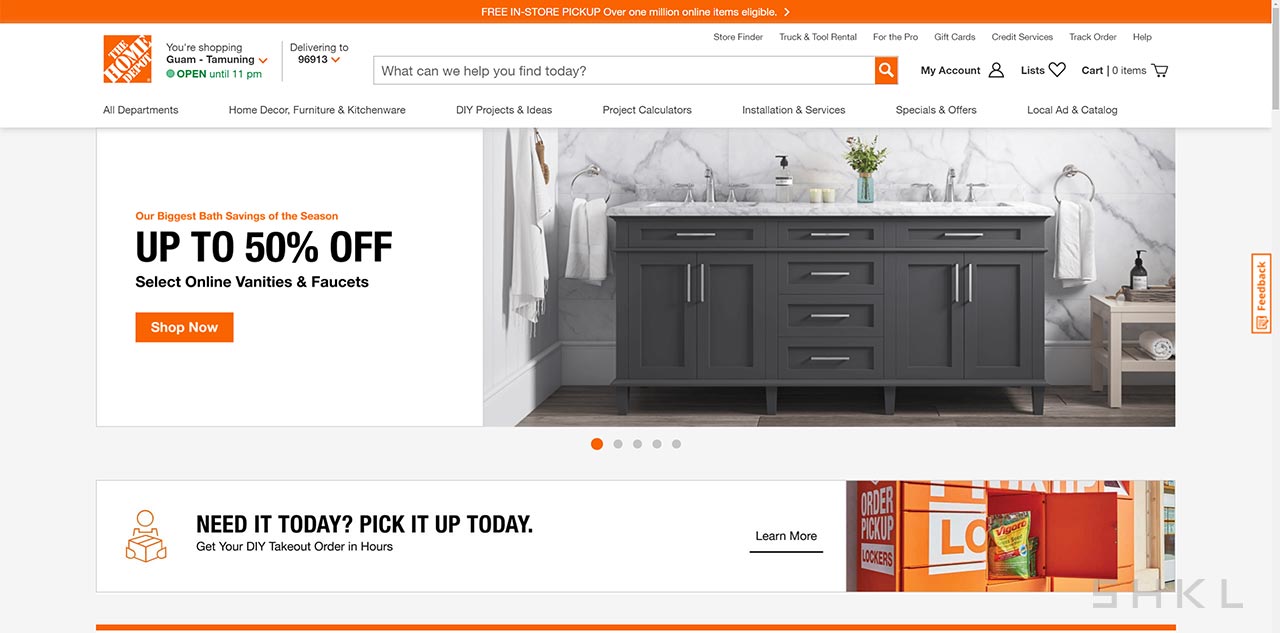 Found in 1978, The Home Depot is another promising e-commerce sales channel that accommodates the needs of the global bathroom furniture market.
Starting from 25,000 item listings, it made its way to open 2,300 store branches from the U.S., Canada, and Mexico to bring global bathroom furniture to any shopper around the world.
Its e-commerce platform is a huge part of its competitive landscape, since it was in 2001 when Home Depot started generating online sales. A research report revealed that over 40% of its household commercial products began to be sold online before they were offered to its physical stores.
After five years, over 10,000 vendors have been trusting the company's e-commerce sales channel in 2006. They took advantage of the ongoing expansion of Home Depot's global market size. And over the years, the market research report shows promising figures about the company and its corresponding wholesalers.
This massive expansion allowed the hike in its global bathroom furniture revenue and its respective market share to the said category, along with other home fixtures.
Its network of connections from manufacturers became one of its multifaceted advantages. It helped key vendors and industry participants to leverage manufacturing technology and connect with different segments of the global bathroom furniture market.
Perks of selling at The Home Depot:
Omnichannel Process

The physical stores of The Home Depot serves as the hub where online orders are also collected. This helps wholesalers since it shortens the forecast period for the delivery of items since logistics partners of the company can pick up the goods at the nearest shop and transport them to destination ports.

Investment in Technological Development

Wholesalers can benefit from since by selling fixtures to the global bathroom furniture market, they can be assisted by The Home Depot by providing customers with all the essential information they need to know about the product.
3. Ikea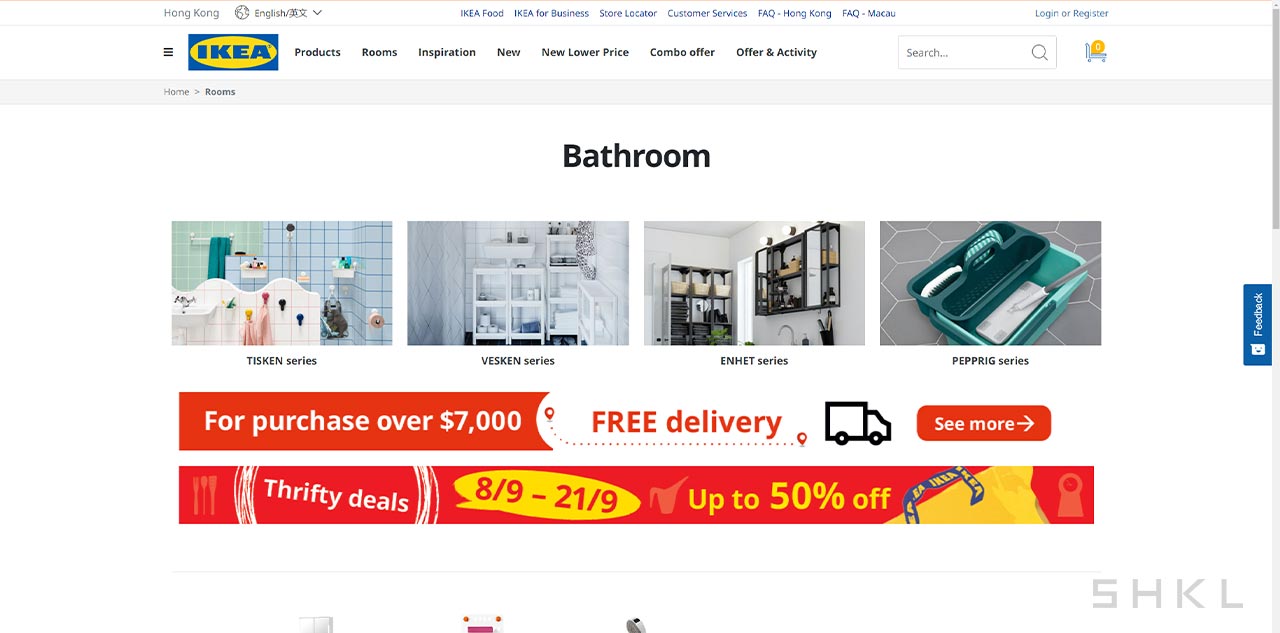 From global bathroom furniture to the smallest pieces of fixtures in one's home, Ikea is an e-commerce platform that remains impactful to wholesalers. Its prestigious name that positively resonates with the Asia Pacific and the Middle East comes with its huge market share and global bathroom furniture revenue.
From the idea of selling household goods, this store bloomed to be one of the most accepting stores one can ever find. Its fervent focus on quality became a part of its growth factors and provided today's businesses the global bathroom furniture that they need.
In 1997, Ikea.com was published over the web. And since then, the company continues to coordinate with over 1,600 wholesalers according to research report. They benefit on offering their bathroom furniture items at the company's furbished platform which remains to be significant in Ikea's continuous market growth.
In 2021, market research report reveals that it generated over 41.9 million euros worth of total turnover, inclusive of its global bathroom furniture revenue.
And albeit quite fluctuations on the past 3-year forecast period due to the COVID-19 pandemic, it remained to have productive operations considering the contribution of the bathroom furniture market size.
Perks of selling at Ikea:
Reputable Brand Image

Along with global bathroom furniture market, shoppers from the Asia Pacific, the Middle East, and the rest of the world remember Ikea to be a brand with a good reputation. If wholesalers sell their products at the e-commerce platform of this company, then they will be remarked as a decent dealer of bathroom furniture products too.

Digital Marketing Efforts

The expertise of Ikea in terms of employing digital marketing strategies helps wholesalers in selling bathroom furniture items at its platform. They can easily call the attention of the bathroom furniture market since Ikea will help them get their points across the web.

Strong International Presence

According to primary research, the global market finds Ikea an accessible brand since it has 433 stores open worldwide. If bathroom furniture wholesalers choose to sell items at its e-commerce platform, then they can generative a higher global bathroom furniture revenue since they can broaden the reach of their products.
4. Wayfair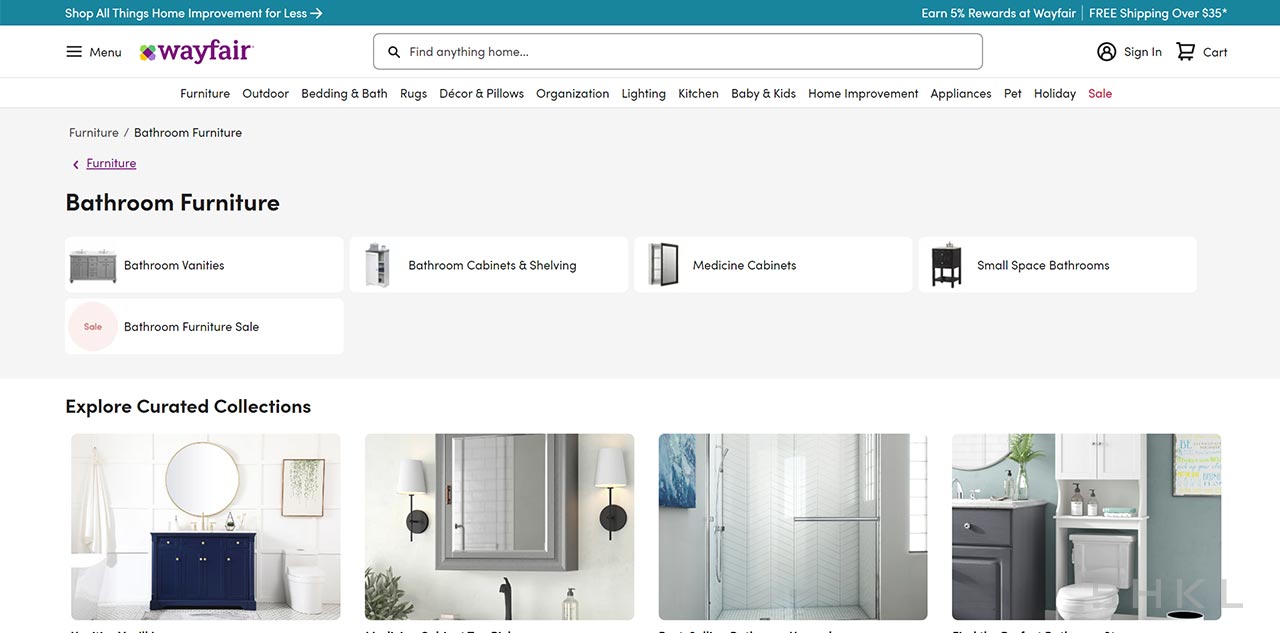 Wayfair is an e-commerce sales channel that provides access to global bathroom furniture, home decoration, and similar items.
On September 1, 2011, Wayfair established its e-commerce platform. Wholesalers took advantage of the company's continuous market growth and entered into deals to sell their bathroom furniture items at the said sales channel.
In 2017, Wayfair was reported to accommodate the needs of over 7,000 dealers of 7 million home improvement products worldwide, including global bathroom furniture items. Records from the recent forecast period provides that even in the event of COVID-19 pandemic, the company and the wholesalers continued to be successful.
It has gained momentum in the bathroom furniture industry with its promising market share and global bathroom furniture revenue of $14 billion on the onset of the COVID-19 pandemic, which is unusual to most businesses at that time.
In fact, throughout the three-year forecast period, it was in 2020 when their sales where at its peak. Market participants such as importers found ease in sourcing global bathroom furniture such as bathroom mirrors.
Perks of selling at Wayfair:
Large Customer Base

Like other leading global key players, Wayfair is also a great sales channel for wholesalers because of the number of customers that support the company. Dealers can increase their market share and improve market dynamics if they are exposed on a larger portion of the bathroom furniture industry.

Easy User Experience

Wayfair's e-commerce platform features a smart dashboard, wherein you can filter different segments of a certain product to navigate it easily. In return, this can be an advantage for wholesalers since customers can easily shop their bath vanities and other global bathroom furniture items displayed at Wayfair's sales channel.

Real-Time Data and Analytics

Wayfair allows dealers to see real-time updates about their financial performance at the platform. An instant bathroom furniture market report like this can help wholesalers to project the strategies that they need to improve their operations.
5. Lowe's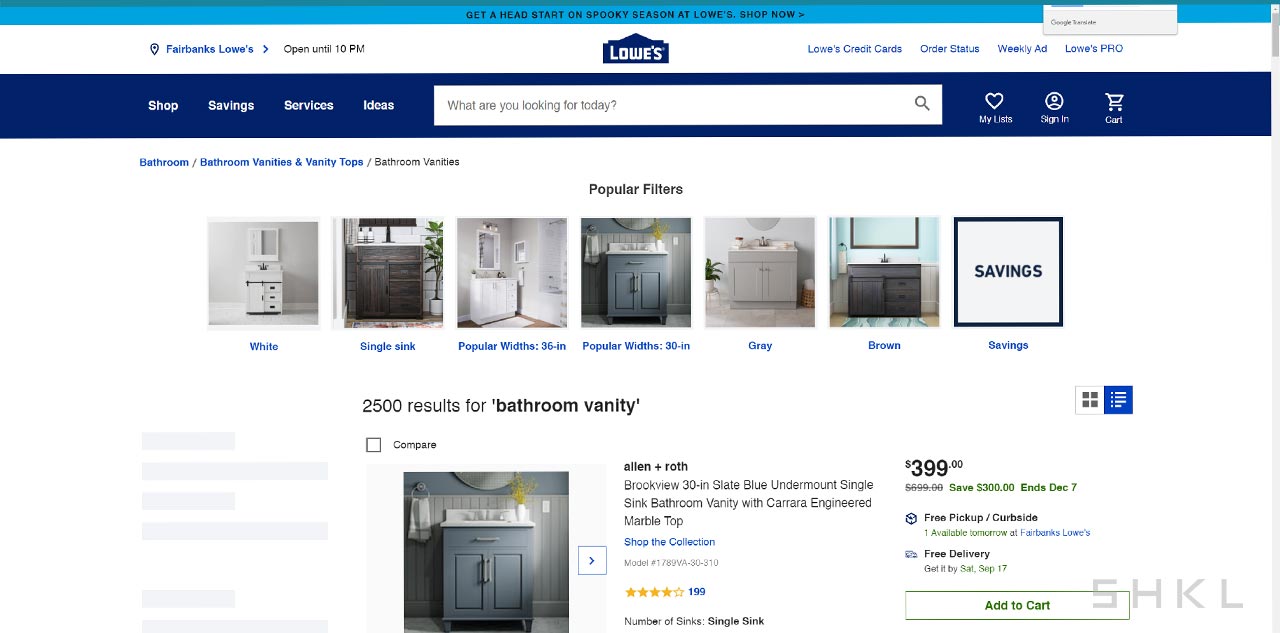 An American retail company, Lowe's offers home improvement items such as global bathroom furniture, building supplies, appliances, and the like. With a stunning $72.15 billion total revenue, it shows that the company's market share and global bathroom furniture revenue are among the most promising ones you can find in the internet.
When it published its e-commerce platform in 1995 which was joined by over 7,000 wholesalers, its market size spiked over the decades. Now, the global community trusts its offers, including the global bathroom furniture market.
It outsources global bathroom furniture from various manufacturers, so importers are given more freedom to choose the items and the producer they want to buy it from. This very tactic by Lowe's paved the way for its global bathroom furniture market size to grow.
Apart from its commendable market growth, it subsequently improved its total turnover--a huge part of it accounted from its global bathroom furniture revenue.
Perks of selling at Lowe's:
Omnichannel Process

Wholesalers and other key market players who sell bathroom furniture items at Lowe's e-commerce platform can take advantage of the company's online order processing. Its use of its physical stores to pick up bathroom furniture items ordered by customers expedites the process and brings positive reviews for dealers.

Digital Marketing Efforts

Lowe's uses its brand image to boost its social engagements online. This efficient strategy offers opportunity for wholesalers too, since they can worry less about getting the global bathroom furniture market.
6. Overstock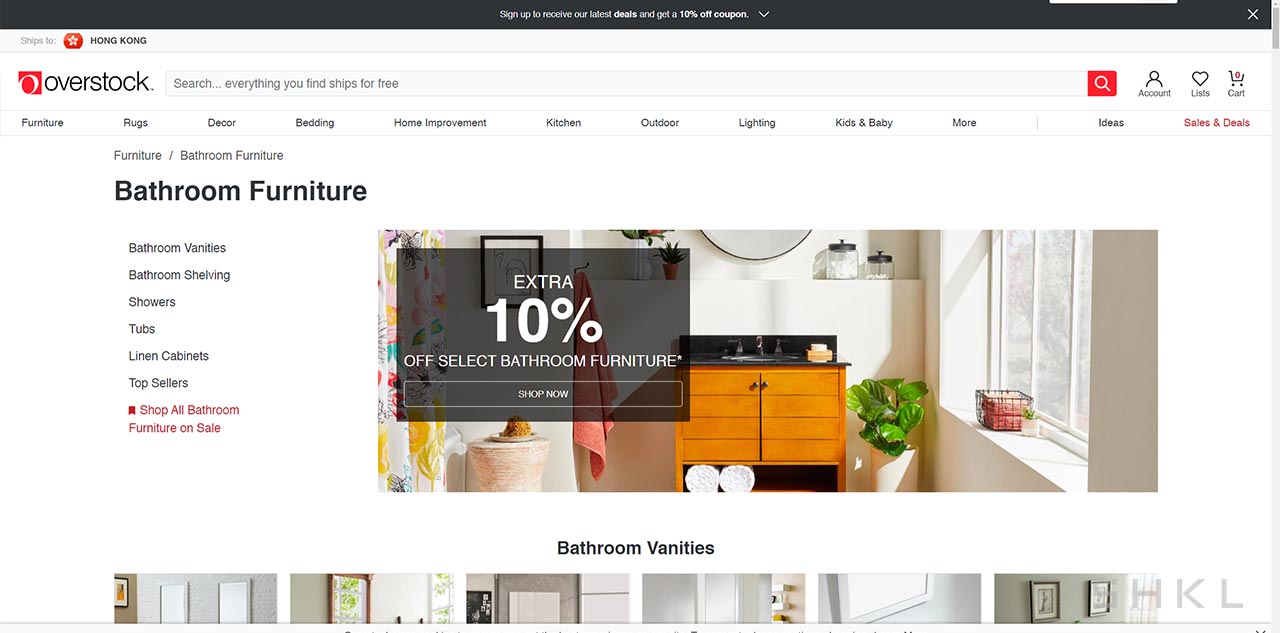 Overstock is another e-commerce platform that provides all the needs of everyone in their respective households. May it be global bathroom furniture, rugs, bedding, or lighting, it has its customers covered.
The company launched its e-commerce platform in 1999. It became one of the "Top 100 Visited Sites" by Hitwise, Inc. in 2003 because of its effort to improve the sales channel. And over the years, Overstock continues to provide opportunities for wholesalers who want to serve the needs of the global bathroom furniture market.
With a total revenue of $2.549 billion in 2020--a year when most businesses struggle due to COVID-19--Overstock is among the most productive e-commerce platforms and is expected to remain in such way for a longer forecast period in the future, since wholesalers from other bathroom furniture market are anticipated to make the switch and browse in the said platform.
Perks of selling at Overstock:
Brand Exposure

The market share of Overstock is worth USD million because of its extensive experience with online sales. This is among the market drivers that help wholesalers to reach the bathroom furniture market easily, since the association of their products with the company can entice customers to support the same.

Assistive Partner Platforms

Also, Overstock partners with different platforms that develop e-commerce sales channels. So if wholesalers will sell their items with the help of the company, then they can attend to the needs of a huge portion of the bathroom furniture market size conveniently.

Customer Data and Analysis

Overstock makes tracking data and analytics concerning global bathroom furniture market is made with ease. Thus, key players dealers can view the results of their operations from a historic and forecasted period, develop a pricing analysis, and pursue industry growth by analyzing the real needs of their market segments.
7. Floor & Decor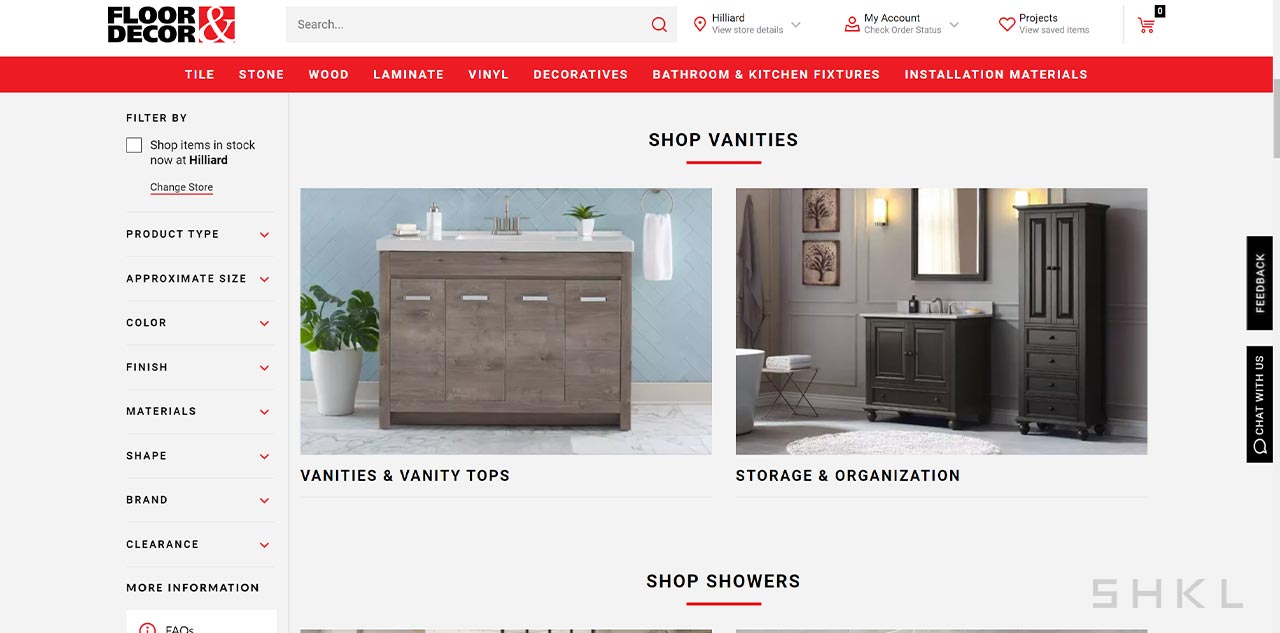 Floor & Decor has been called the "category killer" when it comes to flooring. From bathroom furniture to bedroom decorations, it keeps the spaces of one's home as conducive as possible.
Founded in 2000, this company soon ventured being an e-commerce platform to attend to the needs of international customers and address the demands of the global bathroom furniture market, along other similar markets.
To keep up with the demands of customers including the global bathroom furniture market, Floor & Decor relaunched its e-commerce platform in July 2017. This gave wholesalers a chance to market their products online conveniently.
The great thing about Floor & Decor is that they directly contact manufacturers, so it would be easier for the team to sell items at lower prices. In return, they get to attract more customers and generate huge sales with their operations.
Perks of selling at Floor & Decor:
Investment in Technology Development

Wholesalers can expand their reach to a bigger portion of the global bathroom furniture market size with the help of Floor & Decor's fervent investment to develop its e-commerce platform. This can help key players like dealers to be as detailed as they can in specifying the features of their bathroom furniture items online.

Large Customer Base

Since Floor & Decor is the premier flooring retail provider from the Asia Pacific to the Middle East, it has authority over a large part of the global bathroom furniture market size. With this, wholesalers can offer their products instantly and work on their market's growth due to the exposure that the company may give to them.
8. Walmart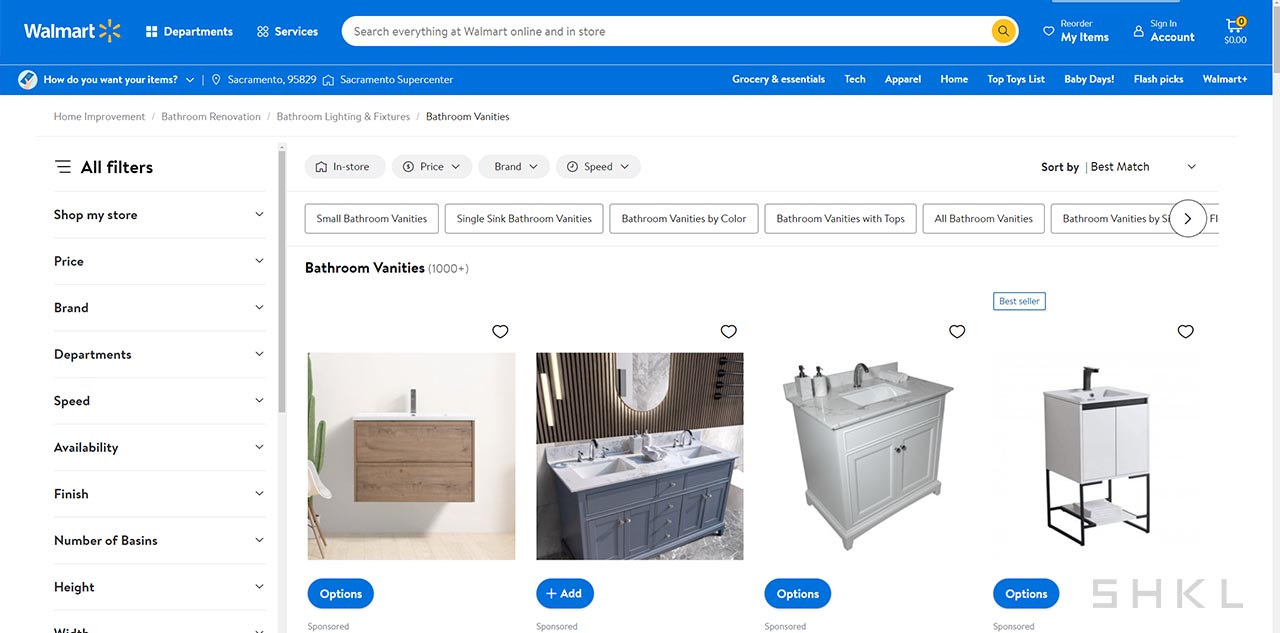 The U.S.-based Walmart is among the widest e-commerce platforms one could ever find. This provides quality products and daily essentials of Americans.
Aside from some bathroom furniture, it also offers grocery, tech, fashion, and other home items.
In April 2016, Walmart launched its e-commerce platform. After four years, the total number of wholesalers that use their sales channel blew up to 70,000 in 2020. This opportunity by Walmart helped dealers to reach the global bathroom furniture market easily online.
As of 2018, it already has 4,743 stores all throughout the U.S. This explains why this store has a huge market share in its industry and continues to attract as much importers as possible.
With a total revenue of $523.964 billion in 2020, it's among the leading stores worldwide that suits the needs of importers.
Perks of selling at Walmart:
High Brand Value

It will be a great choice for wholesalers to sell their items with the help of Walmart since it is a well-known American company with a valuation that is worth USD million. This is among its market drivers that can help dealers of global bathroom furniture to reach a bigger market size.

Listings and Analytics Tools

Key players like wholesalers can also enjoy a variety of analytics tools that Walmart offers. This is a huge advantage since doing market estimates, market analysis, and other significant trends can be done with ease immediately.
9. Costco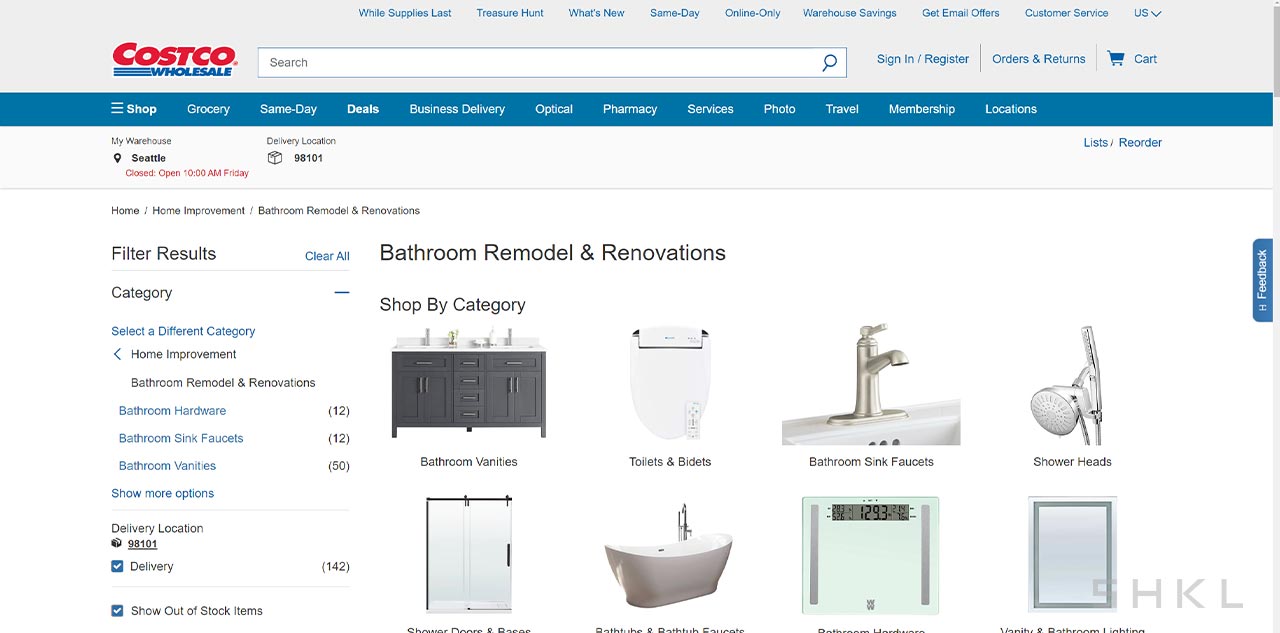 Opened in 1976 as Price Club, Costco is another all-encompassing e-commerce platform that aims to provide daily needs of its market.
It used to be exclusive for its members, but the organization determined a huge chunk of opportunity cost because of a larger potential market that they can attend.
Through the years, Costco is among the stores that transformed the retail industry. By being product-centric, it urged more businesses to be customer-centric. Meaning, that it inspired other e-commerce sales channels to offer a wide variety of products for the benefit of its varied users.
In 2014, Costco launched its e-commerce platform. Based on the recent bathroom furniture market report, its sales channel contributed 75.8% in its total revenue in 2021. Relevantly, directly helped wholesalers who opt to offer fixtures and other items to the bathroom furniture market.
Now with its wide distribution channel, Costco offers global bathroom furniture along with another grocery, pharmacy, and other household commercial supplies that may come in handy.
Perks of selling at Costco:
Digital Marketing Efforts

Wholesalers can conveniently sell their global bathroom furniture items with the help of Costco's fruitful digital marketing campaigns. Since it established its brand to a huge portion of its market size, dealers who are venturing with them can gain further exposure to its products.

Large Customer Base

Costco comes with its prestigious name, and this will be an advantage of wholesalers who wish to sell their products on its e-commerce sales channel. They can accommodate a large portion of the bathroom furniture market size since the customers of the company can see their products and support the same.
10. Amazon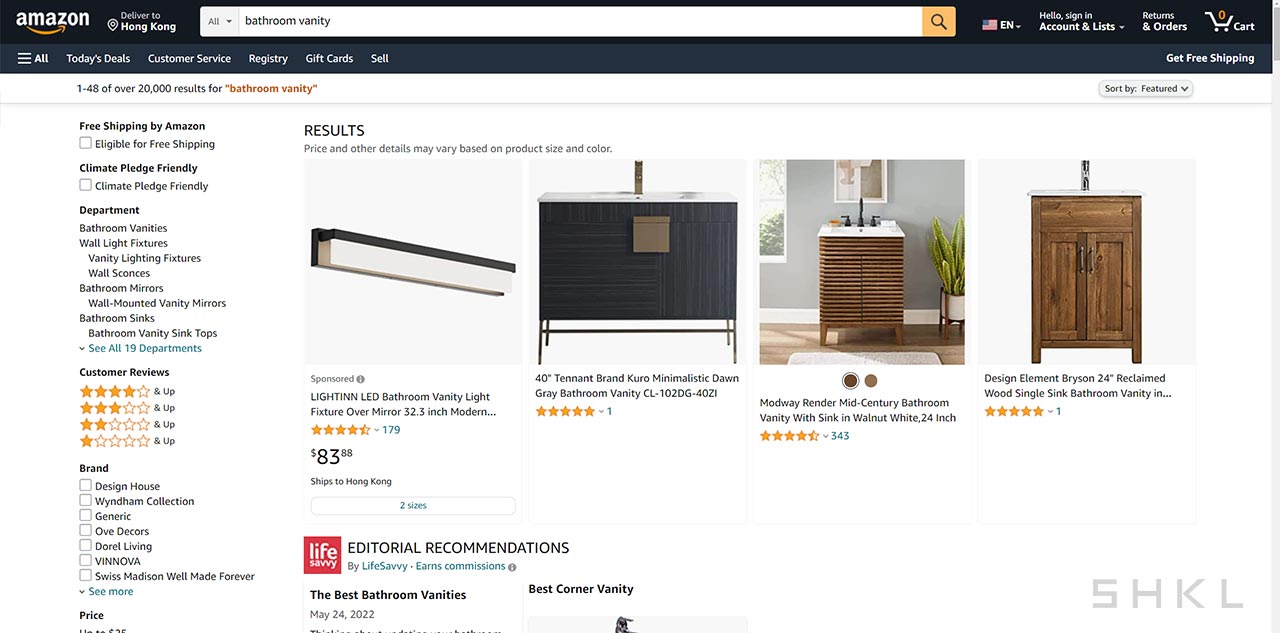 Generating a whopping gross revenue of $469.8 billion in 2021, Amazon is the most prominent e-commerce sales channel, and the traffic is enormous (the largest of those listed here). However, Amazon is better suited for selling small items, and Amazon's FBA storage fees will be very expensive for large items like bathroom furniture.
Moreover, the operating fees charged once after-sales problems happen are also very expensive. So if you are a local dealer, I suggest you use FBM mode, have your own warehouse and ship your own goods, and handle after-sales issues by yourself. But Amazon does not have as much traffic support for FBM model sellers as FBA model, so I ranked Amazon tenth for all factors.
Aside from global bathroom furniture, you may also find any other item you need or want--may it be for home decoration or personal use, Amazon has everything for you.
The success of the business boomed in July 5, 1994, when Amazon launched its e-commerce platform. This gave opportunities to over 200,000 wholesalers who want to offer products around the world, including the bathroom furniture market.
Even on a forecast period of a decade, anyone would notice the progress in the sales of the platform. Consequently, its bathroom furniture revenue shows a promising increase through the years.
Perks of selling at Amazon:
Large Customer Base

Amazon earned huge revenues over the years because of its large market size, and this can help wholesalers who want to sell their items on its e-commerce platform. Each product listing on Amazon has a great chance of being noticed since there are numerous customers who browse its website every day.
Digital Marketing Efforts

Amazon is also dedicated to boosting its marketing efforts in digital means. This helps wholesalers to spend lower promotional costs when they sell their products at its e-commerce sales channel and have their products promoted immediately all over the internet.

Strong International Presence

From research reports, it was found that Amazon accommodates 100 countries worldwide with its physical stores and 13 countries with its online platform. With this, wholesalers can reach the global market and offer their bathroom furniture items with ease.
Final Thoughts
In fact, the sales channel is not the only, the essence of e-commerce platform sales are compete traffic, and now in the developed network, Whoever holds the traffic is King. Therefore, if you are capital rich, you may be able to try multiple platforms (channels) at the same time to carry out sales jobs, traffic maximize, in the shortest possible time, to obtain more orders.
Given how everything is digitized in this world, knowing how to do things online can be tough for the majority of the bathroom furniture market. But thanks to these e-commerce platforms that were just mentioned, selling pieces of furniture can be easier.
All that wholesalers need to consider is the presence of the essential features to assert that a virtual platform is an ideal one.
Together with an in-depth analysis and market expert opinions, you'll never go the wrong way when importing pieces of bathroom furniture. So take note of these sites first when arranging your next deal for your business! We have explained the main key factors driving the above.