LED mirrors are gaining wide popularity due to their diverse variety of uses. It is therefore our duty as manufacturers and distributors to produce and distribute the best qualities. However, the best qualities are relative. It means that people define quality LED mirrors differently.
While some mirrors have features that make them stand out, these features make them more expensive. For this reason, we have carefully highlighted 17 factors (unique features) that will affect the price of LED mirrors. These are the features that affect your pricing with customers during negotiation.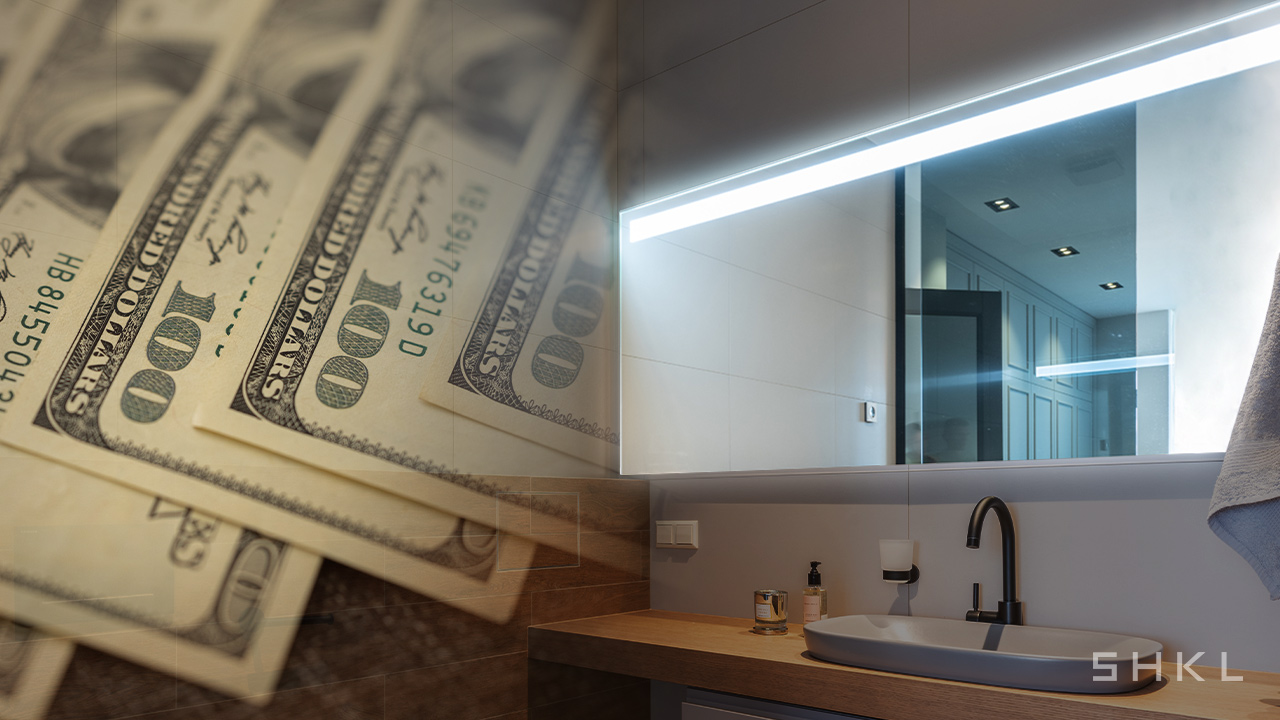 17 Key Factors List
The costs of a LED mirror vary based on several factors. Some factors that affect the cost of bathroom vanity mirrors are their designs, function, and shapes. In addition, their waterproof ability affects their cost too. Howbeit, other factors affect the cost of LED mirrors. We as a manufacturer of LED bathroom mirrors for many years, have summarized the following 17 points in total.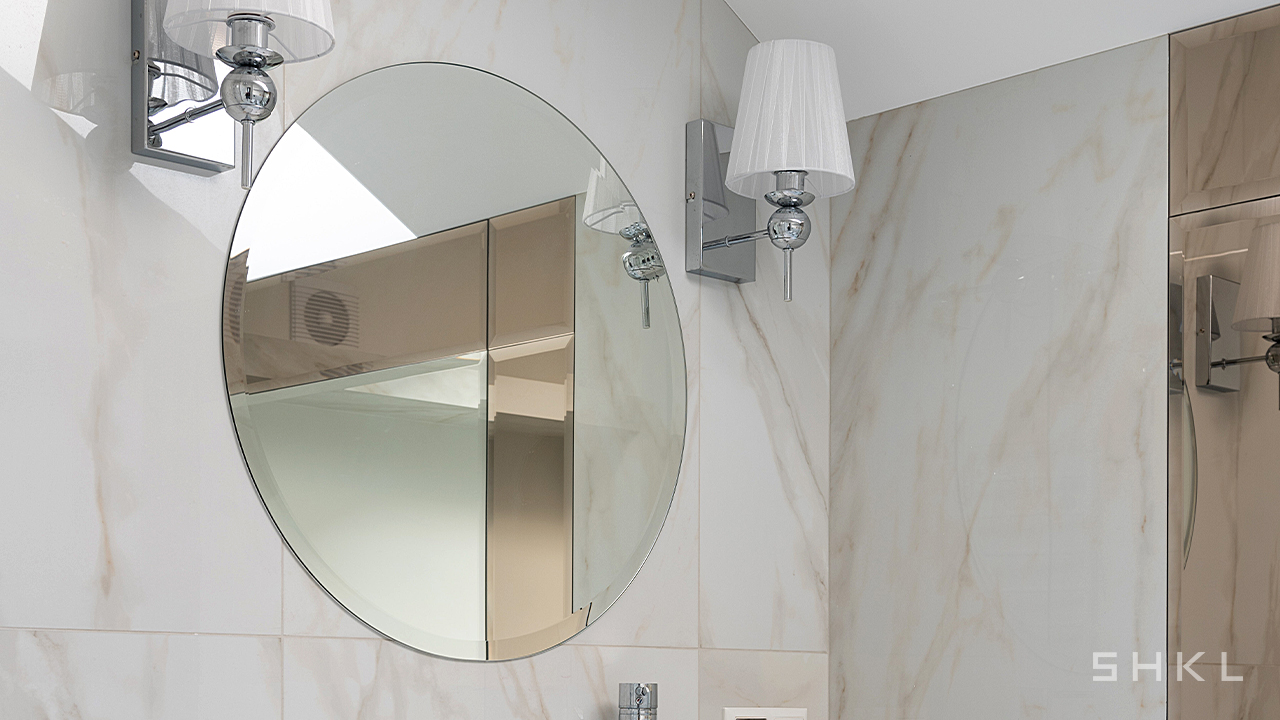 Eco-friendly Mirrors (Copper-free mirror)
An eco-friendly LED mirror is made from recyclable glass and water-based solvent. One benefit of an eco-friendly LED mirror is it is environmentally friendly and offers substantial health benefits.
Copper-free mirrors are double-coated; they are first coated with low or lead-free coatings, then copper-free solutions. The benefit of a copper-free mirror is that it prevents corrosion, it is why it is often used as a bathroom mirror.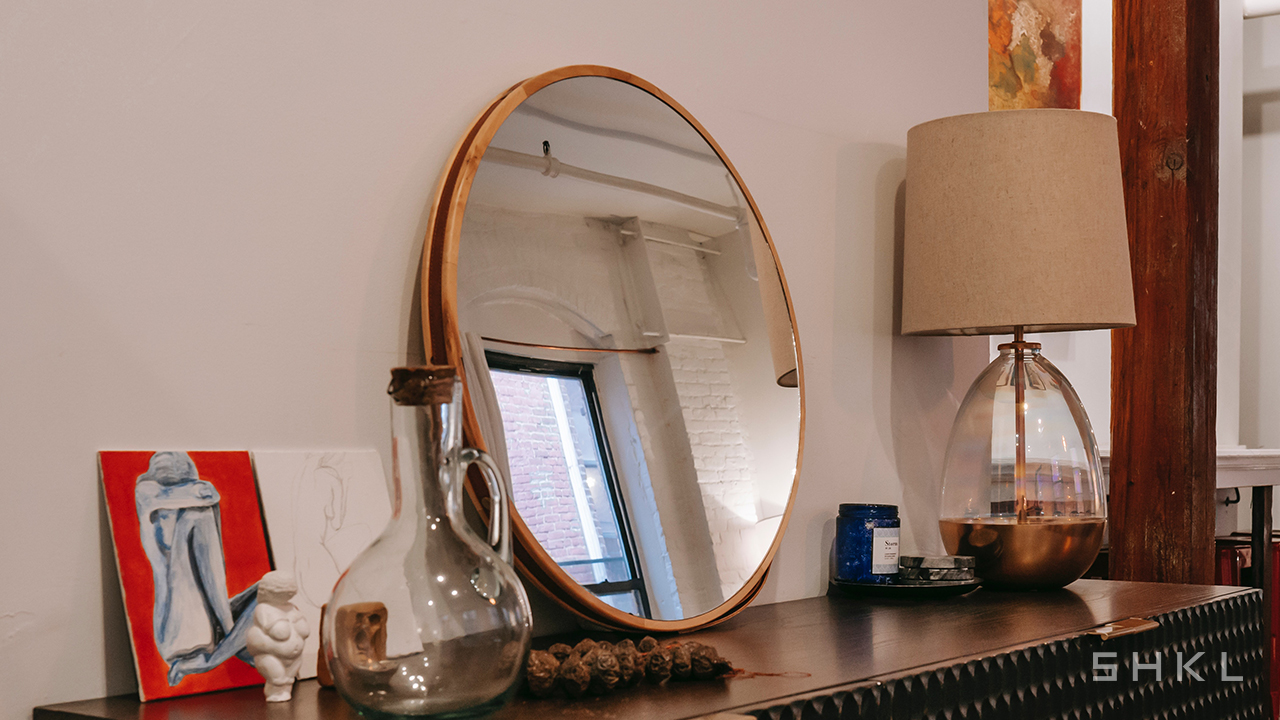 Silver Mirror
A Silver LED mirror is one with a silver lining behind it. They are a great choice because they can reflect more than 90% of the light spectrum.
Silver mirrors are expensive but most common because of their high reflective feature. The cost of buying a silver-coated mirror ranges from $300 - $1000.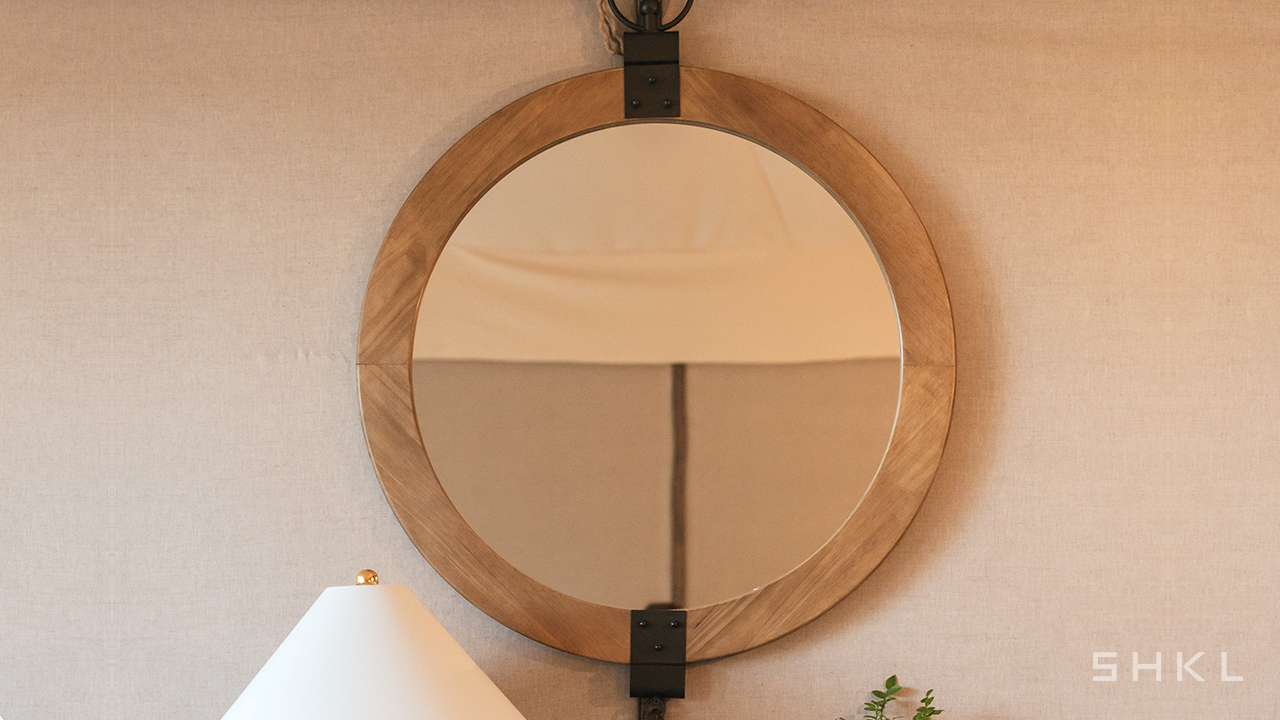 Aluminum Mirror
Aluminum LED mirrors are another type of LED mirror. Unlike copper-free mirrors, aluminum LED mirrors are prone to corrosion when they're exposed to moisture.
This explains why they're not great choices for bathroom mirrors. Also, Aluminum LED mirrors can easily be dented.
Here is our ranking of LED mirrors price according to their materials:
Rank by price: Eco-friendly Mirrors > Silver Mirror > Aluminum Mirror
Rank by performance: Eco-friendly Mirrors > Silver Mirror > Aluminum Mirror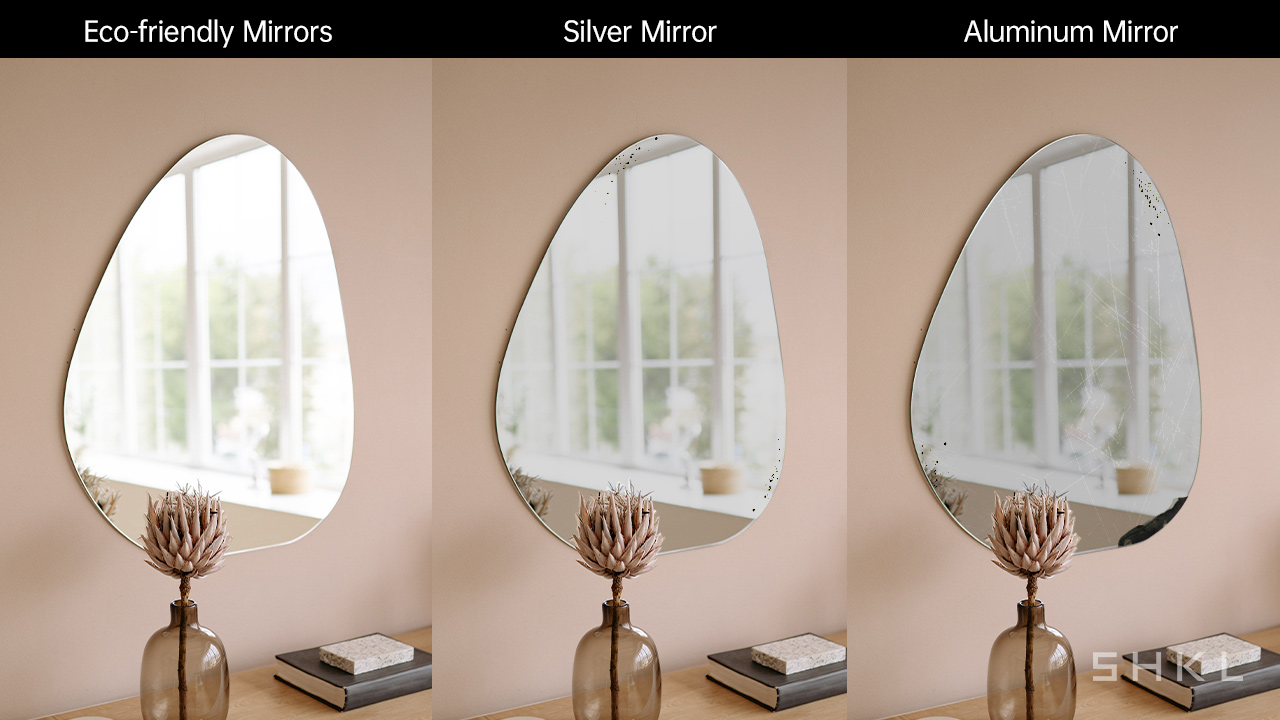 There are several dimensions of a vanity mirror. These dimensions of mirror glass are priced to suit different people. Moreover, as you will expect, the cost of a makeup mirror will differ from that of a bathroom vanity mirror. The reason for this is the varying materials and cost of purchase.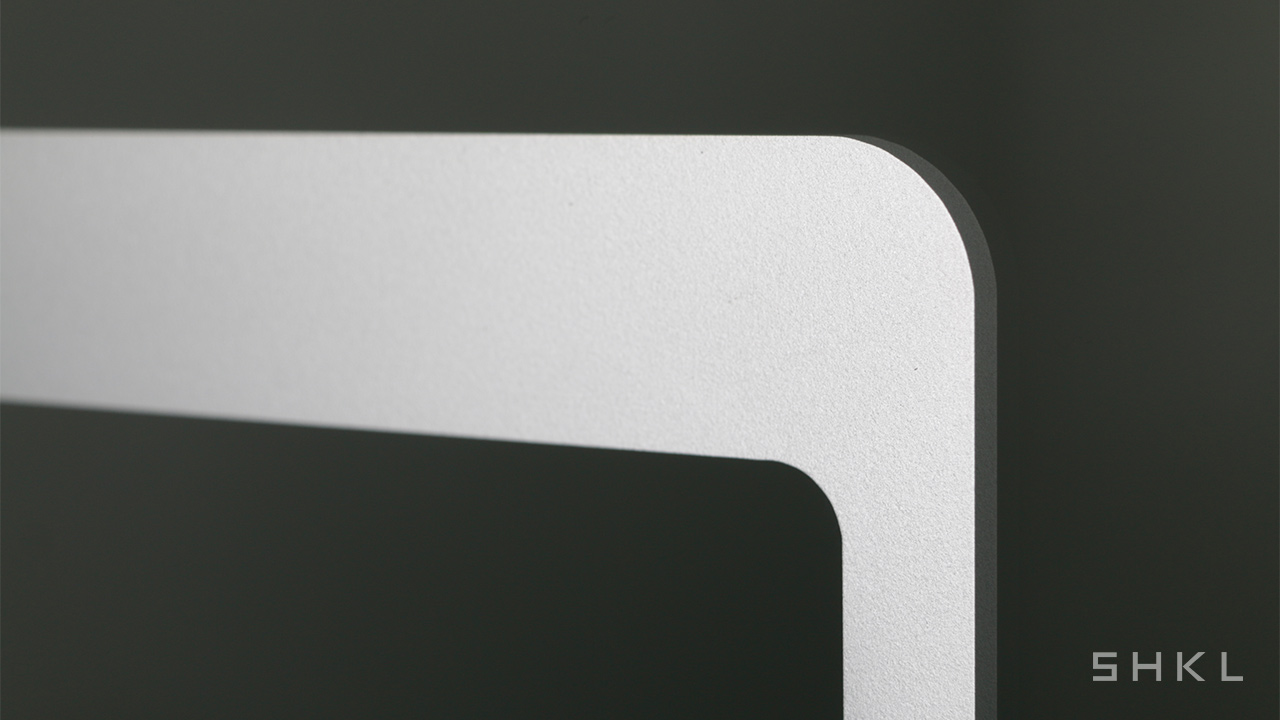 Frost Processing
Frost processing is the most common type of LED mirror treatment and it is the cheapest. The process creates a frosted mirror with a pitted surface which has the effect to create clear glass.
A frosted glass works with or without light and its cost is dependent on the position and the size of processing.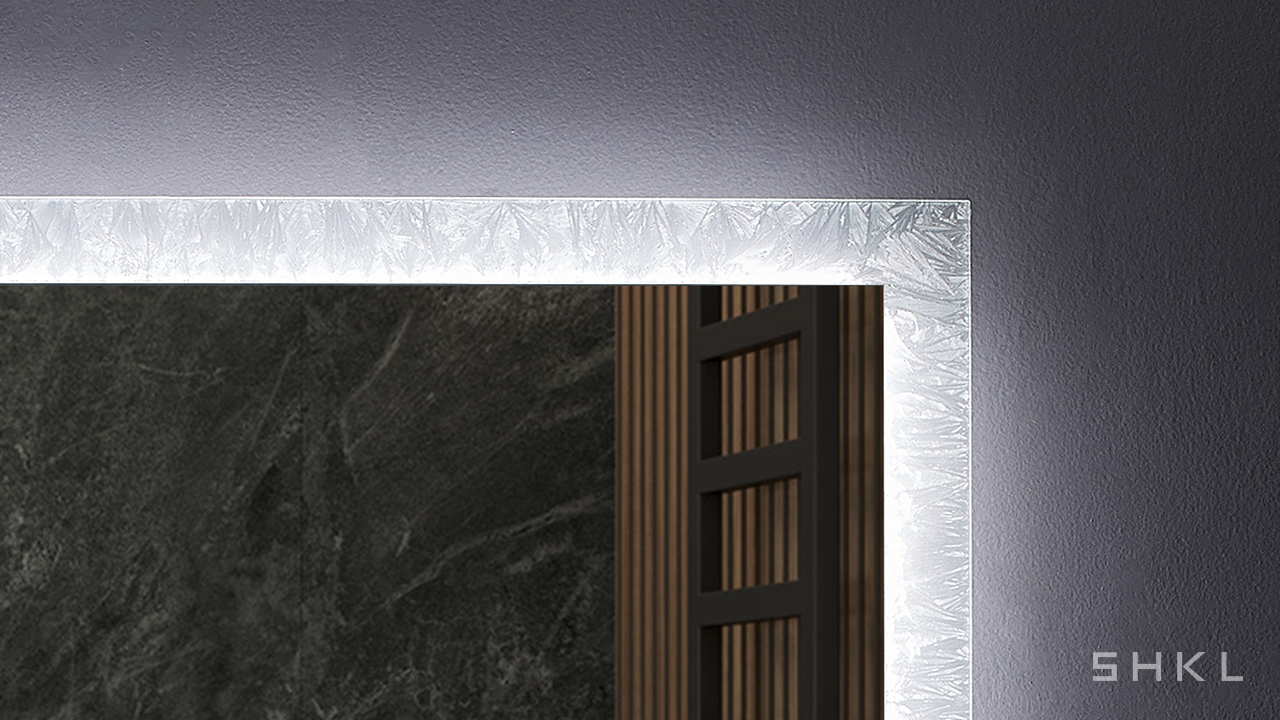 Ice Processing
After a mirror is treated with ice processing, its surface appears like it is frozen with ice on its edges.
Obviously, ice processing is different from frost processing; it is more popular, and more expensive than frost processing.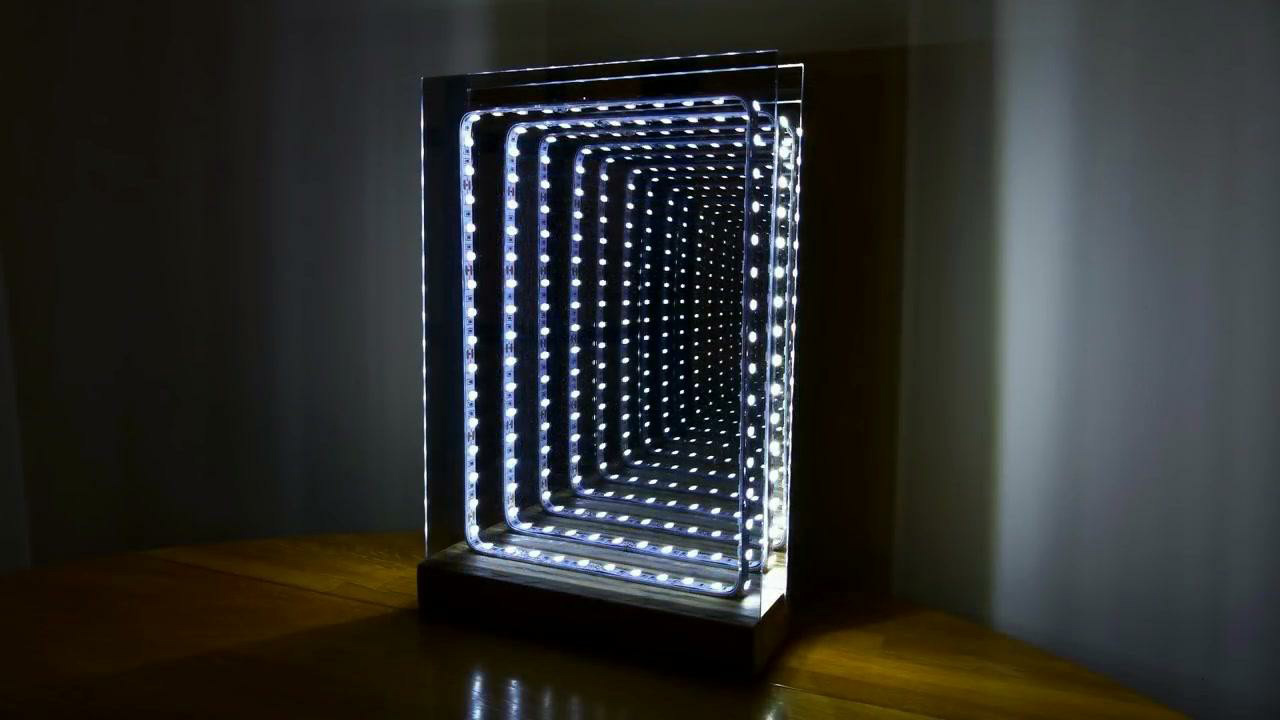 Infinity Processing
Infinity processing is a mirror surface treatment that creates infinity mirrors - a mirror that creates an endless illusion of spaced lines with LED lights.
Infinity LED mirror processing is classic and will cost an extra box to produce.
Rank by price, Infinity > Ice > Frost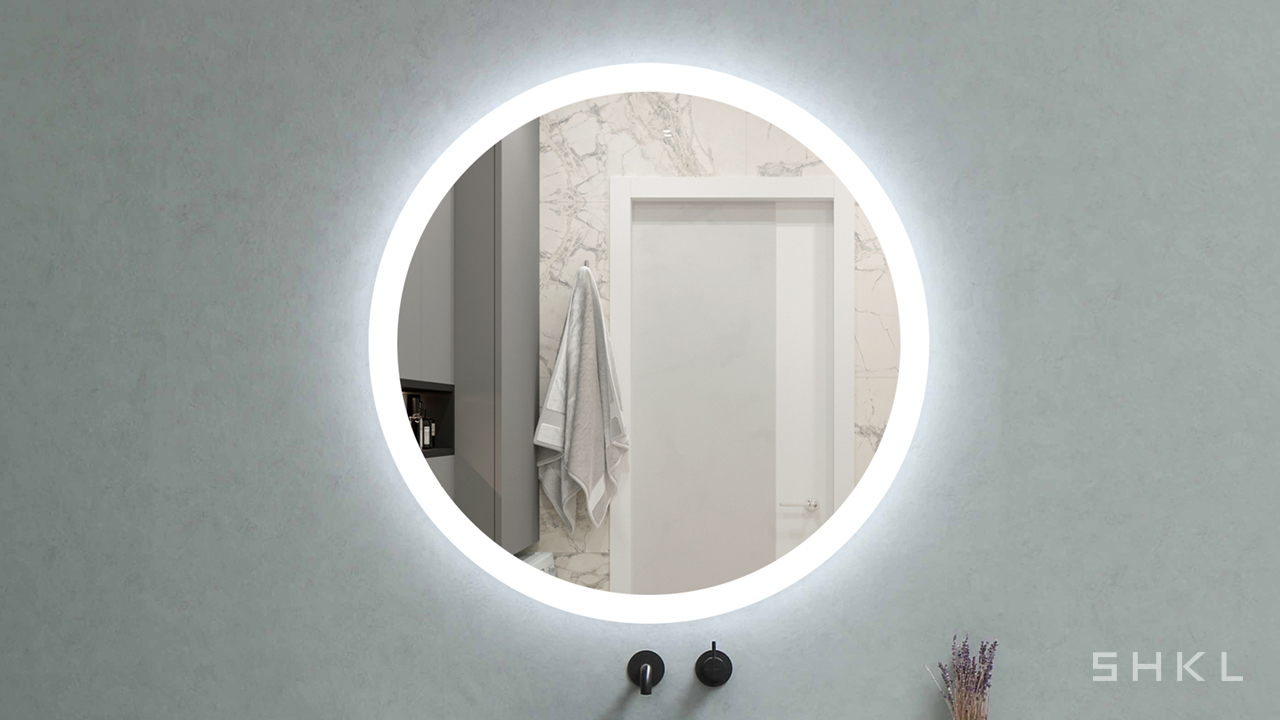 Round
Round mirrors have smooth edges and can command strong attention in the room: in the room, office, or bathroom.
The cost of a LED round mirror is greatly influenced by its smooth edges which can be easily carved out.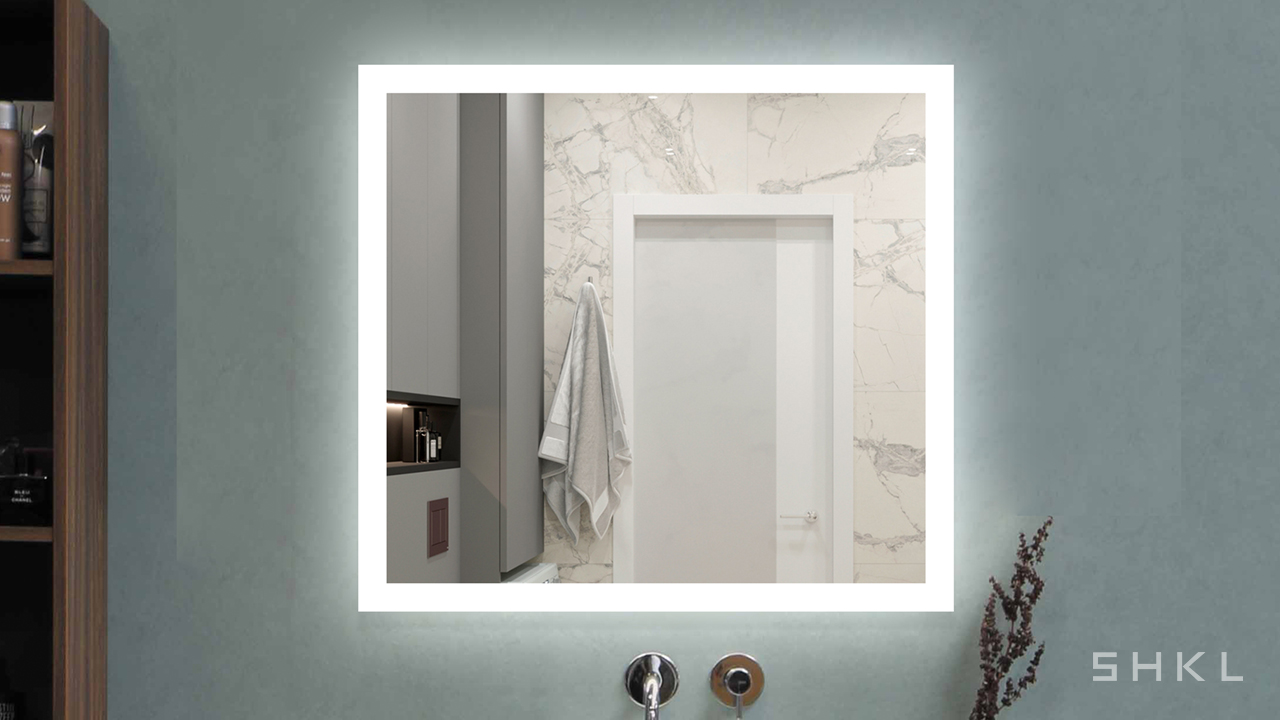 Square
Square mirrors are among the common shapes of mirrors and are simple, clean, and angular.
They offer sleek lines and are perfect in the bathroom and bedroom.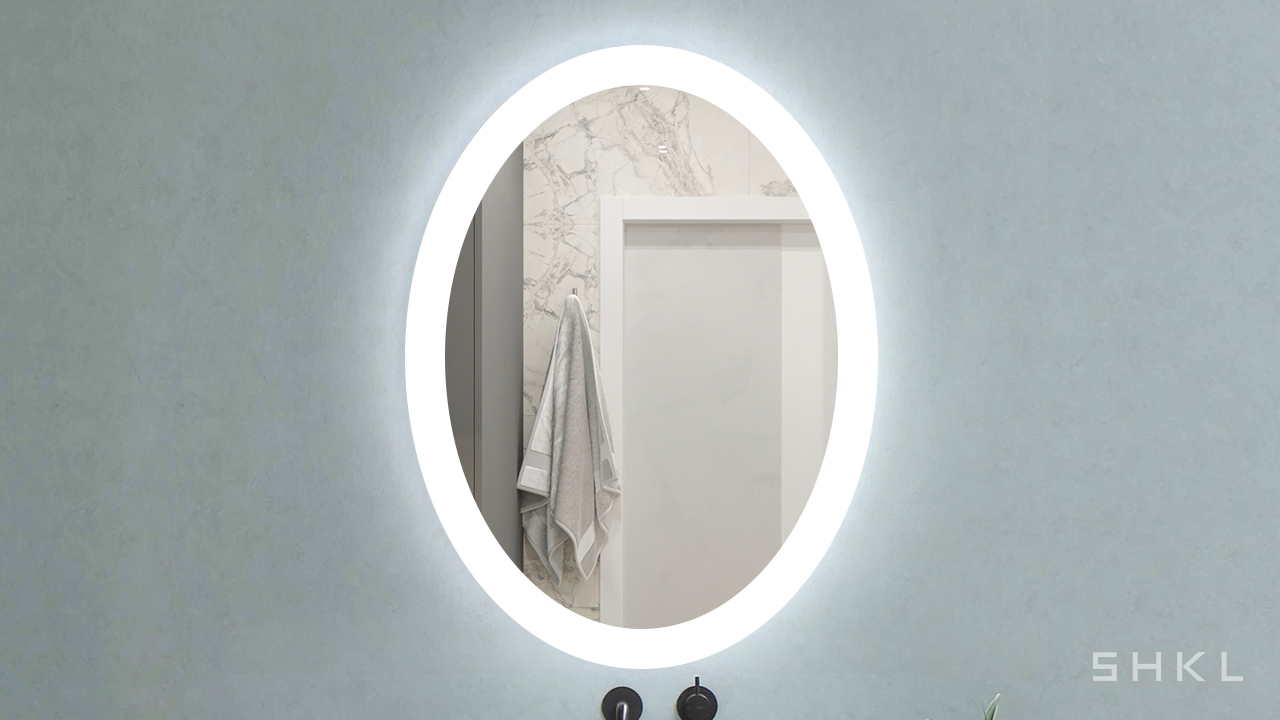 Oval
Oval mirrors are the next flexible type of mirror in terms of fitting space. You can put an oval mirror anywhere: in the room, hallway, and the office. and they're good as makeup.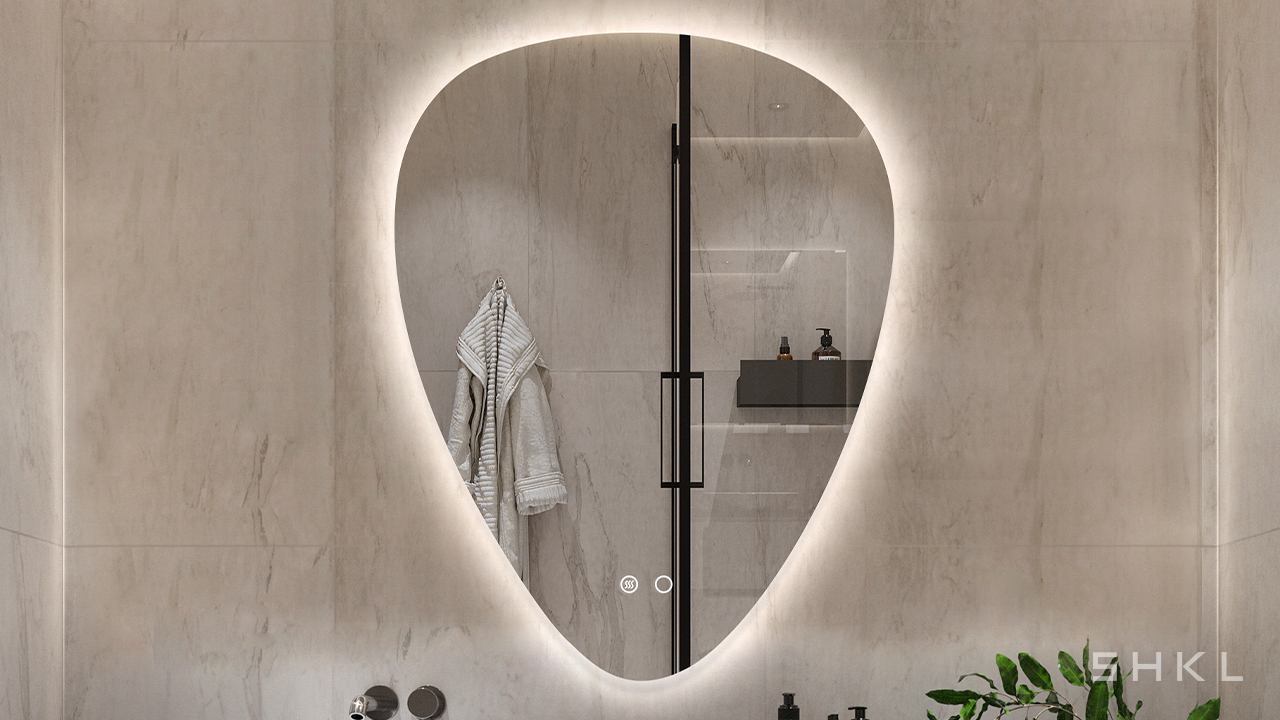 Other irregular shapes
We as manufacturers know it is more challenging to produce LED mirrors of irregular shapes than regular shapes.
Irregular shapes are costlier to produce because the contours, edges, and sides must be perfectly crafted.
Generally, a LED mirror is often ¼, ⅛, and 3/16 thick. However, the most suitable mirror thickness is ¼.
When a mirror's thickness is not well suited for its size, the mirror image will be distorted. Therefore, it will not reflect light perfectly. For this reason, a LED mirror with the perfect thickness is more expensive than another without.
Also, the design of a mirror can affect the cost of the mirror. While frameless mirrors are less expensive, framed mirrors are more expensive. The reason for this is the cost of materials, craftsmanship, effort, and time spent in designing the mirror is summed up to give you a cost.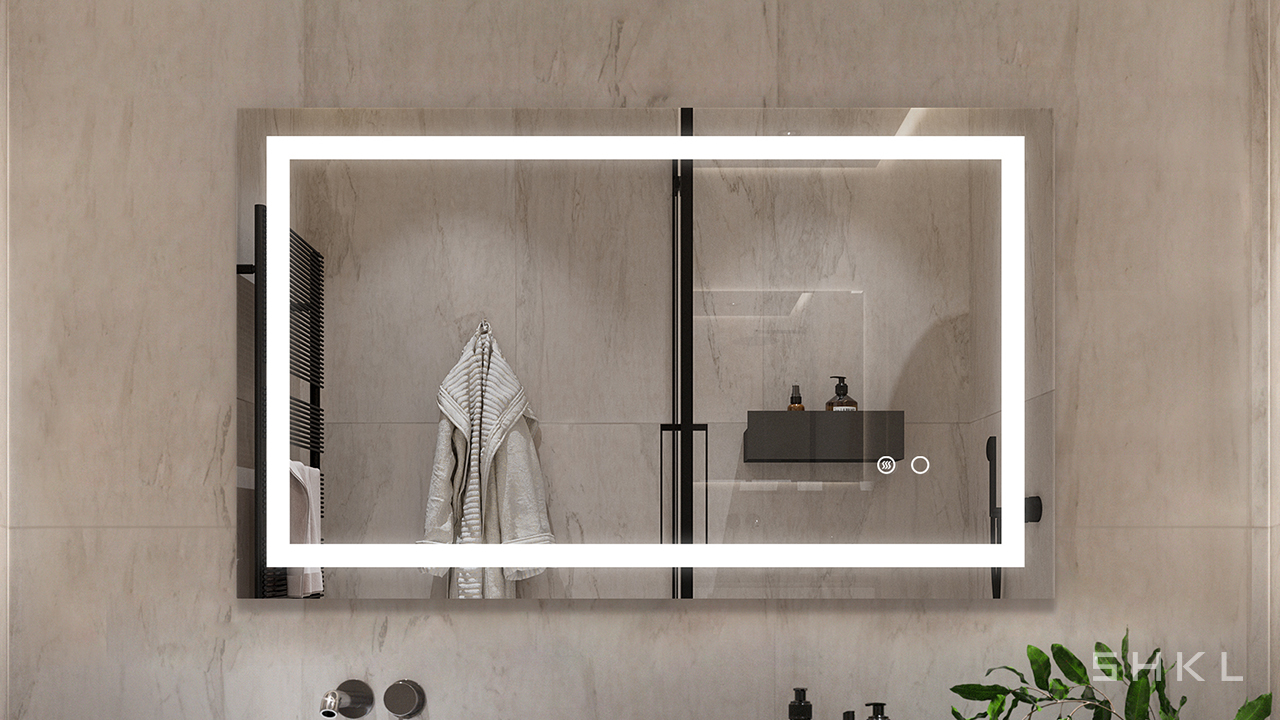 Frameless
Frameless LED mirrors do not cost as much as others. They are suitable for the bathroom and the office, and they can be hung vertically or horizontally.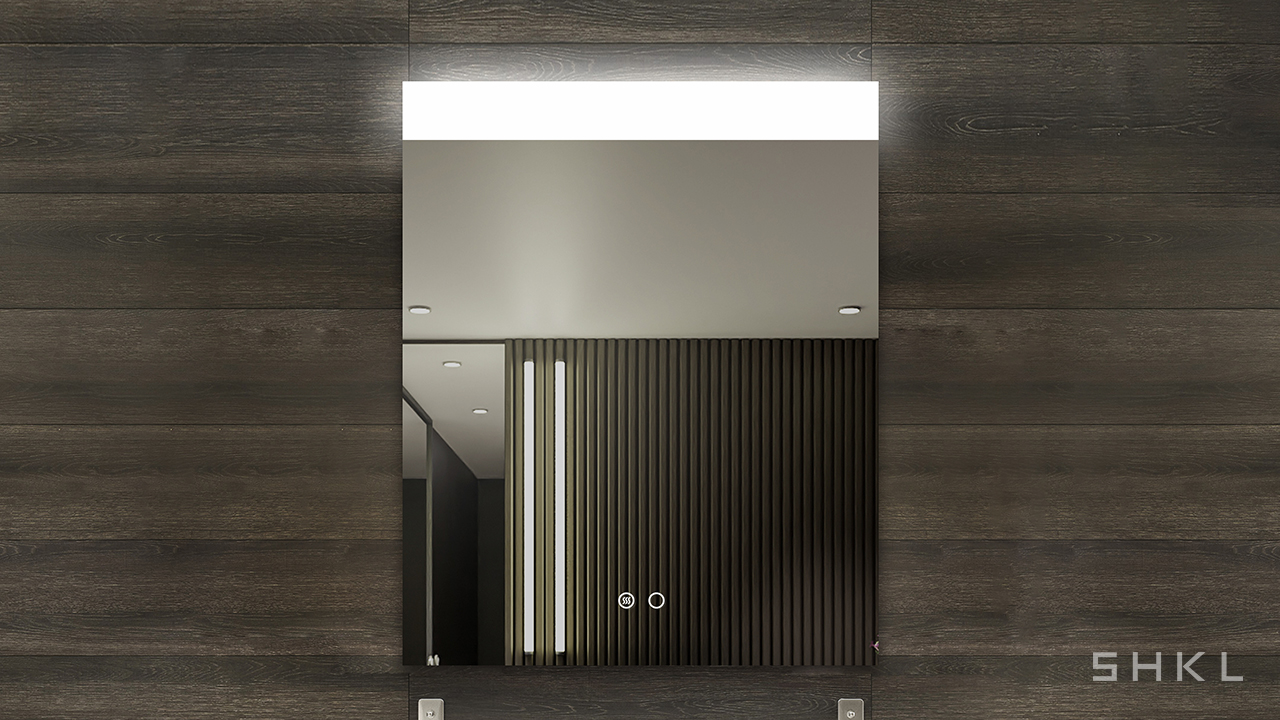 Acrylic framed
On the other hand, Acrylic designs cannot be hung vertically or horizontally. The contractor often customizes the angles and shapes for each user.
Acrylic designs are safer than frameless mirrors because they stick firmly to walls. They are also water-resistant and cost-effective. However, acrylic mirrors are more expensive because of the material needed to create acrylic designs.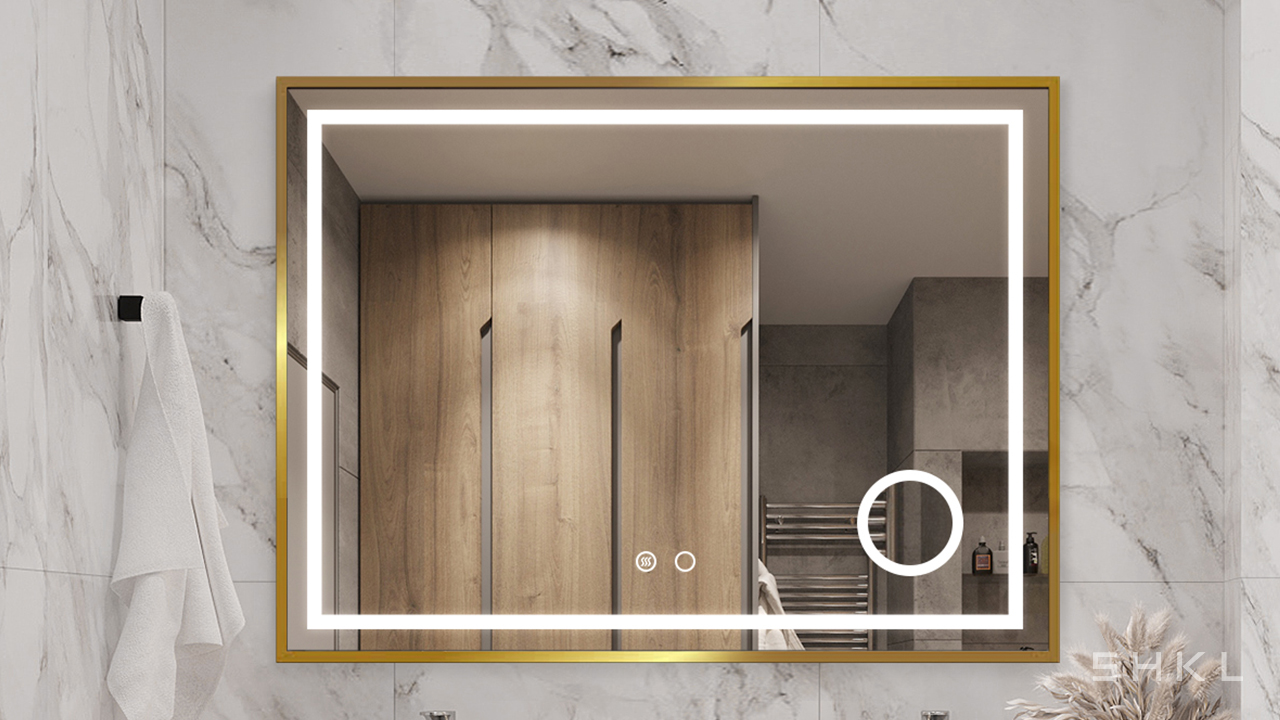 Metal framed
Metal framed designs are the next most common type of mirror. They are easy to fit and have excellent dimensions - length, breadth, and width.
Metal framed mirrors can fit into any mirror shape, and they are not expensive.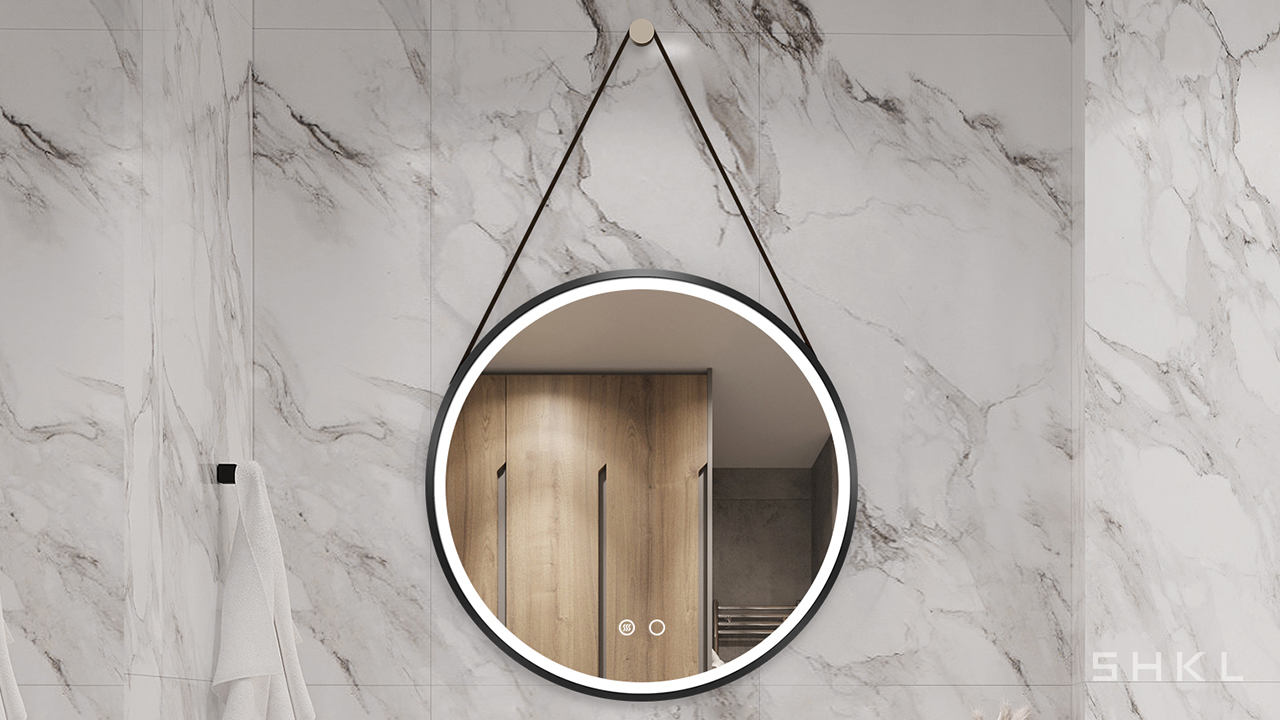 Belts Hanging
Belt hanging designs are dual arms extensions of hanging materials to suspend a mirror, usually of varying shapes. They can be hung in the bathroom or the office.
The price of a belt-hanging LED mirror is not high because they're not made of expensive materials.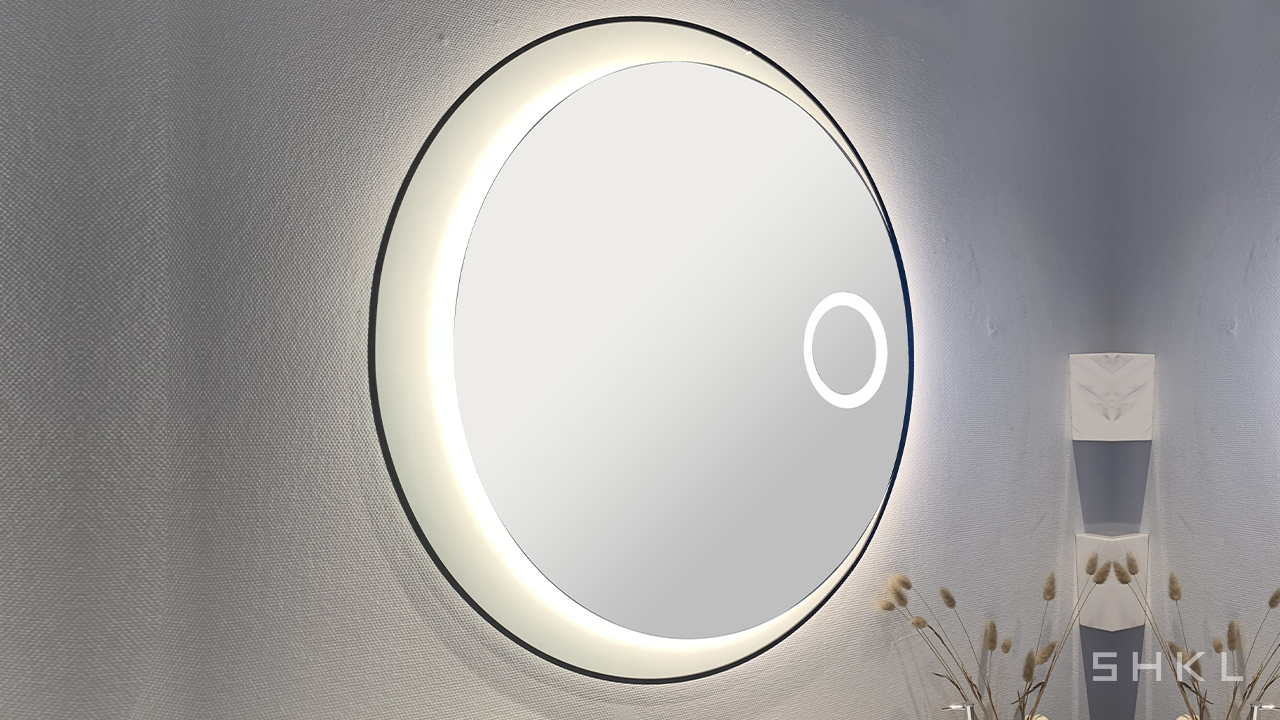 Gun Metal Grey Framed LED mirror
A stylish and slit backlit mirror that depicts class and style. They are hung in the bathroom and bedroom to produce a soft ambiance. They were expensive too.
Functionality is an important factor affecting the price, thus, there are more functions, and the more expensive.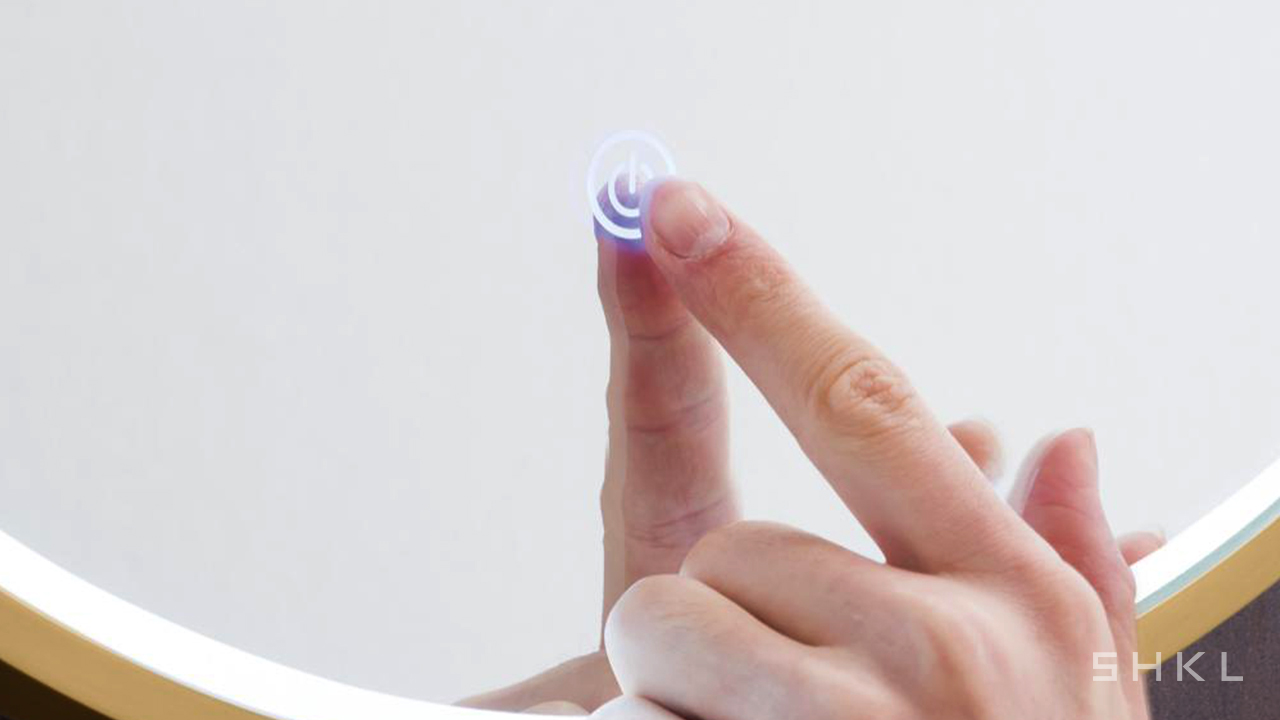 Touch switch
It is used to control the mirror's lighting and save its brightness. A tap on the touch switch turns the light on or switches it off; meanwhile, a longer touch controls the dimmer, taking either up or down. Touch switches are more expensive.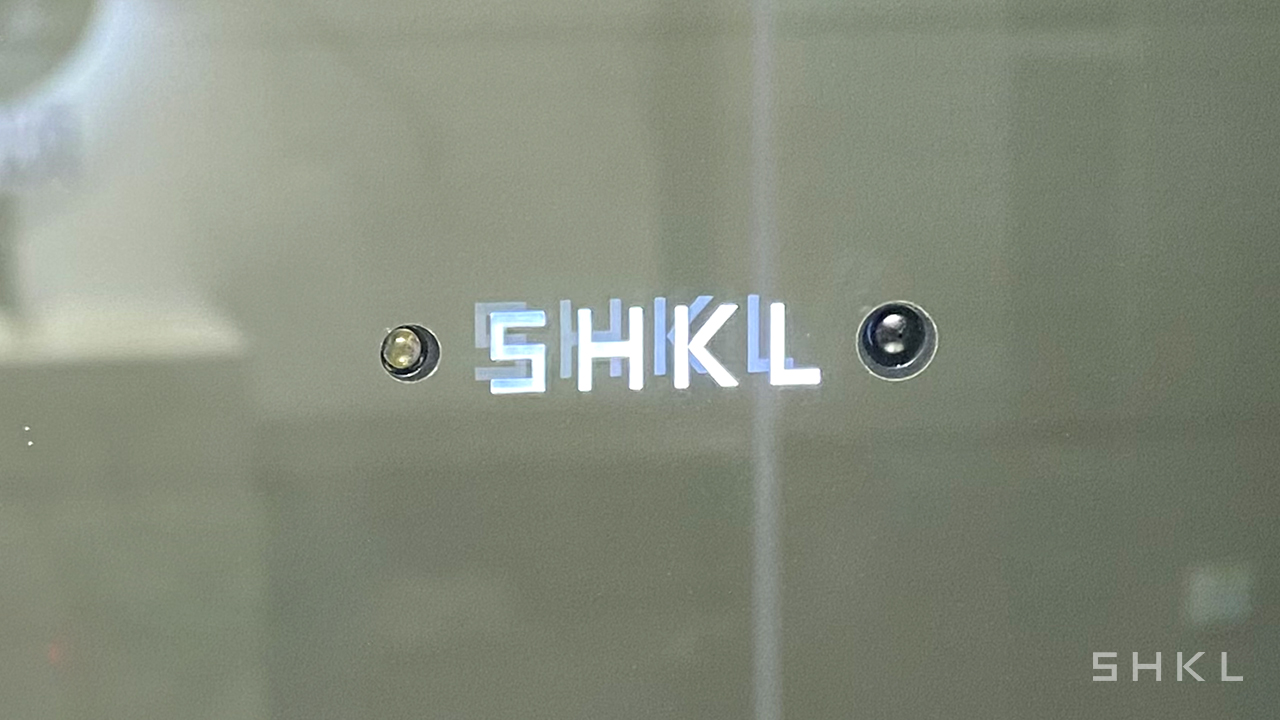 Motion sensor switch
Motion sensors work by detecting movement in space. So, they turn the lights on when you are close to the mirror and turn them off when you are far from the mirror.
Motion sensor mirrors are the most expensive because of the cost of motion sensors.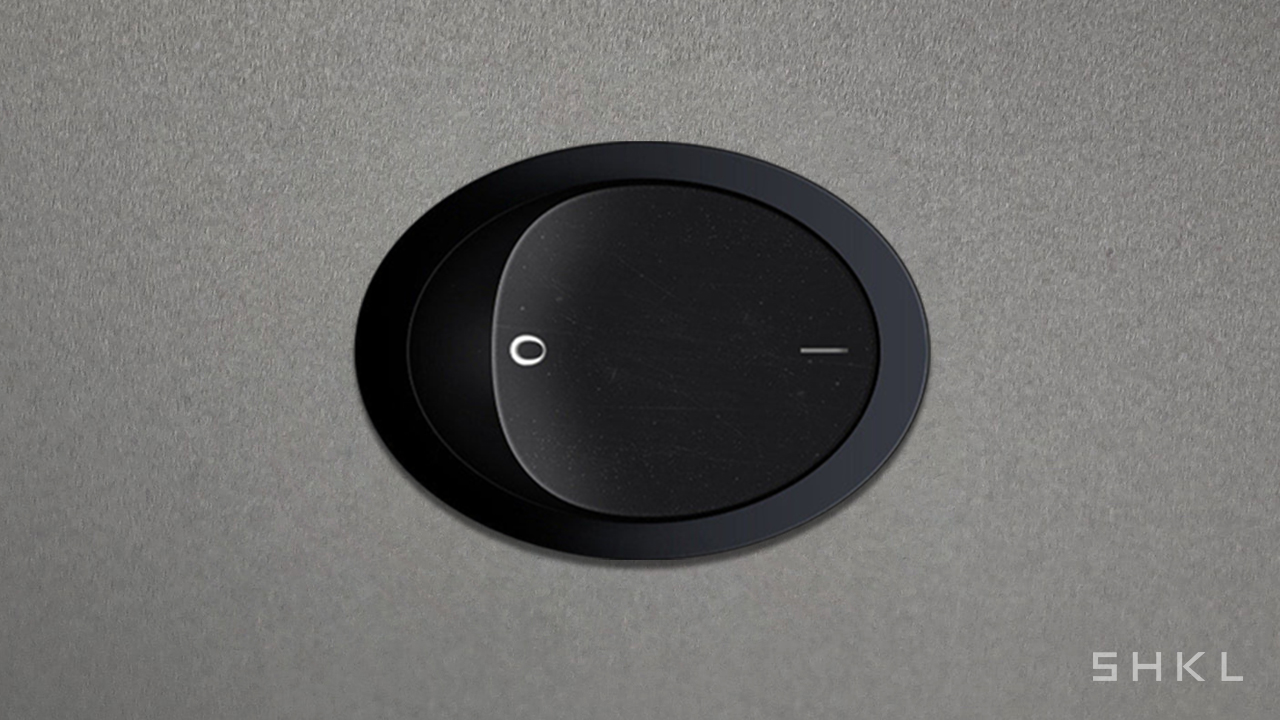 Control switch
On side of mirrors: Control switches are more manual than the rest switches and are less expensive.
They're often by the side of the mirror, and they control the mirror's lighting.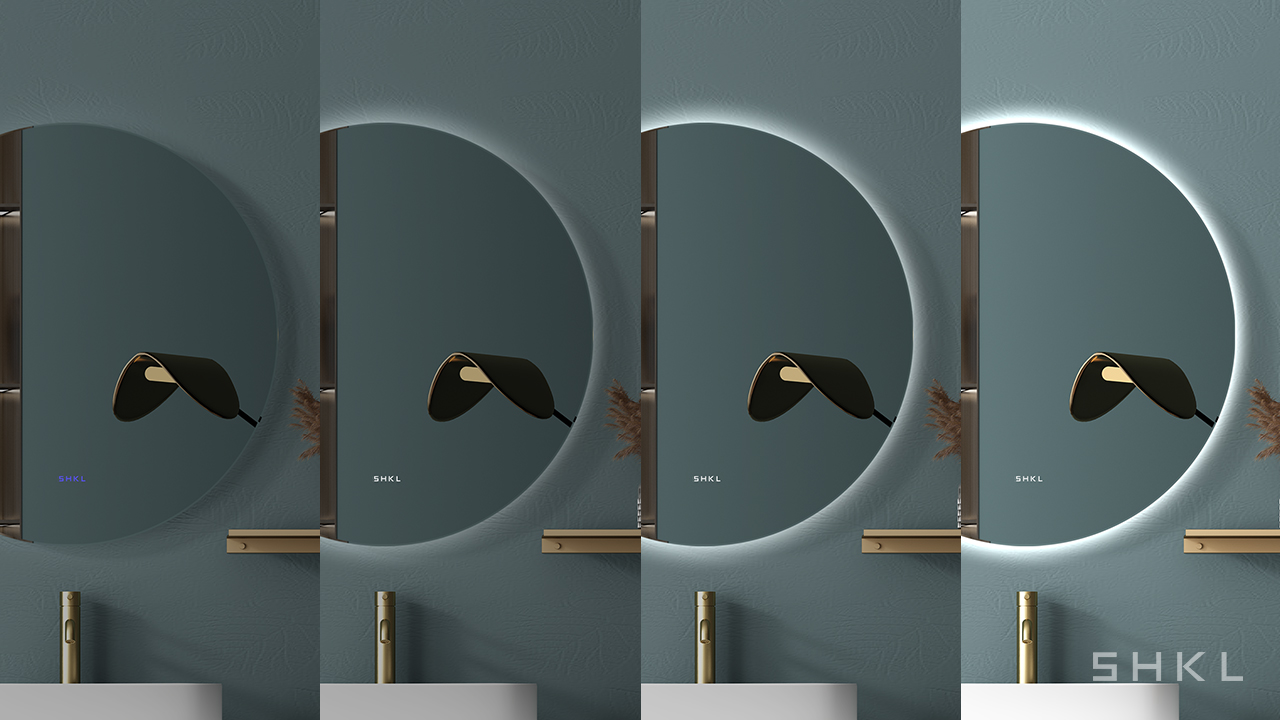 Dimming
Dimming is the reduction of the luminous flux of a lighting fixture. When dimming occurs, the lighting in a LED mirror reduces.
Further, dimming is done by a dimmer, and dimmers exist in touch switches, motion sensor switches, and control switches.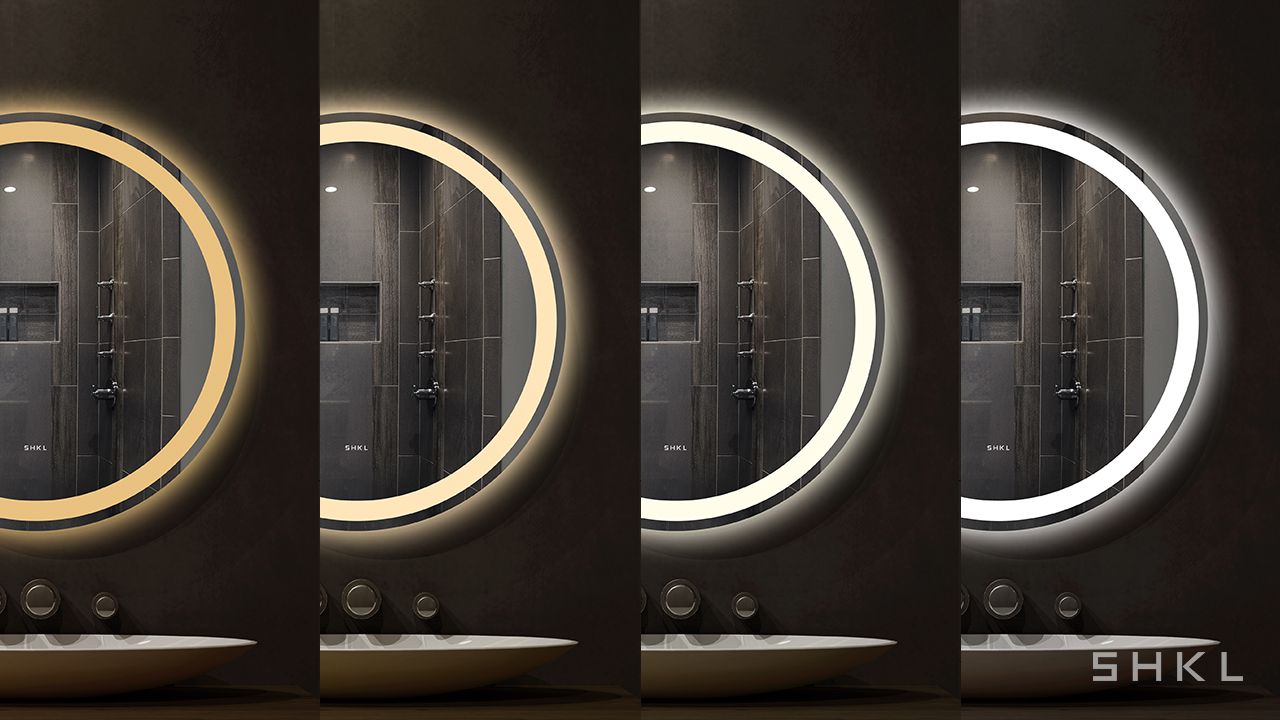 CCT adjusting
CCT is the short form for correlated color temperature, it measures the degree of yellow-ness or blue-ness of white light. CCT is measured in Kelvins, which is between 2200K - 6500K.
1. 2700K-6000K: 2700K - 6000k are the range of CCT. Lights that have longer ranges are more expensive than those without.
2. RGBW: RGBW (RED + GREEN + BLUE + WHITE) is a type of color combination that gives a broader range of lighting. And they were more expensive.
Anti-fog
The size of the anti-fog film is related to the size of the mirror, the larger the mirror, the larger the anti-fog film required, and the price will more expensive.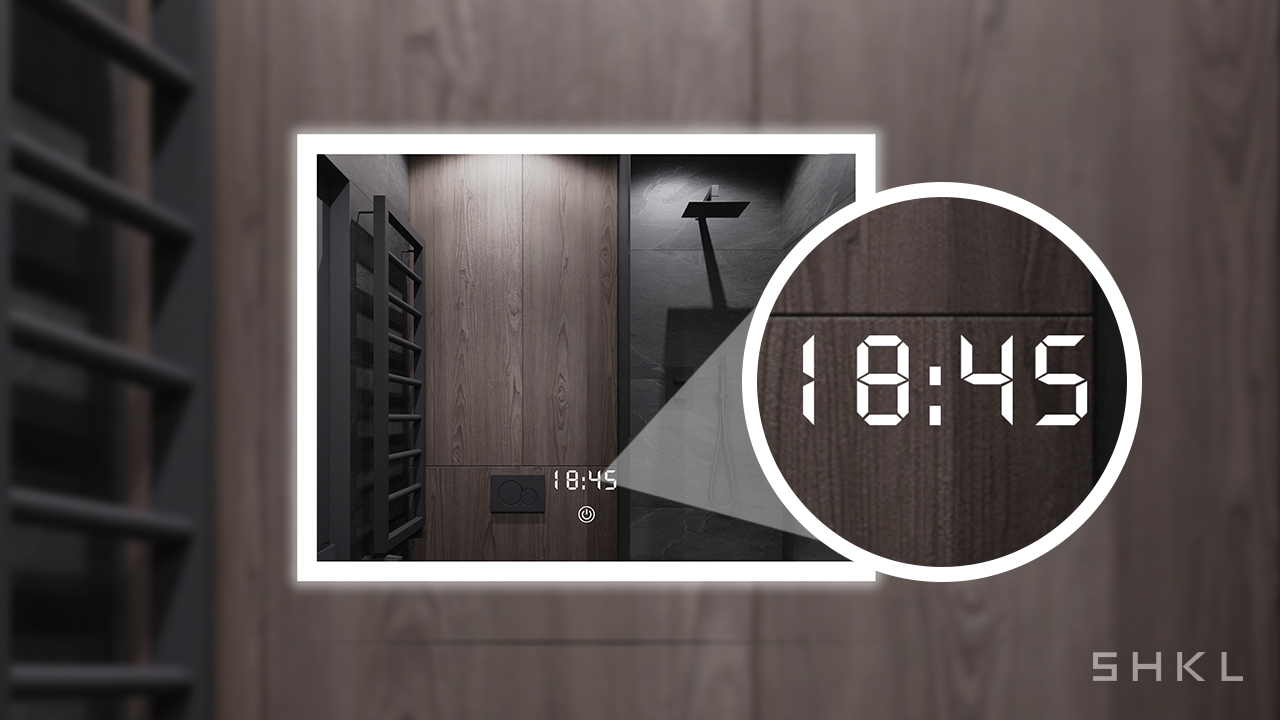 Digital clock
The digital clock digitally displays the time of the day in numerical digits. Not all LED mirrors come with digital clocks.
However, LED mirrors that come with digital clocks are more expensive.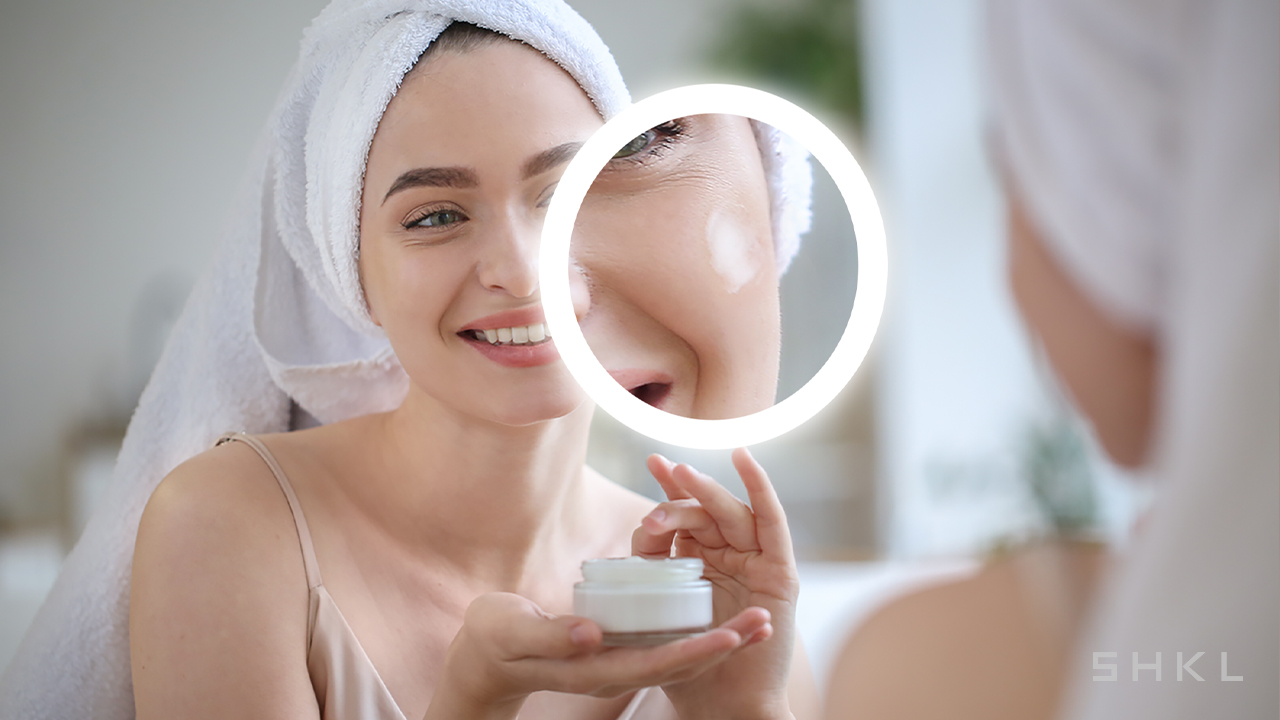 Magnifying
A magnifier is essential in magnifying objects in front of the mirror. For this reason, magnifiers on LED mirrors are used during shaving.
Howbeit, the sizes of magnifiers differ; that is, the bigger the mirror, the bigger the magnifier.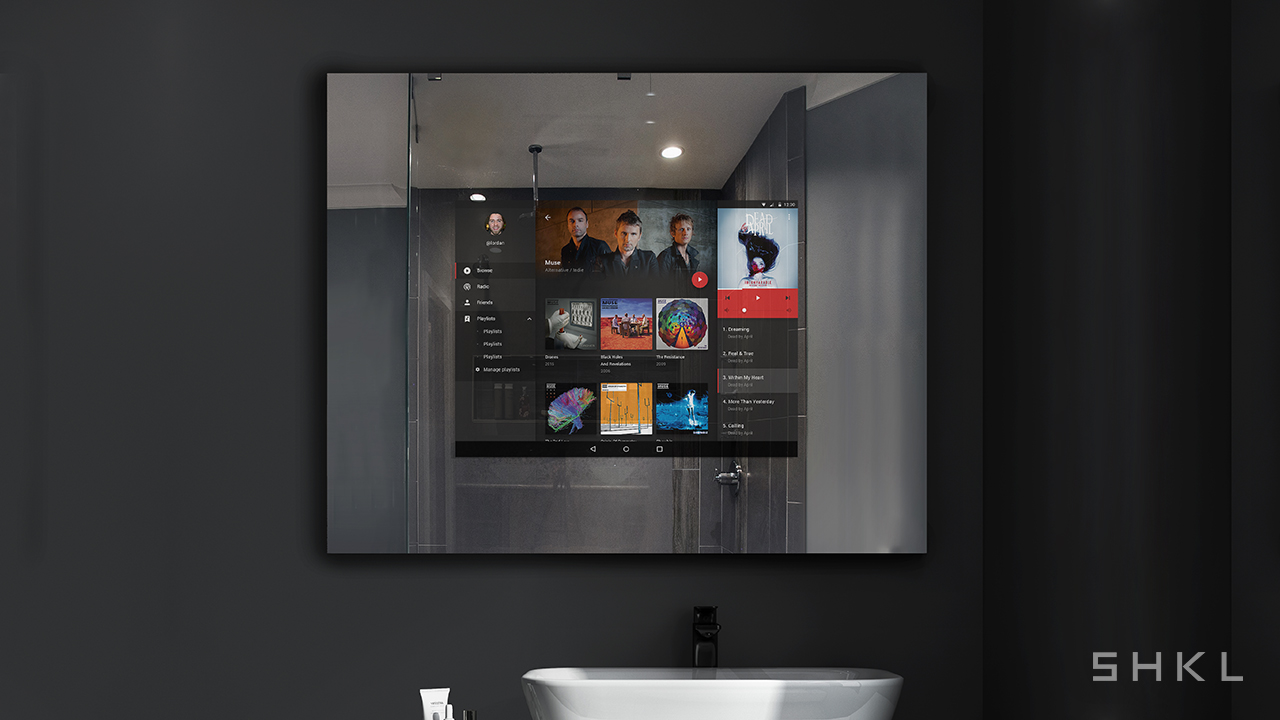 TV
Vanity Mirror TV can combine a TV and a mirror.
The TV is hidden behind the mirror, and it is visible when it is on but it is hidden when it is off.
LED mirrors are created to fit the size of your TV. Hence, your TV's size will affect the mirror's size. And consequently, the cost of the mirror.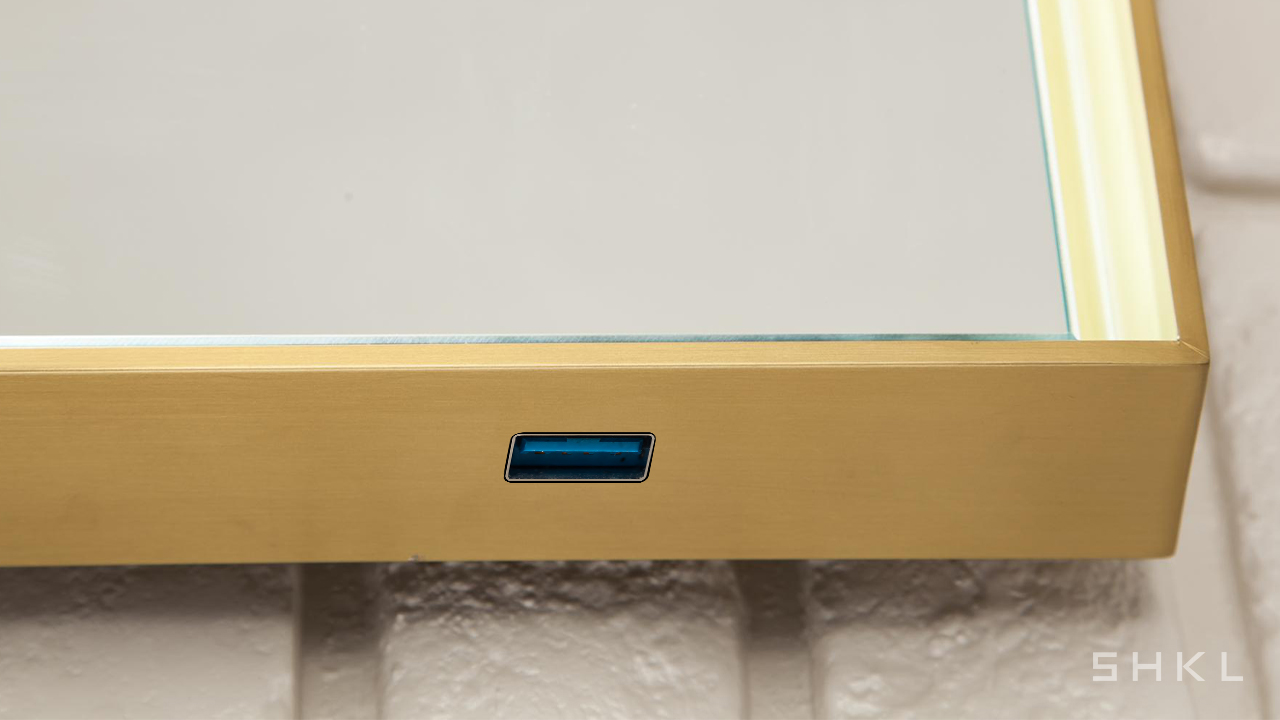 USB and outlet
Not all LED mirrors come with a USB and outlets. USB and outlets are an extra cost for the buyer.
So, they're on all LED mirrors and are often specified by buyers when they want USB and outlets.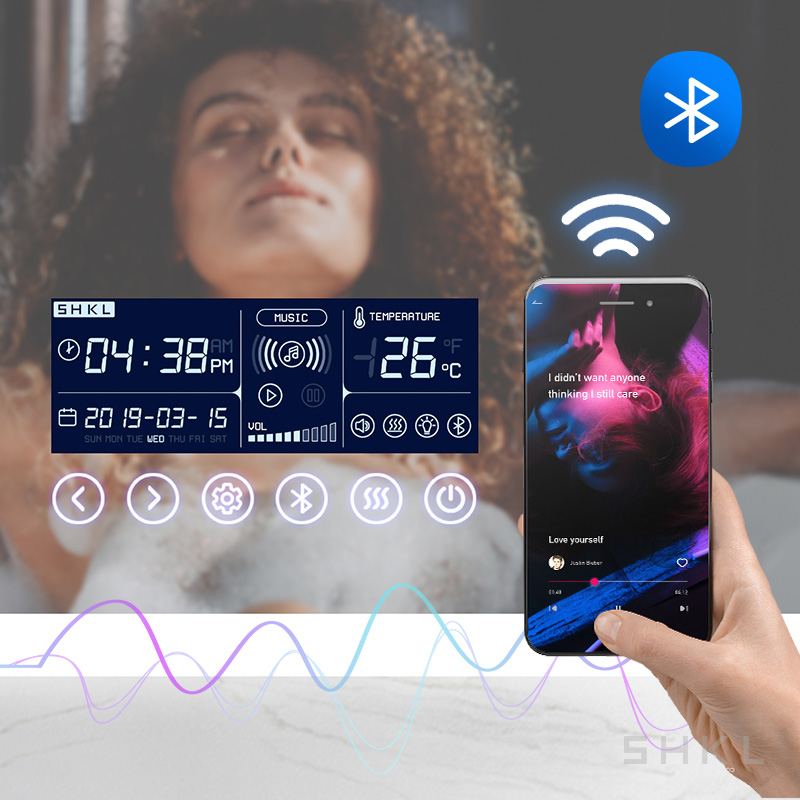 Bluetooth system
The Bluetooth system allows you to connect your device to the mirror and carry out some digital activities. When your Bluetooth is connected to your phone, you can listen to music, adjust the temperature of the light and activate the defogger.
In fact, you can dim the light, change the mood of the lighting and switch your LED lights on and off. And all these control can also be through an app or a dashboard.
Meanwhile, not all LED mirrors come with Bluetooth systems. Mirrors that come with Bluetooth systems are more expensive as the cost of the Bluetooth system is factored in the cost of the mirror.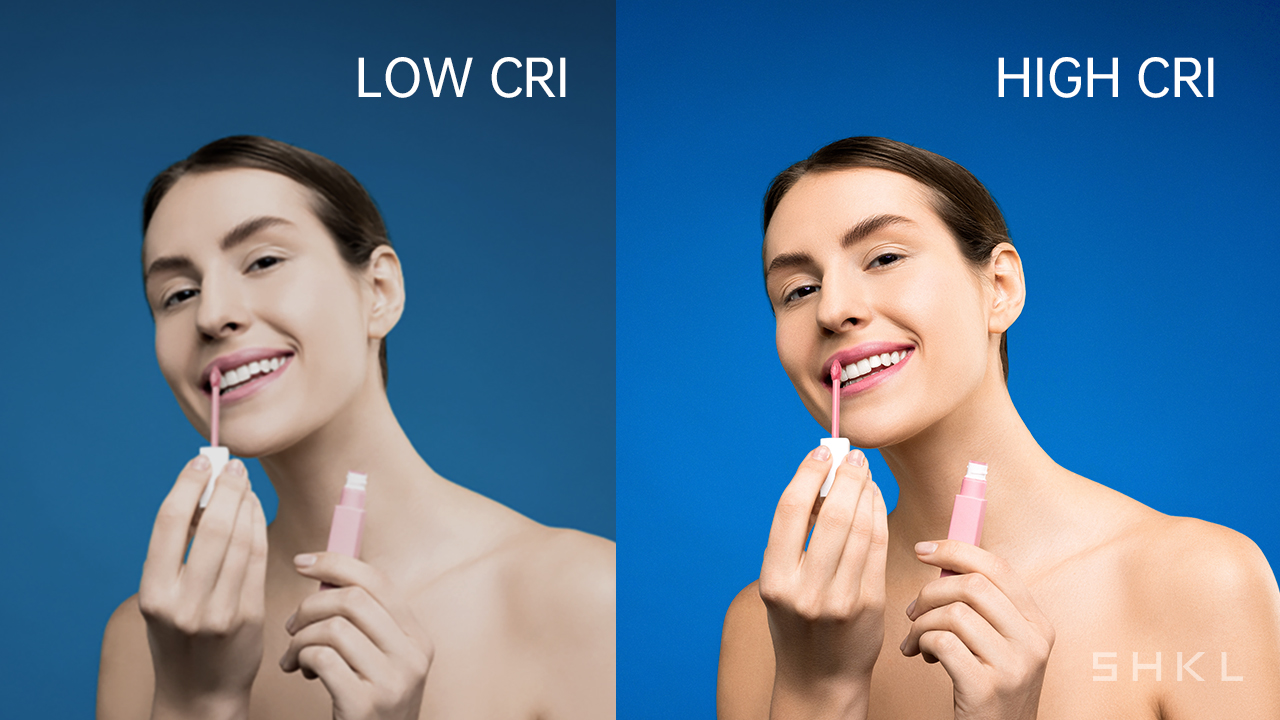 CRI
CRI 80+ / CRI90+, for sure the higher CRI will higher cost.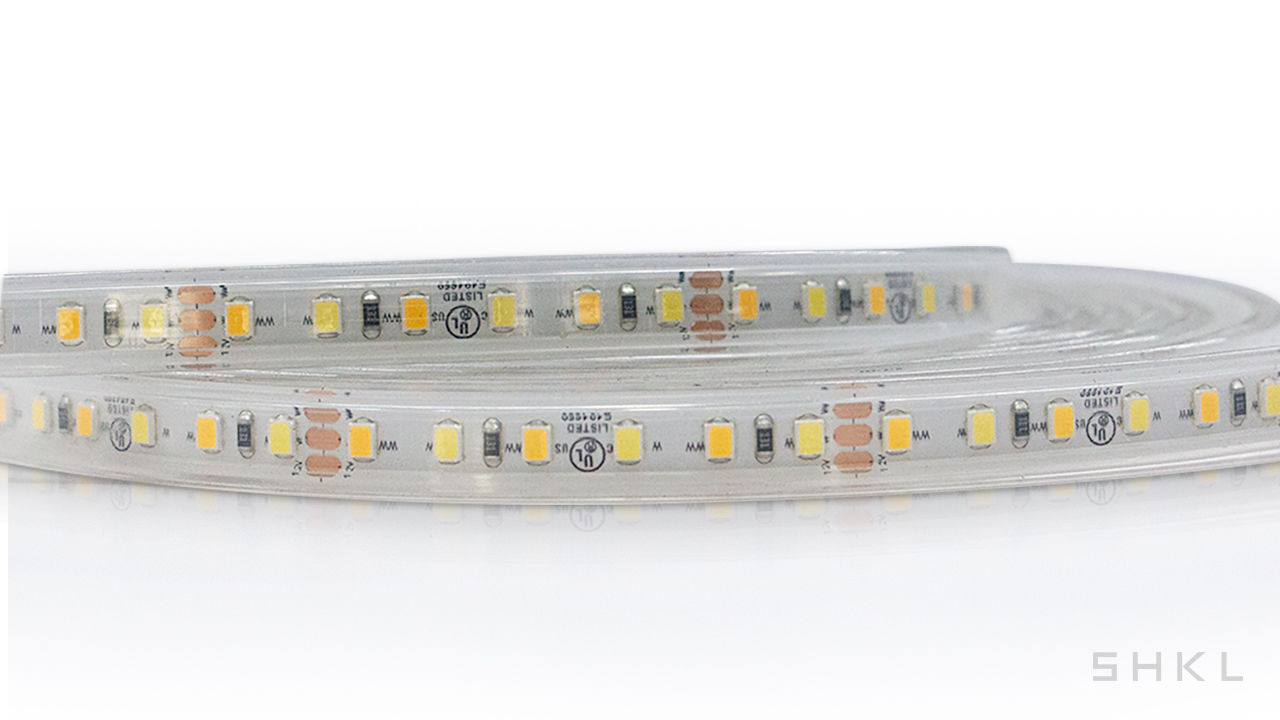 The number of LED chips
1. 60pcs/meter: As the name, there are 60pcs LED chips per meter, 60pcs/meter is a typical specification of LED strip. There are 30pcs/meter and 48pcs/meter on the market, but we don't suggestion, because lumen output too low.
2. 120pcs/meter: It's the best model, it has the best brightness, but the price is most expensive.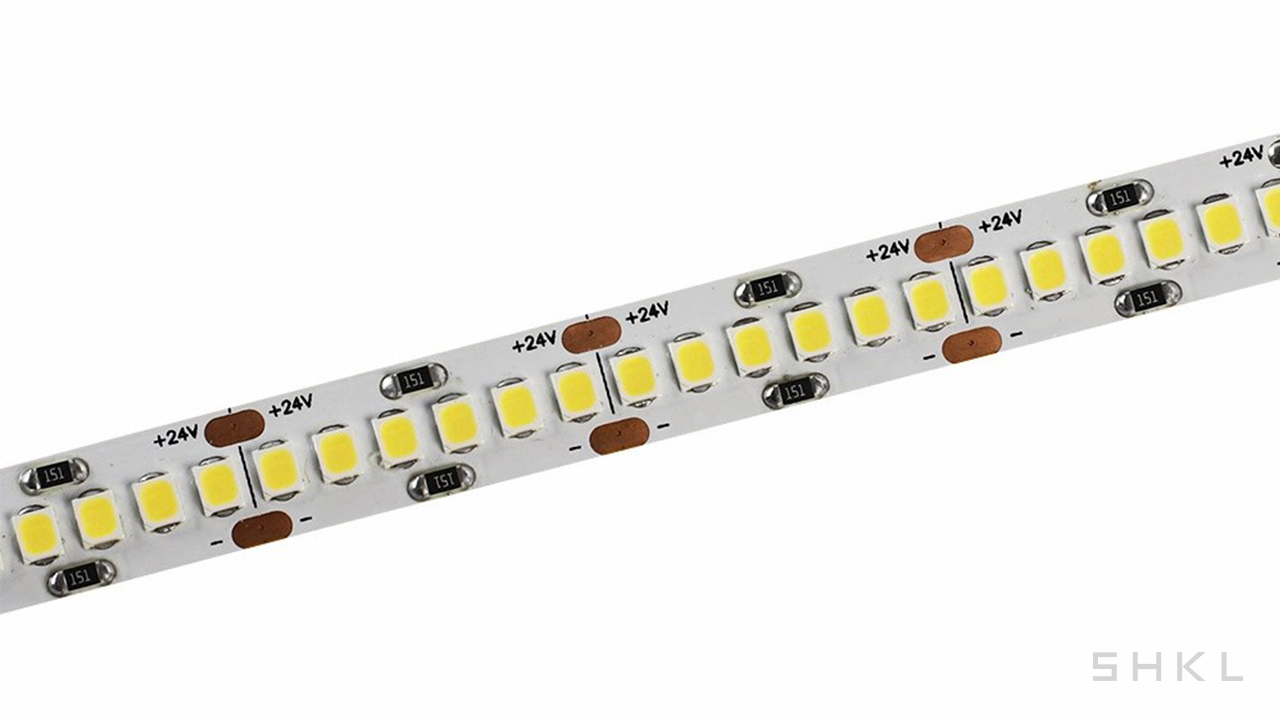 2835
A 2835 led strip has a smaller dimension as compared to an LED strip 5050: 28mm x 35mm. They produce 350 to 720 lumen of light per meter of its strip.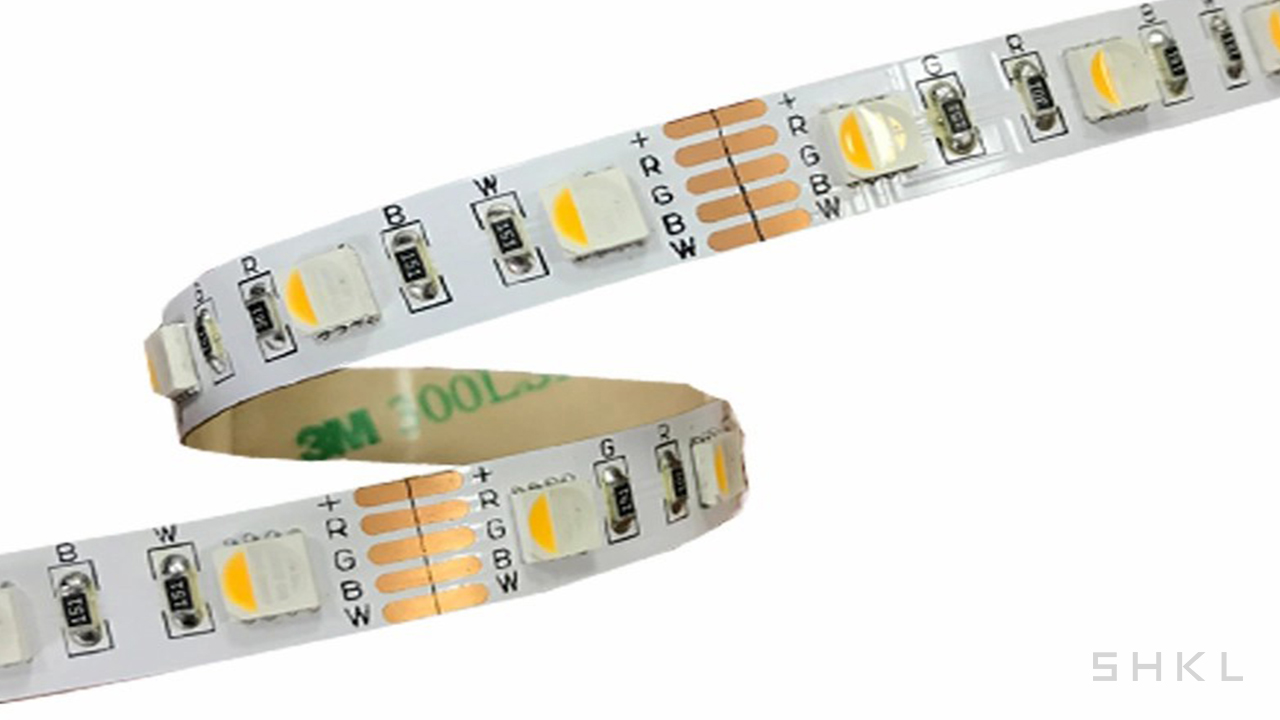 5050
A 5050 led strip on the other hand has a 50mm x 5050mm dimension and it can produce up to 1000 lumen of light. As you'll expect, getting an LED mirror with a 5050 led strip, you'll be spending an extra box.
Single color: Single color LED strips are the most common type in LED mirrors. They often emit a single color temperature, the common model are: 2700K, 3000K, 4000K, 5000K and 6000K.

Double color: Double color strip of LED lights emits double color temperature, that is one LED strip integrates two chips, the common model combination are: 2700K and 5000K/6000K, becuase after mixing and dimming, they can generate a new color temperature that is difference from their own. Also that is the principle of "CCT adjusting" function. They were more expensive than single-color lights.

Tricolor: They emit more than two color temperature of light, the principle is like "double color's", but the effect is better . They're the most expensive type of LED strip.

Running light: Running Lights are unique properties of LED strip lights making the light seem like they're moving. Running lights are expensive.
The top LED strip lights are:
Govee
Keep smile Store
Day better
Minger
Tenmiro
The prices will vary depending on which brand you get your strip light from. As you'll expect, strips from Govee will be more priced than Tenimiro's.
UL, ETL, and CE are the most common certifications for LED strips. For sure, UL and ETL are better than CE.
Pipe casing: Pipe casing is expensive because it's more corrosive than glue cover.

Glue cover: Glue casing is more expensive because it is less prone to corrosiveness than pipe casing.

LED strip cover processing is majorly to provide waterproof. Therefore, "Glue cover" is better than "Pipe casing".
Certification of drivers. Of course, good certification will higher cost.

The common certification for drivers are:

UL: UL is a global safety certification organization that runs safety tests on electrical appliances and equipment safety requirements.

ETL: ETL is the standard testing for appliances in North America and Canada. the certification comes from Intertek's Electrical Testing Labs, and it is a certification for devices that have set safety standards.

CE: CE certification is a European Certification body that tests equipment in Europe and certifies them for safety use.

Power of driver. The higher power driver will more expensive. The power of the driver depends on the power of the LED strip.

Waterproof (Waterproof is more expensive than non-waterproof)

Brands of Driver:

Philips Xitanium LED Driver

Osram LED Driver

Lutron LED Driver

Texas Instruments LED Driver

Inventronics LED Driver

Meanwell

Depending on the brand of the driver, their prices will vary. Clearly, Philips xitanium LED drivers will be more expensive than inventories LED drivers.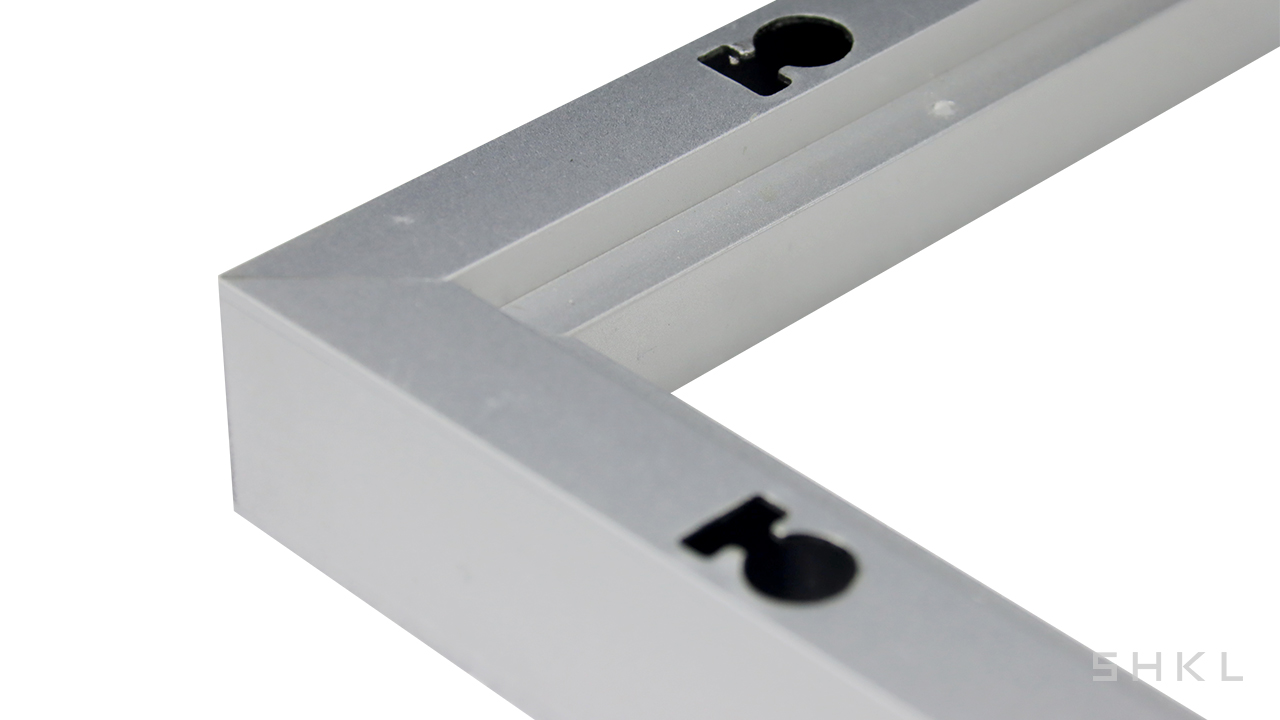 Screw hole
Screw holes are common in LED mirrors and they're located on the back of the frame. They are simple and clean, and they can be driven through the wall easily.
The different screws will affect the cost of the bathroom mirror you want to buy.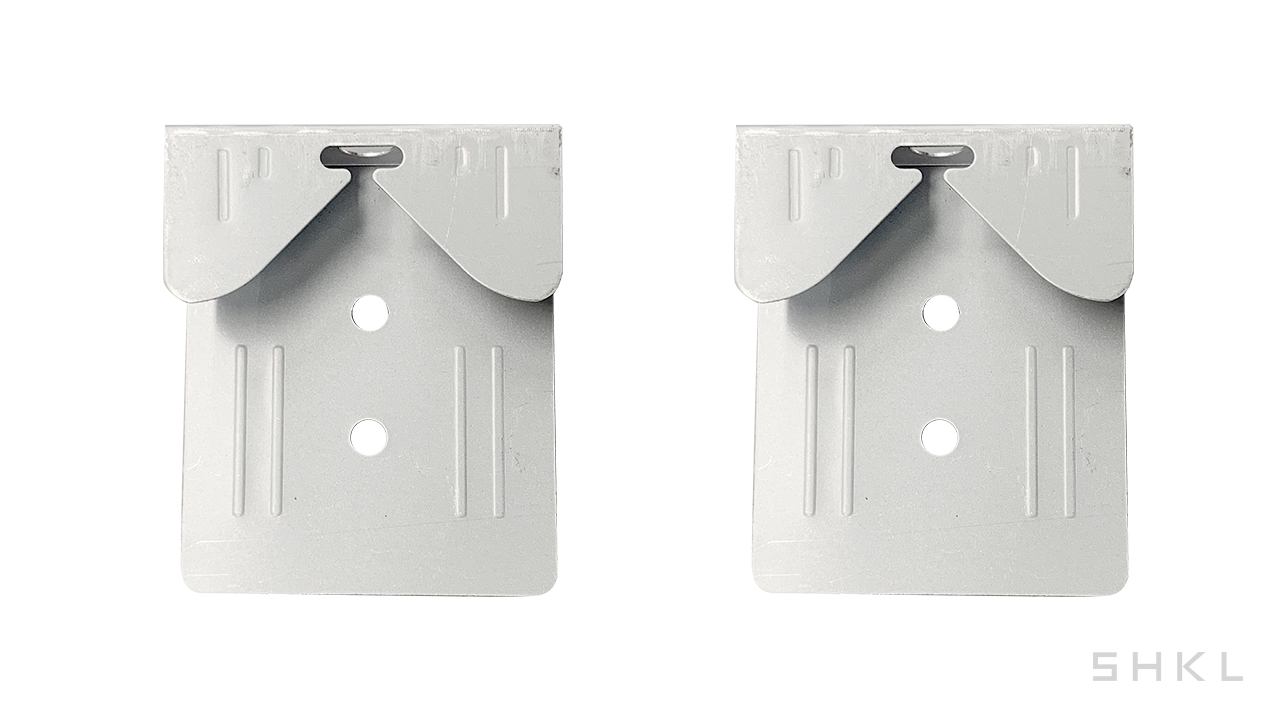 Hook, with multiple structures
Hooks are better than screw holes because they are easier and are tightly fit, unlike screw holes. So, they are more expensive.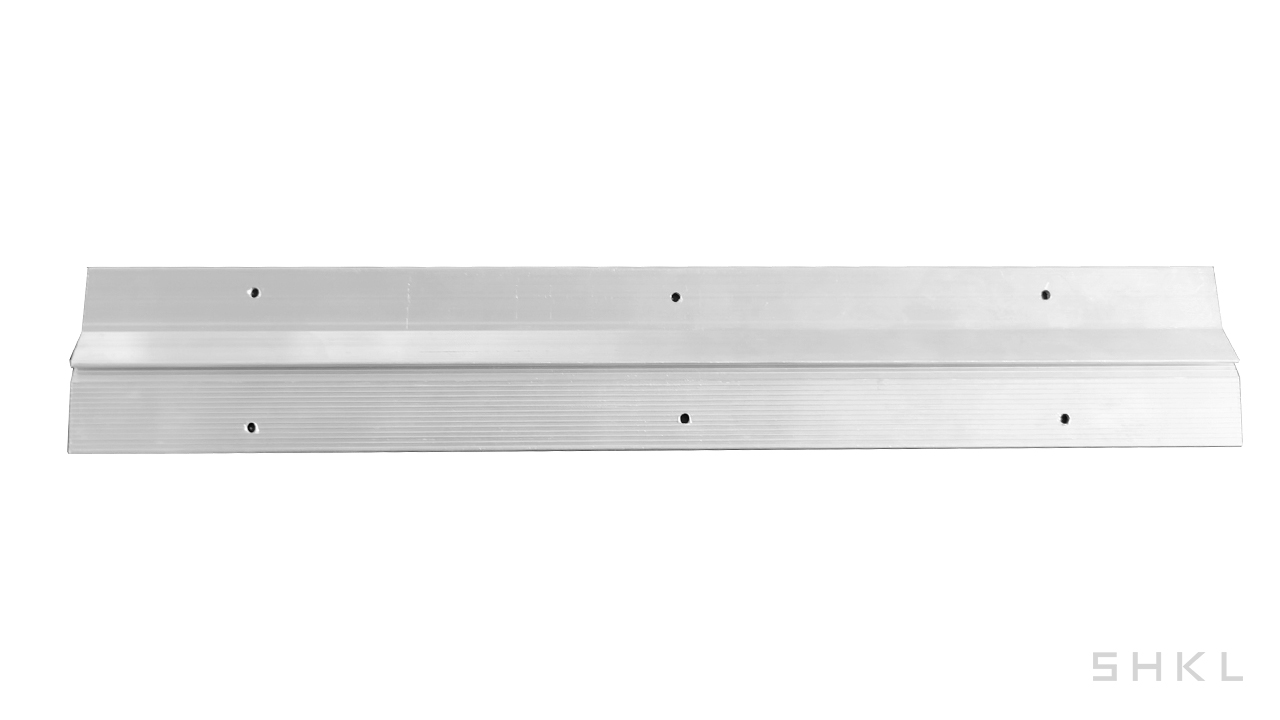 Hanger strip
Hanger strips make hanging your mirror easy. Hanger strips have parts attached to the mirror and another part that will be attached to the wall.
All you need to do is hang the mirror on a suspension area via its strips.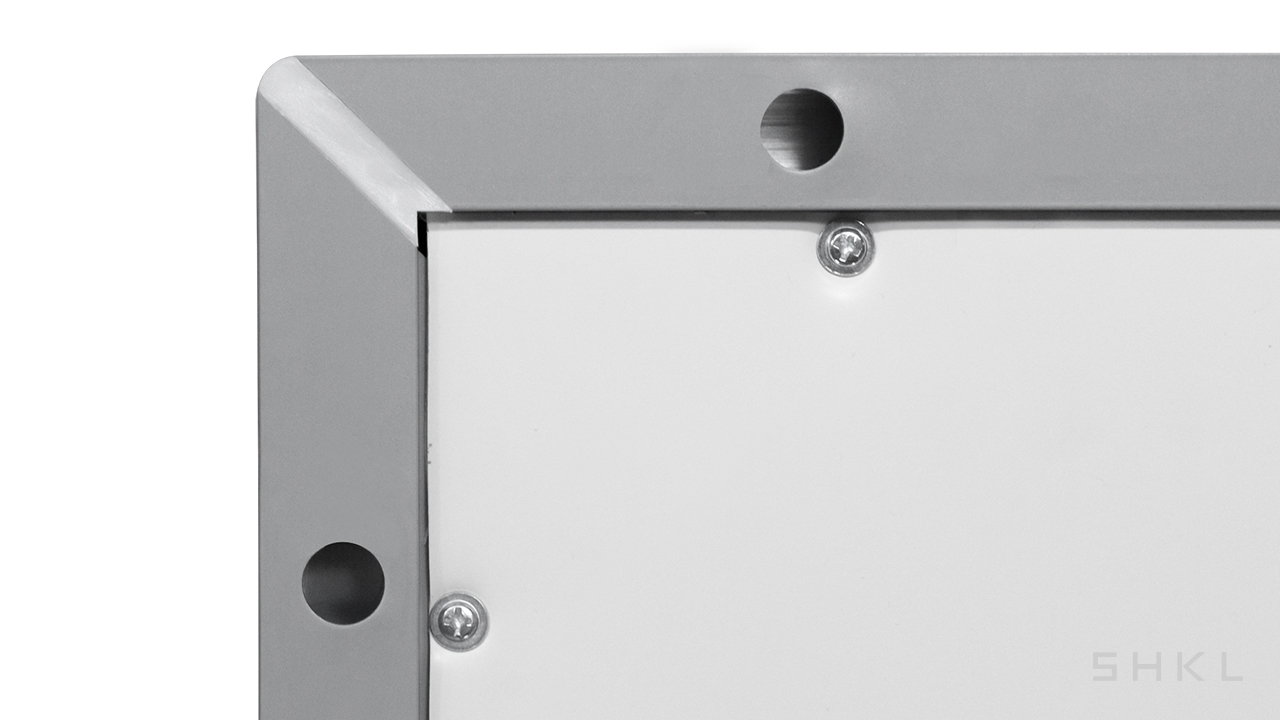 Aluminum profile with self-hanger structure
Although easily dented and prone to scratches, they are more expensive than other types of hangers.
Normal standard (non-waterproof): LED mirrors without waterproofing are less expensive than those with waterproofing.
IP44 standard or higher standard: Ip44 mirrors are more expensive than normal standard mirrors.
With or without a backplate:
Metal back plate: They are more priced than MDF backplates in the store. The UL and ETL rule is that the whole LED mirror must be covered by metal, The cable and electrical parts must not be seen.

PVC back plate: PVC backplates are more expensive than other backplates.

MDF back plate: MDF cracks and splits easily, and it absorbs water faster than wood. Therefore, they're worse than metal and PVC.
Metal box: Metal box waterproof boxes are more durable than plastic boxes. Therefore they're more expensive. So, you'll be spending more if you purchase a LED mirror with a metal waterproof box. UL/ETL rule is that the whole mirror must be covered by metal.
Plastic box: Plastic boxes on the other hand are durable but not as durable as metal boxes. Therefore, they cost less. You can store a LED mirror in a plastic box.
Certifications are enabling proof of identification to verify the integrity and originality of electronic products. There are different types of accreditation, and they border on world regions. So, a certification in a country will be different from one another.




Before we talk about three certification types, we must define certification for a mirror as a whole and certification for mirror parts.

A whole mirror certification is the standard identification given to the mirror overall to have met legal safety requirements in a country.

Mirror parts certifications are given to different parts of the mirror individually to function separately. The difference between mirror and mirror parts certification is that different companies can provide that mirror part certification, but a company gives mirror certification.

The North American area (the USA and Canada)need UL/ETL certification for LED mirror products. Commercial projects such as hotels, hospitals, shopping malls, apartments, office buildings, etc. must request UL/ETL for the whole mirror. Residential needs do not request for UL/ETL for the whole mirror, but certification for electronic parts is still necessary.

For another country, please according to the local certification requirements, general CE certification is ok if no special requirements.

UL: UL is a global safety certification organization that runs safety tests on electrical appliances and equipment safety requirements.

ETL: ETL is the standard testing for appliances in North America and Canada. And it is a certification for devices that have set safety standards.

CE: CE certification is a European Certification body that tests equipment in Europe and certifies them for safety use.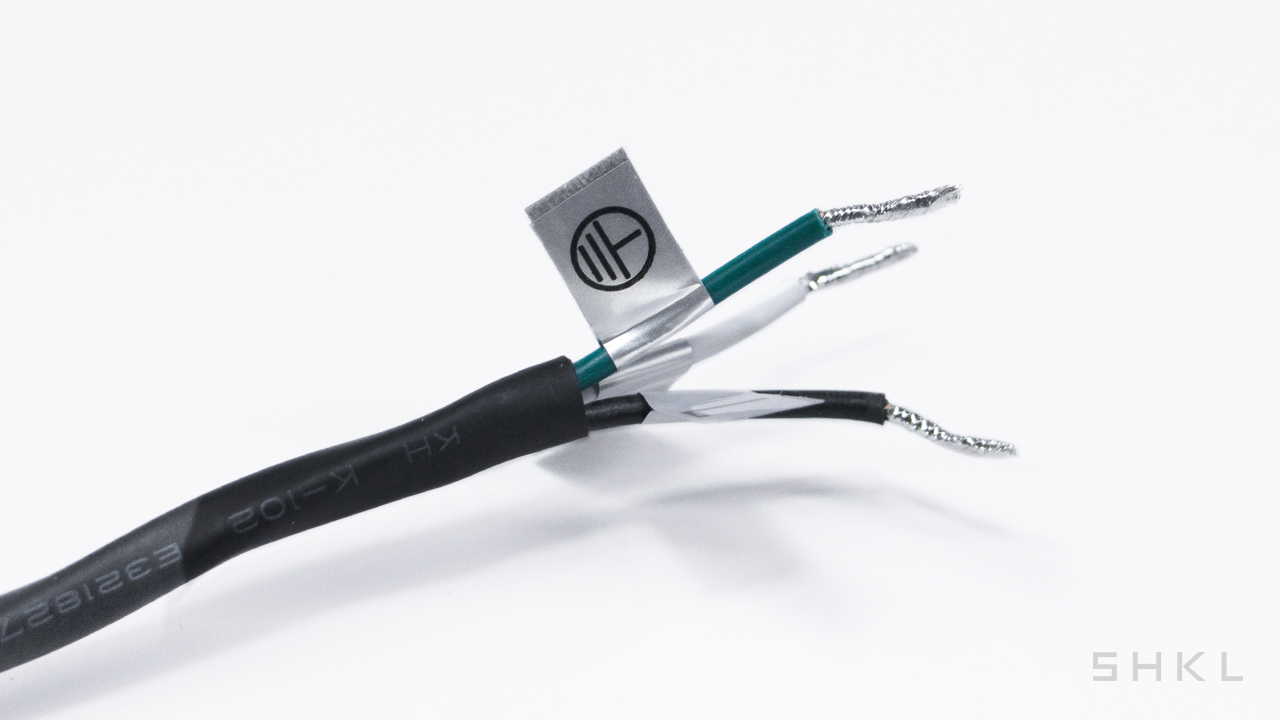 Wire length: The bigger the mirror, the longer the wire length. Invariably, the higher the cost of the mirror.

Certification or not: Certified wires are more expensive than Non-certified wires.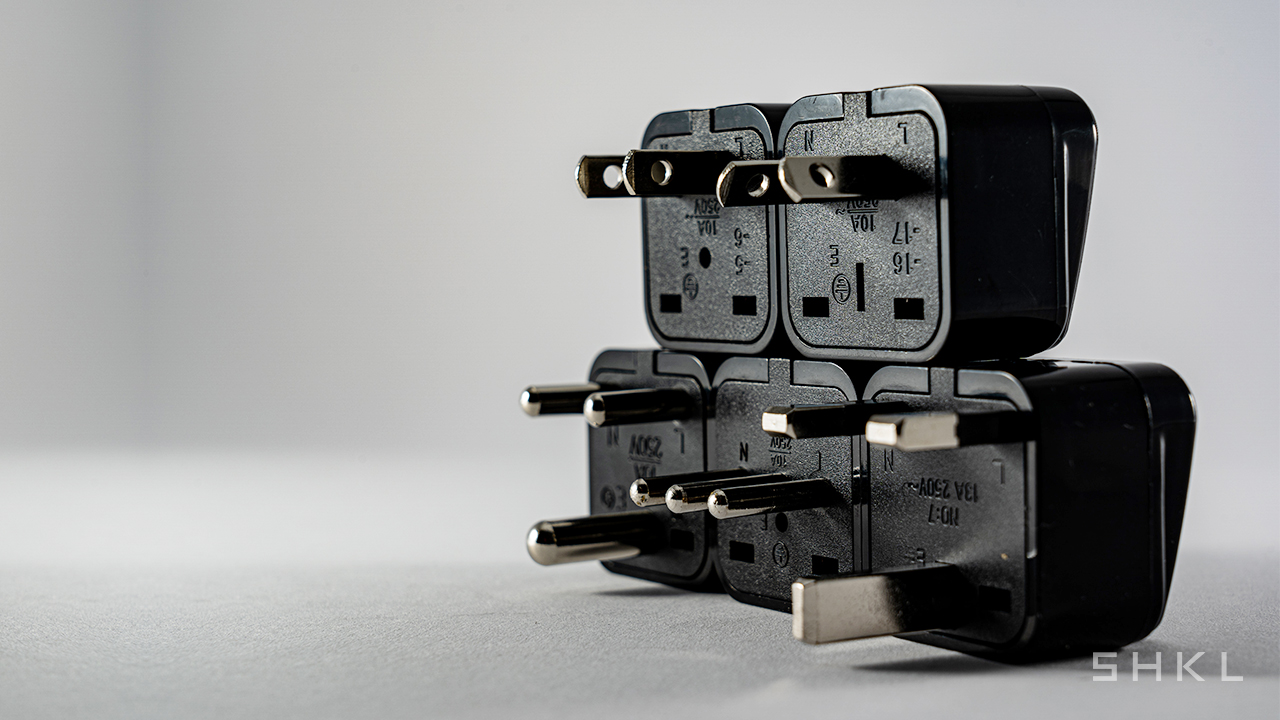 2 pin or 3 pins: 3-pin plugs handle currents better. Therefore, they're more expensive than 2 pin-plugs.

Certification or not: Certified plugs are more expensive than non-certified ones and but manufacturers are generally equipped with the relevant certification of the wire.
This point is little effect, but indeed a factor. More screws mean extra cost. Depending on the size of the mirror, the number of screws will vary.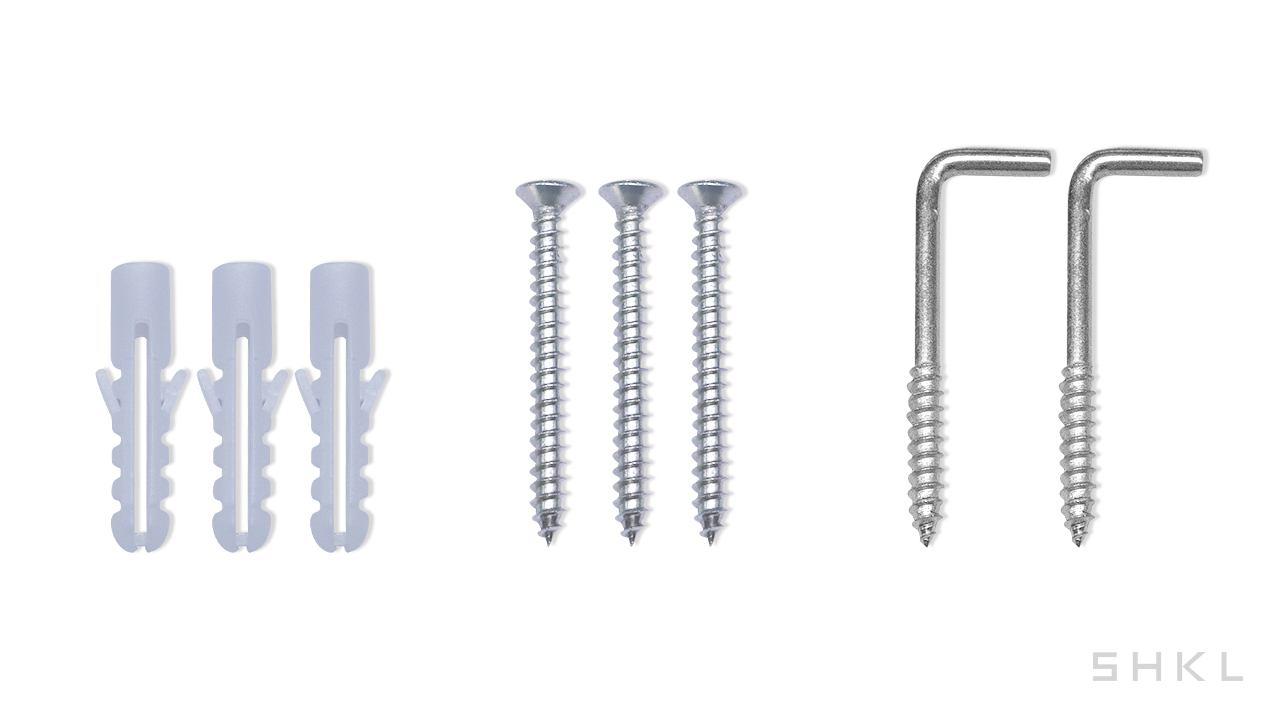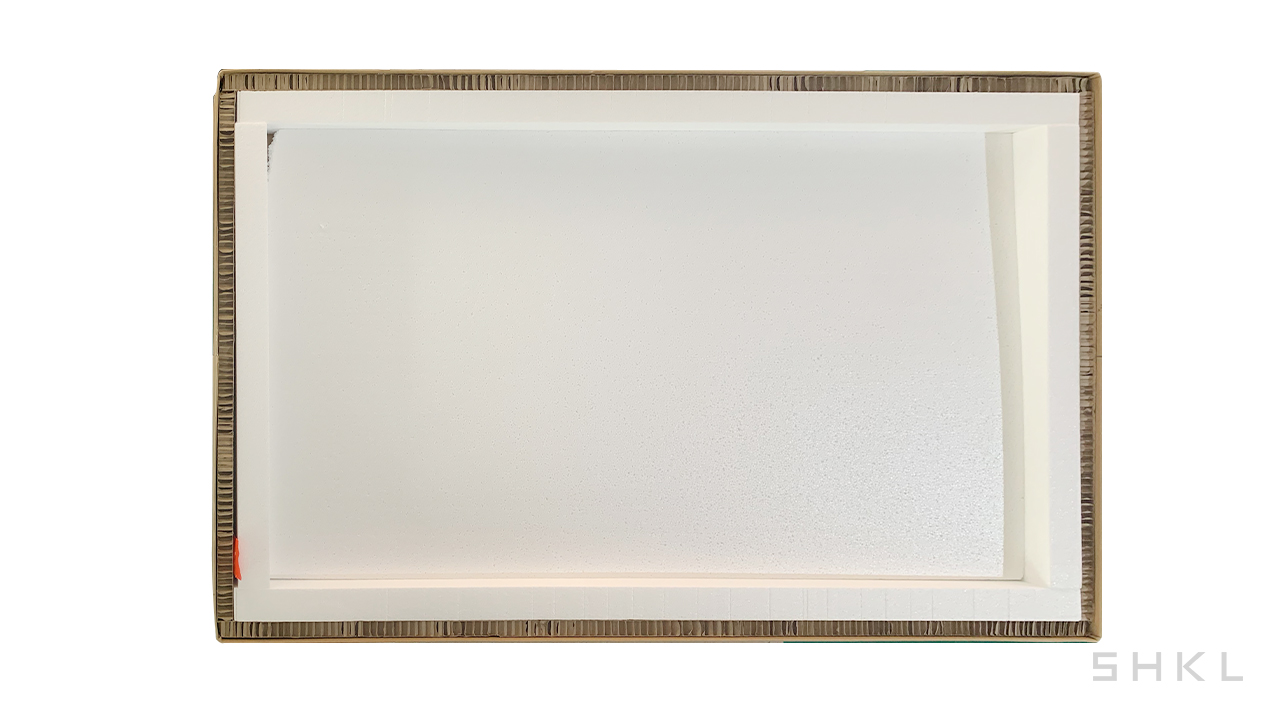 Cartons are there for the comfortable transport of fragile materials. Depending on the type of materials, cartons differ. Commonly, honeycomb boxes are the boxes for transporting mirrors. As you'll expect, the bigger the mirror, the bigger the box. Consequently, the higher the price.
As manufacturers, we prefer large orders because they mean better production and the price we quote will be more favorable.
There you have it! The factors that affect LED mirror cost.
We as manufacturers have carefully highlighted some factors that affect the cost of LED mirror. Some of which are the surface treatment, certification and structures of LED mirror. Mirror design and function also affect the cost of LED mirror.
In all, we do not undermine the roles of a contractor in creating clear glass LED mirrors. Employing the services of a LED mirror contractor will help with designing and shipping your mirror safely.
Meta description: Choosing the best-LED mirror for your bathroom remodeling project can be a daunting process. LED mirrors can be expensive, and most have different features that you will have to consider and figure out which ones will suit your needs.